EAGAN, Minn. — Decades of Vikings Legends reunited Saturday to honor one of their own, a man who shaped dozens of men during his run as the longest-tenured assistant coach in team history.
Players, colleagues, support staff, friends and neighbors traveled from near and far to the Vikings Museum to celebrate the legacy of John Michels (Feb. 15, 1931 — Jan. 10, 2019). They were greeted warmly by family members and shared numerous smiles.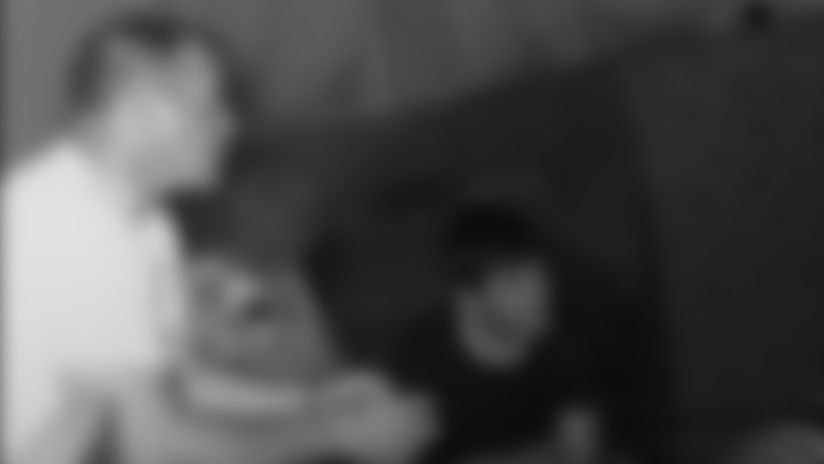 "I want to thank you all for coming to this celebration of my father's life and career and tell you how special it is to be holding something like this here," said John Michels, Jr., who was nicknamed Mike and will be referred to as Mike hereafter. "My appreciation goes out to the Vikings staff who helped prepare this and my sisters, Lela and Sarah, who have done a tremendous amount of work in getting this set up. My entire family, my mother, my brother, Steve, myself and my sisters thank you all for being here."
Bud Grant and John Michels
Michels began his time with the Vikings in 1967 as the offensive line coach in Bud Grant's first season in Minnesota. The duo moved here together after sharing success with the CFL's Winnipeg Blue Bombers and transformed a fledgling franchise into a perennial division champ.
Michels was retained by Les Steckel in 1984 after Grant's first retirement but was shifted to coach running backs. When Grant came back for the 1985 season, Michels returned to the blocking sled, harvesting toughness, togetherness and accountability to get five players to working as one. He held the role when Jerry Burns was hired in 1986 and remained on staff for the first two seasons under Dennis Green before retiring in 1993.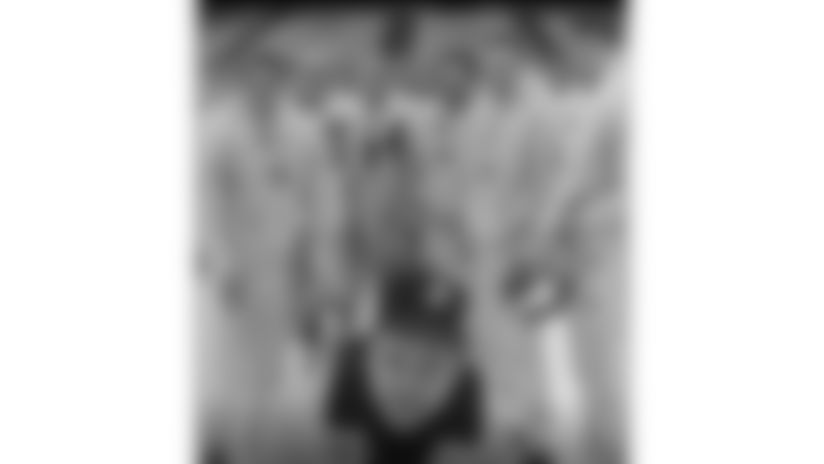 Mick Tingelhoff, Jim Vellone, Milt Sunde, Grady Alderman, Doug Davis and Ron Yary with John Michels
Along the way, Michels helped four players — Mick Tingelhoff, Ron Yary, Gary Zimmerman and Randall McDaniel — make it to the Pro Football Hall of Fame.
Fellow former Tennessee Volunteers offensive lineman Tim Irwin played the first 13 of his 14 pro seasons in Minnesota, overlapping with Michels' final decade-plus with the Vikings.
Irwin said he was lucky to remain in close contact with the man he described as a grandfather, father, a mentor, a friend.
"He was a very special person, and I don't know that he can be replaced, so I'm so thankful that so many people came out to honor his memory and his contributions to the team, the sport," Irwin said to the attendees.
Michels was the first person that Irwin met when he got off the plane in Minnesota as a third-round pick in the 1981 NFL Draft. He went on to start 181 of his 188 games with the Vikings for Michels, and the relationship really took off.
"Let me tell you the respect I have for John Michels," Irwin said during an interview. "He's the godfather of my third child."
Irwin returned to Knoxville after his career, and Michels also retired near the Great Smoky Mountains. When Michels moved to a care facility in Kingsport, Tennessee, due to dementia late in life, Irwin would make the 90-mile-each-way trek and happily answer the same two questions.
'How you doing? What'd you eat for breakfast?'
"Usually it was something bad, like a sausage biscuit," Irwin said.
"When he got sick at the end, [Michels' wife] Ann was there every day, and those folks took such good care of him," Irwin said. "I never saw him in distress. I never saw him uncomfortable."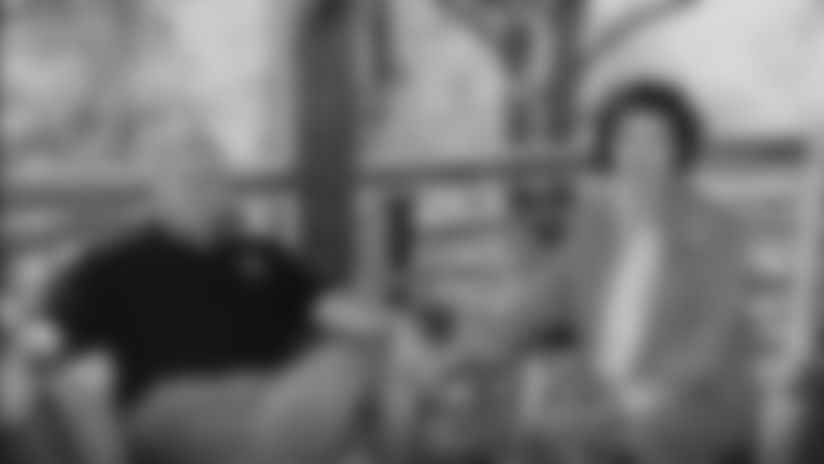 John and wife Ann Michels
Irwin missed a day of his annual family vacation to Florida to come to Minnesota for the event, share fond memories of Michels and welcome others to do so.
McDaniel was able to share the apprehension he had as a first-rounder in 1988 because of Michels' reputation, the way an introductory dinner went better than expected and the first chewing out that the guard received on the practice field in front of fans at training camp.
"I was calling my wife — we weren't even married yet — and I'm going, 'This guy hates me. I'm done,' " recalled the Hall of Famer who became a starter in Week 2 of his rookie season. "He even offered me a bus ticket, a road map and an apple in front of all of the fans.
"That was John, but then you get to know him, and you find out that this is a man who would do anything for you," McDaniel said. "He taught me more about football in the early days than people have forgotten."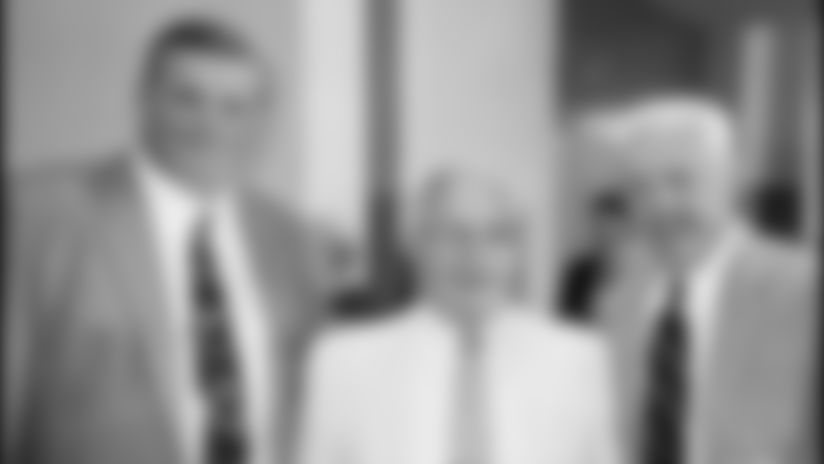 Tim Irwin, John Michels and Bud Grant
Michels, who was listed at 5-foot-10, helped pave the way to the Volunteers first consensus national title in 1951, enabling Tennessee to rush for 306.8 yards per game and 40 touchdowns on the season. He garnered All-SEC honors in 1951 and 1952, as well as consensus All-America accolades as a senior when he also won the Jacobs Trophy (best blocker in the SEC). His career landed him in the College Football Hall of Fame.
"John was a heck of a player himself," Irwin said. "He was a great collegiate player at 205 pounds for the General (Robert Neyland). He was a baller."
The Philadelphia native was drafted by his hometown Eagles in 1953, the season after Grant's final one as an NFL player. Michels played in 11 games and made one start before heading north to play for Grant in Winnipeg for a season.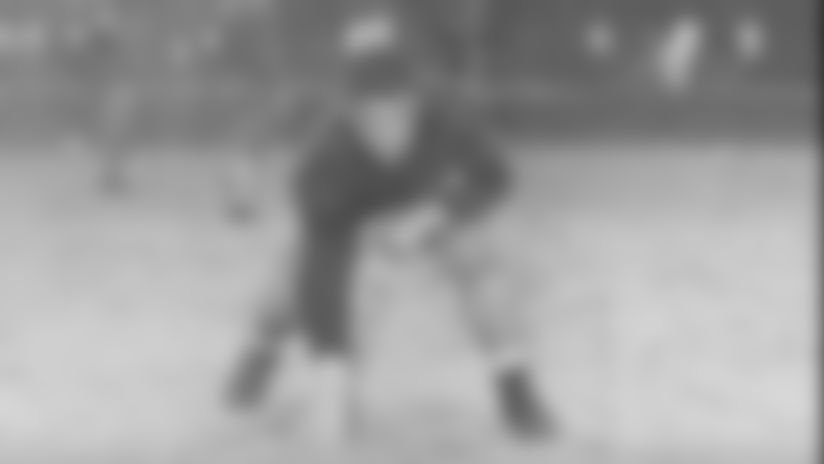 "There was no greater competitor that you could ever be involved with than John Michels," Grant said before explaining that one of his "greatest coaching decisions" was to send the offensive lineman in at linebacker in a game against Edmonton to help stop a player of a similar physical stature.
"He didn't ask why or how or when," Michels said. "Right there, he went in and caused a fumble."
Michels then served as a First Lieutenant in the Army from 1954-56. After coaching a year at Texas A&M, Michels returned to Winnipeg as an assistant.
He never stopped competing, whether it was in coaching, or playing racquetball at the team facility or basketball with neighbors or in losing gin rummy games to Grant at the back of the team plane.
Grant quipped that Michels "was a good guy to play cards with because his fiery competitiveness couldn't solve a bad hand."
Grant has the perspective of Michels as a player, co-worker and "wonderful friend."
"You're going to be lucky to have friends like John Michels," Grant said. "I feel very fortunate for the time we spent together. … I'm happy we can honor him tonight as a member of the Vikings and a friend of our family. John should be remembered as a Viking as important as anybody else."
Mike Michels recalled the way that his father and Grant would use racquetball as a metric for gauging speed, footwork and agility. It also became somewhat of a litmus test on the mettle of people they wanted to evaluate.
"It ultimately degenerated into, 'Let's hit this guy with the ball over and over again until we get a reaction out of him,' " Mike Michels said. "When you hit him 15 or 20 times, often in the same spot, they're either going to respond with, 'I'm never going to play here,' or 'OK, Coach, watch this.' "
Bob Lurtsema attested as much when he took hold of the microphone, joking he still has a welt on his backside. Lurtsema said he and training camp roommate Doug Sutherland were able to play some pranks on Michels during bed checks in Mankato.
Michels didn't back off in backyard basketball games, either.
"[Neighbors] told me that when they went down to play basketball with my father in the driveway, they came away as if they had been in a fight because my father played basketball according to Philadelphia rules, which meant if there's no official, there's no rules," Mike Michels recalled. "Everything pretty much short of rugby was allowed."
Neighbor Fran Heitzman, who founded Twin Cities nonprofit Bridging, verified that shooting baskets soon became a "knockdown, drag-out game because I happened to get in his way one time, 'Oh, so now you want to play dirty, huh?' "
Family man for multiple families
Heitzman relayed a hilarious anecdote before saying, "If I had picked a neighbor out of the whole world that I would love more, there's nobody that I would love more than John Michels."
"There was one time that he was mowing his lawn, and his lawnmower quit," Heitzman recalled. "He just went over to my garage and got mine. When he brought it back, he said, 'You know, this is the closest you're going to get to communal living.' "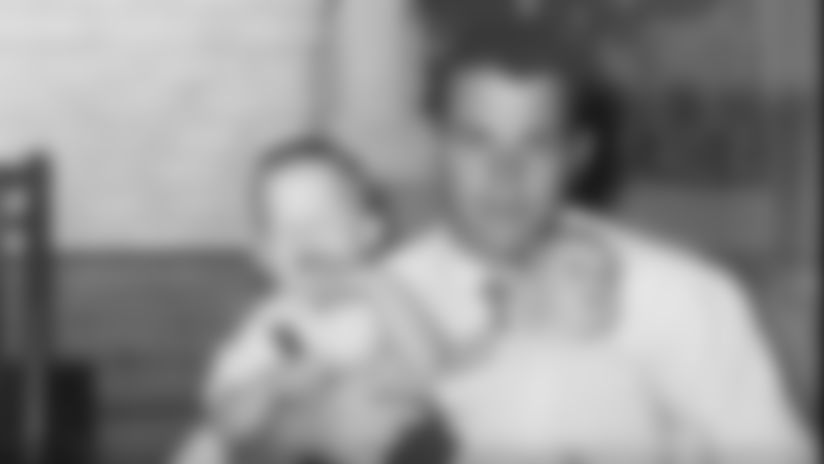 The reflection on the shared family experiences, from ceremonies like baptisms and weddings, to lending and borrowing, prompted Heitzman to say, "We shared so many joys and sorrows, but I will never forget my good friend, John Michels. John, I love you, and rest in peace."
The children of the Michels, Heitzman, Grant and Burns families grew up together.
Eden Prairie High School Coach Mike Grant described it as "almost like one family" from the days in Winnipeg to Minnesota.
Mike Grant said he was getting picked on at school in Canada, which led to a skirmish. Neither of his parents was available, so the school called Michels.
"John came in [the office] and said whatever he should say," Mike Grant recalled. "But as we're walking out, John says, 'Did you get a good one in on him?' [At that age], do you even know if you got a good one in? It was better that he came and got me. Mom would have been crying. I don't know what Dad would have said, but John was kind of proud of me."
John and wife Ann Michels
The Michels family hosted several players for Thanksgiving Dinner over the years, beginning in 1967.
"Thanksgiving dinners were a big deal in my house," Mike Michels said. "The Vikings were practicing over Thanksgiving, and Dad went to Mom and said, 'I've got about five guys who are single who can't go home, what do you think? Mom said, 'Bring them over.' That started it."
Mike said his mother would make two 25-pound turkeys, stuffing, four or five pies filled with mincemeat and pumpkin, a "huge bowl of mashed potatoes and that stupid canned cranberry sauce."
"Thanksgiving dinners were this fantastic interplay," he reminisced.
There would be some conversations about football, but topics also covered business, politics, the Vietnam War, and even though Michels was only 10 or 12 years older than the Vikings players in the late 60s, "they very much saw him as a father figure."
"He was one of those guys — I won't say a natural authority figure, but I think he was an authority figure because of his expertise, his knowledge, and that they picked up on how much he cared. This was not a 9-to-5 job for him. Competitiveness was a moral issue for him. He was competitive about everything."
Collective accountability or accountability for all
A key factor in Michels' success in parts of four different decades with the Vikings was in the way he built relationships between individuals that need to function as one unit.
A collective accountability was formed where no one wanted to let down a teammate. It was an attitude that spread to other players.
Running back Chuck Foreman participated in a now bygone college All-Americans vs. defending Super Bowl champions all-star game in Chicago that delayed his arrival to training camp, but he had done his homework on learning about the Vikings after Minnesota tabbed him. He knew of Michels from his friend Charles Goodrum, who was selected a year ahead of Foreman.
"I get to my first practice, and the only thing I could hear was this guy screaming at the offensive linemen. Ed White, Mick Tingelhoff, Ron Yary, Grady Alderman," Foreman recalled. "I'm just 22 years old, trying to feel my way around, but I know one thing, John came to me and said, 'If you don't follow this guy, number 62, Ed White, we're going to have an issue.'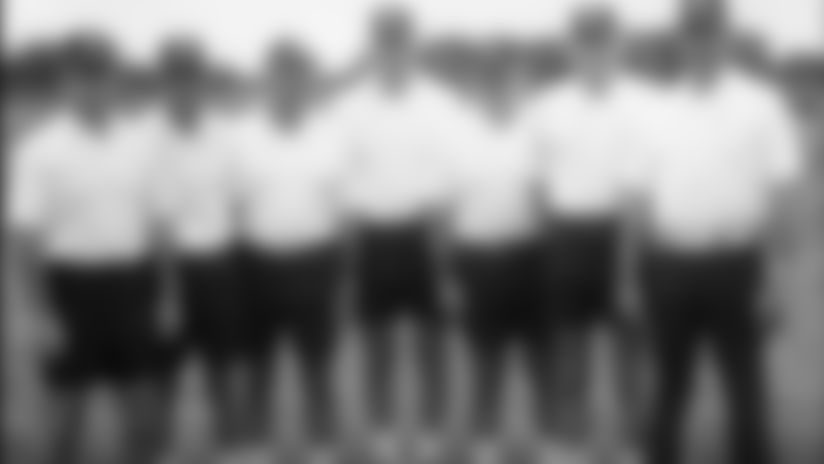 "The success that I had here, if I look around this room, if there's any one person, other than you, Mick, and Milt [Sunde]," Foreman added, "it was John Michels because whatever I had was the result of his coaching and making me uncomfortable to think that if I didn't do the right thing, what would happen afterward?"
Foreman said Michels was a man of "tremendous integrity."
"When you weren't even thinking about it, he would always give you that positive reinforcement, that one thing you needed to take you to the next level," Foreman said. "We've had some great coaches here, no question about it, but in my opinion, John Michels is one of the best, and it was a privilege to be a part of the team."
Mike Michels said his father's keen psychological perception shaped his coaching.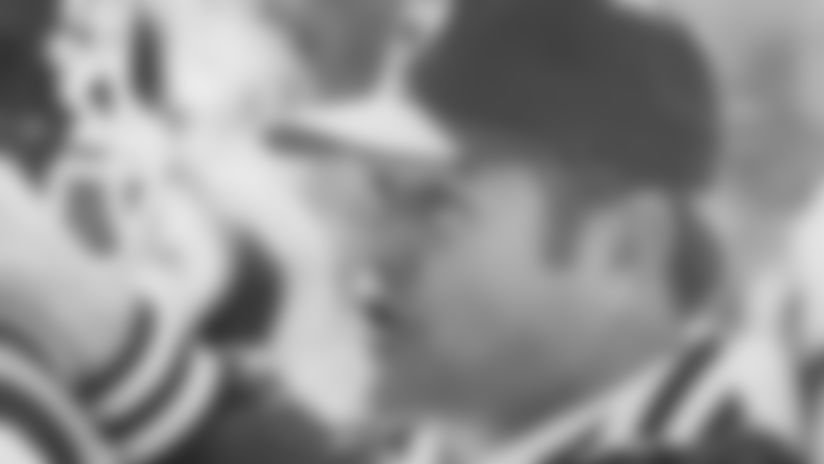 "You realize how effectively he did things instinctively that just bonded people," Mike said. "What he did with his linemen was make them a subunit of the team. You guys have got to be proud of what you're doing, because without you, nothing works, so you've got to have this sense of pride.
"He would say the best teams, the best units are the ones that don't look for direction and accountability from above, but they hold each other accountable," Mike added. "That's what Chuck Foreman was alluding to. If you screwed up, my father would say, the best lines we had were the ones where I had to say nothing."
Dennis Swilley remembered Michels responding to "Hi, Coach," greetings with "Hi, Player," as well as an intensity.
"I know that sometimes he hated me, and I sometimes hated him, but he was always fair," Swilley said. "He was a great mentor and also a great coach and a great friend. I was one of the lucky ones to go to their house on Thanksgiving."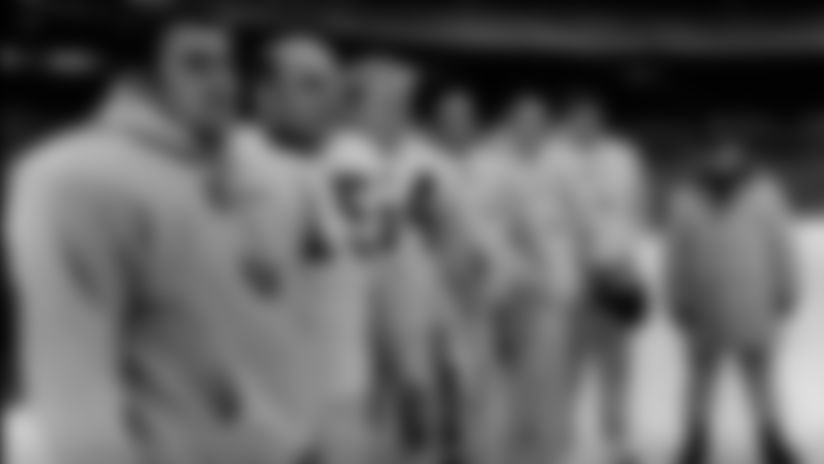 Mick Tingelhoff, Jim Vellone, Milt Sunde, Grady Alderman, Doug Davis and Ron Yary with John Michels
Irwin said Michels stressed film study for preparation and playing with toughness and intellect.
"The lines I played on were a really smart bunch. Gary Zimmerman was a hard-working superstar. Kirk Lowdermilk, a great center. I played with a bunch of different right guards – Brian Habib, Terry Tausch, Todd Kalis – but we had a good, strong intellect among the group, and we also competed for who could be the toughest.
"Our responsibility to our group meant so much to us that it made us better as individuals, and he's responsible for that," Irwin added. "He did nothing to stifle the competition. He promoted it. Unless you were having trouble, unless you weren't getting your blocks, he really didn't spend a lot of extra time with you, telling you how to do things.
"If you needed it, he would, but once you got it, he let you do it your own way," Irwin continued. "I was a mauler, and on the other side of me, Gary Zimmerman could dance with those guys so smoothly. Gary Zimmerman looked better missing a block than I looked making one, and he understood that. He knew our limitations, our strengths, and he loved every one of us and fought for us."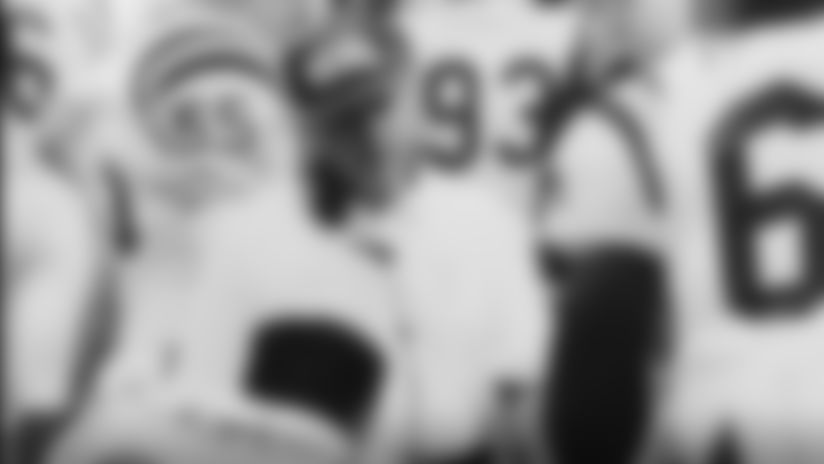 Zimmerman said he thinks of Michels when he props his elbows, which had bone spurs surgically removed, on pillows at night because of a drill in which Michels tied one arm behind the backs of offensive linemen.
"What it taught you was to use one hand, but follow with a second hand," Zimmerman said. "Your second hand was tied down, so you had learn to punch with the one hand."
He summed up Michels' delivery style by saying, "He didn't candy-coat it."
"He just told you how it was, and maybe you didn't want to hear that, but it's just the way it was," Zimmerman said. "They just don't make guys like that anymore, or you can't do that job that way anymore. I guess we're just old-timers."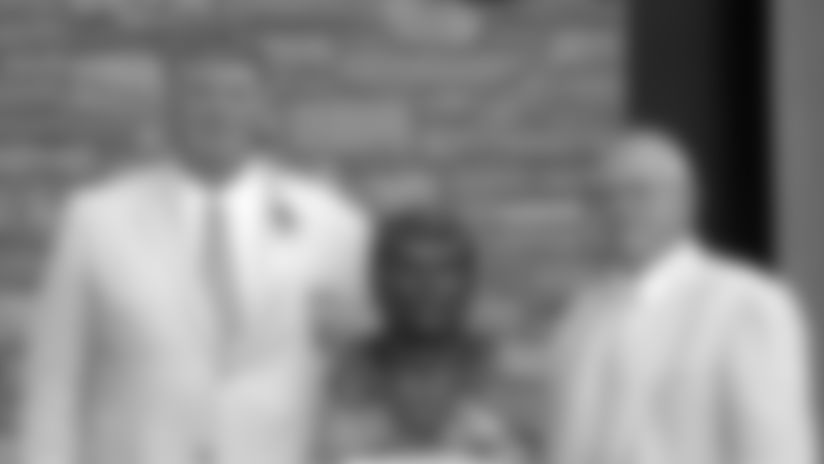 Ron Yary and John Michels
Irwin said the four Hall of Famers coached by Michels "all had special gifts, but he was smart enough to make it work and integrate those gifts where we had good, strong lines."
"We cared about playing for him, we cared what he thought about us," Irwin added. "I think that's a measure of a good coach, how well he gets his players to play for him or her."
McDaniel said players knew their coach had their backs.
"No one could yell at our line. Only Johnny did," McDaniel explained. "If you did yell at us, you got a piece of Johnny on top of that.
"[John] Teerlink, the defensive line coach [from 1992-94] came in one time, and we were doing the 1-on-1s, battling back and forth," McDaniel added. "Teerlink made a comment about one of the linemen blocking, and Johnny made a comment back, and they were ready to go."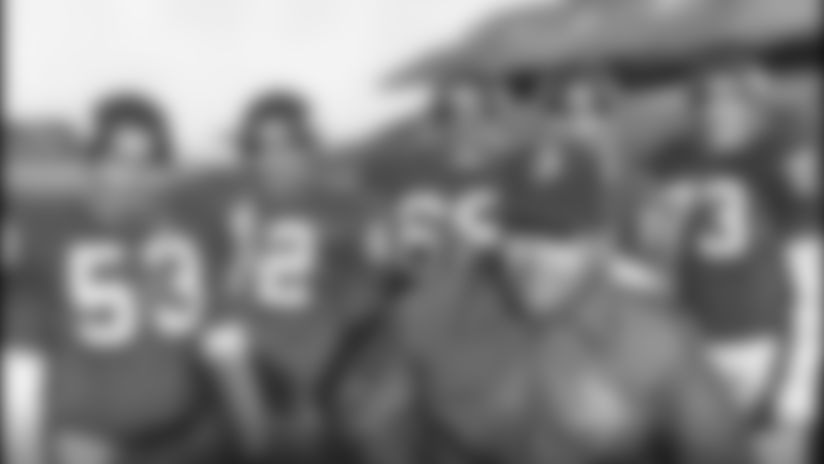 Mick Tingelhoff, Ed White, Charles Goodrum, Steve Riley and Ron Yary with John Michels
McDaniel said he felt comfortable talking with Michels about anything and described him as a grandfatherly figure.
"I want to thank [the Michels family] for sharing him with us," McDaniel said. "He became family."