EDEN PRAIRIE, Minn. –On Tuesday, Lions wide receiver Calvin Johnson announced his retirement from the NFL at age 30. Over a nine-season career in Detroit, Johnson totaled 731 receptions for 11,619 yards and 83 touchdowns. Johnson is a six-time Pro Bowler and led the league in receiving yards in 2011 and 2012.
"If you don't have a lot of [competition] in you, then you're going to get embarrassed with this guy," Vikings Head Coach Mike Zimmer said of Johnson in a December 2014 interview. "This guy can go and get the football. He can run great routes, he can manhandle you because of his size. You've got to have a little bit of toughness to go in there and compete. He's going to catch some balls."
The Vikings were accustomed to facing Johnson in NFC North division battles. In 15 games played against Minnesota, Johnson recorded 81 catches for 1,095 yards and nine touchdowns. He also notched two 100-yard games against the Vikings.
Following Johnson's retirement announcement, a handful of former and current Vikings posted their reactions to the decision and respect for a fellow player:
Although Zimmer is only approaching his third season with the Vikings, he also faced Johnson during his time with the Bengals. Zimmer served as Cincinnati's defensive coordinator before taking over the reins in Minnesota, and he's had a healthy respect for Johnson each time one of his teams played him.
"I've played [Calvin Johnson] way too many times," Zimmer said in an October 2015 press conference. "He's just so good at everything – running the routes, catching the ball, getting open, using his size, his speed, out-jumping. When I was in Cincinnati we had three guys around him and [Lions quarterback Matthew Stafford] threw up a 50-yard ball, and [Johnson] went up and got it for a touchdown.
"I've been well aware of him for a long, long time," Zimmer added. "And I know people use these terms loosely as one of the greatest receivers – but he really is, with the things that he can do and the way he can go get the football. He's got tremendous hands. Even some of the catches that he makes that aren't inbounds are fantastic catches. He's someone you always have to pay attention to."
Here are a number of things current and former Vikings have said about Johnson over the past few years:
Former CB Antoine Winfield: "That guy is a special player. It doesn't matter if the corner and the safety double team, Stafford is still going to throw it up, and he's still going to make plays." (11/11/12)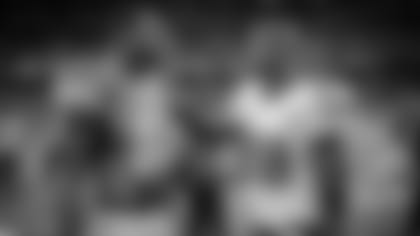 RB Adrian Peterson: "I definitely have a great appreciation for him. He's a great talent, a guy that you have to account for, you have to deal with that guy [when you play against him]." (9/5/13)
Defensive Coordinator George Edwards: "He's a great route runner, he's able to go up over guys and catch the ball, so you have to do a great job of locating him… he's definitely someone that will keep you up during the week, just the different ways they'll get him the football… Calvin's [ability] to catch it in traffic – people have doubled him, people have tripled him, and he's still been able to go up and get it." (12/11/14)
CB Xavier Rhodes: "That's their guy. They're going to figure out a way to get him the ball no matter what's going on. No matter if he's being tripled teamed, locked down, no matter what it is, that's their guy […] No matter what is going on they're going to figure out a way to get him the ball." (12/15/14)
"He's one of the best receivers in the league … he draws the whole defense to him. He's still making plays even when he's not making plays. When you're drawing your whole defense, you're giving your other guys chances to make plays… you have that type of receiver, that's good." (10/21/15)