Three Vikings offensive linemen who have helped get Minnesota's ground game off to a running start in 2019 joined the "Under Center with Kirk Cousins" this week's podcast that aired on KFAN 100.3-FM.
Brian O'Neill, Pat Elflein and Garrett Bradbury shared multiple laughs with the Vikings quarterback while discussing the team's successes and off-field chemistry.
The trio has helped Vikings running back Dalvin Cook lead the NFL with 375 rushing yards through three games. Minnesota leads the NFL with seven rushing touchdowns and is second in the league with 193.7 rushing yards per game.
Additionally, Cousins has only been sacked twice this season which is also tied for first so far in the NFL.
"Wow, what an honor it is to be on this show with you Kirk," Elflein joked as the members of the Minnesota Moving Company settled in TCO Studios.
Here are five highlights from the episode:
1. They call it 'pounding the beef'
The heavy involvement of the run game, which has been helped with Minnesota building 21-point leads in each of its home games, is known to the offensive linemen as "pounding the beef."
Cousins, who described the process of learning "about your team as you go" through a season.
"I think now we can start to say this is who we want to be," Cousins said. "I couldn't have dreamed up a better identity than just being able to "pound the beef" as Pat Elflein likes to say."
O'Neill added, laughing, "I think there was a line in the locker room where Pat said 'Has anyone seen my beef? I think it's been all pounded today.' "
2. Mullets and 'Kirt Dirt'
When the Vikings players were in the team hotel in downtown Minneapolis on Saturday night, Cousins noticed a difference in Elflein's hair, even though the guard was wearing a hat. 
"We're getting our late-night snack, and the butterflies are starting as we are getting closer to game day." Cousins said. "I could tell the hair underneath his hat in the back was pretty long but the hair on the sides around his ears was awfully short."
Cousins knew that the hat was just a cover-up since Elflein wasn't ready to show the world his "young mullet."
Elflein is getting married in April, but he's not sure that his fiancée wants the haircut to stay that long.
"I'm not sure the mullet is invited to the wedding," Elflein said. "But she likes it, she's all about it right now!"
Cousins, meanwhile, has been working on a beard since the preseason, which was suggested by the offensive linemen and wide receiver Adam Thielen.
"So we were sitting in the cafeteria one evening at the end of a long training camp day, and Adam and Garrett just looked at me and said I would look good in a beard."
Elflein suggested that Cousins also implement a mullet, saying it's back in style and maybe never left. 
"So I'm a big Joe Dirt fan," Elflein said. "That's Kirt Dirt. "K-I-R-T, and then for the last name, D-I-R-T. Dirt!"
Bradbury laughed, "If we could have that beard, with the 'Kirt Dirt' look, we are going to win a lot of games."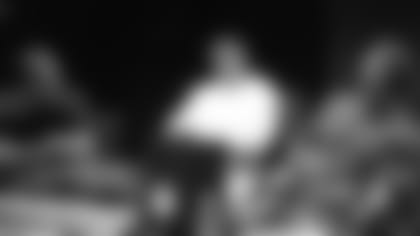 3. Pregame meals and Sun Chips
Cousins noted that Bradbury has become obsessed with a particular snack in the Vikings cafeteria. 
Sun Chips are the rookie's go-to snack, which help fuel the rookie as he prepares to face the Vikings defensive line in practice.
"I think a bag of Garden Salsa a day, keeps the doctor away!" Bradbury said. "When you need to replenish with nutrients and when you are practicing and working out it's just a little bright spot in your day."
The young offensive linemen discussed some of their pregame meal choices, which are highlighted by filet mignon.
"They have filets there," Eflein said. "We mash beef at the hotel, usually some eggs, some potatoes, oatmeal and granola," Efllein said.
O'Neill explained that he has developed a routine the night before a game.
"Pat will actually be mad at me if I don't eat a bowl of ice cream the night before a game," O'Neill joked. "He'll ask me every Saturday night if I have had ice cream, and if I don't he's like upset."
4. O'Neill receives game ball
Head Coach Mike Zimmer gave the game ball to O'Neill on Sunday.
O'Neill was happy to receive the award for a couple of reasons.
"First of all, I appreciate Coach for doing that, but to be honest, I am really excited about this game ball because I live with [Vikings] linebacker Ben Gedeon," O'Neill laughed.
"We have all of our trophies that he's gotten with the Vikings," O'Neill added. "He was Special Teamer of the Year one year. His Michigan helmet and my Pittsburgh helmet is up there, too. There's about 10 games balls on display, and nine of them are Ben. Every time we have people over they ask where all of my balls are. So we are going to take one of his down and put one of mine up."
5. Bradbury proposed at the practice facility
Elflein isn't the only member of the offensive line that is tying the knot in the near future.
Bradbury has only been living in Minnesota for a few months, but he knew that he wanted to propose to his girlfriend on the deck of the TCO Performance Center before Minnesota hosted Atlanta to kick-off the regular season. 
"It was a pretty busy weekend. It was my first NFL game," Bradbury said. "I figured proposing to my girlfriend was going to be the most nerve-racking moment of my life, which would [make] Sunday just a breeze.
Bradbury had about 35 friends and family members in town and knew that TCO Performance Center would provide a spot away from the crowd. 
"What better place than TCO?" Bradbury laughed.