MANKATO, Minn. — Thursday was a Metropolitan Stadium-in-late-October kind of day on the campus of Minnesota State University, Mankato.
That suited Vikings Ring of Honor member Jim Marshall just fine.
The original Viking was on-hand for Verizon Vikings Training Camp and brought nearly a dozen of his family members who were visiting from Ohio.
Marshall's family was able to walk the practice fields on which Marshall was one of the team's rulers in summers from 1966-79. They also saw Marshall receive a warm reception from generations of Vikings fans who had sideline passes. Marshall signed footballs and doled out fist bumps, the gentlest collisions he's ever offered on a football field.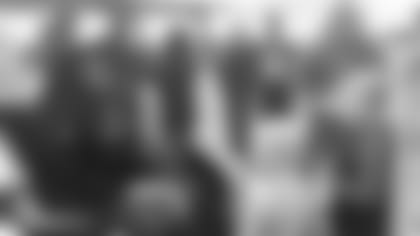 "I think it's great," Marshall said. "They had never been down here. During my career, they weren't born. They were really interested."
Marshall first joined the Vikings in their 1961 inaugural season and experienced the Vikings first five training camps in Bemidji, where some mornings were cold enough to see one's breath.
Thursday afternoon wasn't that nippy, but winds howled from time-to-time and the clouds spit a little bit as practice ended.
It reminded me of a story that Marshall had relayed when he was talking about the painting he created for U.S. Bank Stadium's Art Collection.
"We had situations, if you remember the old Metropolitan Stadium, especially if we were playing the latter part of winter, the winds would come up and blow across the field," Marshall said. "We'd look over at our opponents and see them kind of shivering. Quietly under our breath, we would start chanting, 'O-din, O-din.' "
Stoked by Hall of Famer Bud Grant, Marshall and the Vikings learned to thrive in adverse, brutal conditions. They won 10 division titles in an 11-season span from 1968-78, the 1969 NFL Championship and appeared in Super Bowls IV, VIII, IX and XI.
Many believe the team captain during that sustained success has been overlooked by Pro Football Hall of Fame voters.
Marshall never missed a Vikings game, starting a whopping 270 regular-season outings in a row after opening all 12 contests with Cleveland in 1960.
The arrival of Hall of Fame Weekend renews conversations about Marshall's candidacy for enshrinement. He would need the Senior Committee to present him.
Bleacher Report's Mike Tanier addressed the topic here, ranking Marshall as the No. 2 "Most Underrated Players in NFL History," and Arif Hasan took a Marshall-specific deep dive for Zone Coverage here.
Although sacks did not become an official statistic until 1982, Marshall ranks second in Vikings history with 127 sacks, 3.0 behind Hall of Fame teammate Carl Eller, who bookended the other end of the Vikings defensive line from 1964-78.
Among players whose sack totals are counted in the record books, Hall of Famer Rickey Jackson recorded 128 sacks and is 15th all-time, and Hall of Famer Derrick Thomas ranks 16th with 126.5 sacks (Eller and other players of the era are not counted in the rankings).
Marshall also ranks eighth in Vikings history with 988 tackles, which is second among defensive linemen behind Hall of Famer Alan Page. He also set an NFL record with 29 fumble recoveries.
All of those things can be counted, but what's harder to measure is impact within a team through leadership and influence in the locker room.
According to other Vikings Legends, the Hall of Fame isn't complete without Jim Marshall:
"Jim was the epitome of what a defensive end could do and how the position could change a game. He was a guy who was gifted beyond belief with ability to play the position. His toughness to play through any injuries and conditions is what people remember the most about Marshall. He was a guy who players gravitated to because he was simply better than them at everything. Run faster, jump higher, hit harder, Marshall just did it better than everyone else and did it better for a long time."
— Head Coach Bud Grant (1967-83, 1985), HOF 1994
"Jim was the leader of the team, unequivocally, for 19 years. He made everyone around him better. He was as good a pass rusher as there was during all 19 years. He had enormous talent, relentless competitiveness and was respected by everyone in football. No offensive lineman could keep Jim Marshall from harassing the quarterback."
*— Quarterback Fran Tarkenton (1961-66, 1972-78), HOF 1986 *
*"Jim was the consummate team player, an inspiration to offensive and defensive players. His enthusiasm was infectious, and he led by word and deed. To do the things he could do, for as long and as well as he did, I sit in awe and I was able to see it up close. He was considered in the same class as a Deacon Jones or a Carl Eller and was respected as much as any defensive end of the time." *
— Defensive tackle Alan Page (1967-78), HOF 1988
A glance at the steady line of Vikings fans who approached Marshall on Thursday shows the level of appreciation for the iron man who gave his all on the gridiron.
The wind whipped again as I asked Marshall his thoughts of seeing the fields again.
"The good times, the camaraderie, the guys that I played with," Marshall said. "It brings back all of those memories."