MANKATO, Minn. –When Sophie's favorite player, Adrian Peterson, knelt down to say hello and thank her for coming for practice, words weren't necessary to convey her excitement.
"Adrian has been her favorite player since forever – she loves the running backs," said Sophie's mother, Lisa, tearing up. "For him to take time – for any of these players to take time for Sophie, that's where I'm getting so emotional."
Sophie has a number of health problems, and in her 14 years of life, she has been told by doctors four times that she had less than 24 hours to live. But Sophie keeps defeating the odds, and her mom credits part of that to the Vikings.
Sophie is non-verbal, but that doesn't mean she can't communicate. Her face lit up each time a player introduced themselves or complimented her team spirit, from Vikings slippers to the gold sparkles in her hair. "She bleeds purple, this kid. She knows exactly when it's game day, and she has a Vikings [themed room]," said Lisa, who explained that Sophie started watching Vikings games from a young age and fell in love with the team.
"When she has to fight so hard, even on her hardest days, she sees the Vikings [and they lift her spirits]," Lisa said. "That keeps her going – it motivates her."
Peterson wasn't the only player to make a beeline to meet Sophie after Friday's morning walk-through. Teddy Bridgewater, Blair Walsh and Laquon Treadwell were among teammates who stopped to talk with Sophie and add their autographs to the lid of special Vikings box resting in her lap.
Lisa said she was touched by players speaking directly to Sophie and treating her like any other fan.
"You can look at her non-verbal cues and see how excited she is to be around the Vikings, her favorite team," said Walsh, who spent a few minutes with one of his biggest fans. "Her mother told me she hasn't missed a game in nine years. Little things like that make Sophie even more special than she already is."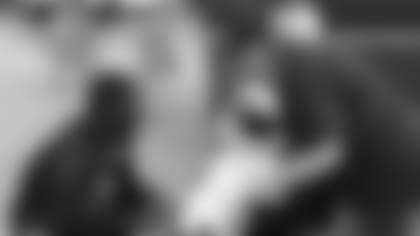 Walsh said he was honored that he and his Vikings teammates could provide a little bit of joy for Sophie in the midst of a life that's offered lots of hardships.
"She's a fighter, that's what her mom portrayed to me," Walsh said. "Any time you can just go a little bit out of your way to make them realize they're important to you and they mean something to you, especially in the position of being a Vikings player, that means a lot to [her]. To have her come out today and to see her reaction was fantastic."
Long after the walk-through ended, Treadwell walked off the field following some drills. He noticed Sophie right away, offered a smile and knelt down in front her.
"How's it goin?" He asked, smiling. "It's nice to meet you, Sophie. I'm Laquon."
Lisa said Thursday was their first-ever visit to training camp — because the summer heat is typically a concern for Sophie — and it was a dream come true.
"Sophie supports them as much as she can in her body and in her spirit, and she loves them so much," Lisa said. "I think it was just kind of the overwhelming impression that they were thankful she was here. The Vikings keep Sophie going."
Lisa shared some of Sophie's story with a number of players, including Peterson and Walsh. She said she wanted them each to know that they were making an impact on Sophie's life.
"Generally as a mom of a child with social needs, I feel like I need to put my battle armor on whenever I do anything," Lisa said. "It's when people are kind that I'm disarmed, and this is what today is about."
Training Camp offers unforgettable experiences for fans
Not every fan at Vikings Training Camp has a story as unique as Sophie's, but the time in Mankato offers a family-friendly, memorable experience to all Vikings fans.
One fan, Ryan Wiuff, made a 13-hour trek from Nashville, Tennessee, for the second consecutive year. He arrived at Minnesota State University, Mankato bright and early Thursday morning and received autographs from a number of players arriving for check-in day.
"I've been a Vikings fan from the day I was born," said Wiuff, who held a full-sized helmet decorated with players' John Hancocks. "My baby video shows Vikings toys in my crib."
Wiuff was thrilled to receive autographs from both Peterson and Bridgewater the first morning, and said he hopes to add Xavier Rhodes and Anthony Barr to helmet at some point, as well.
A few yards down from Wiuff, one 5-year-old girl also had good luck in the autograph department.
Tatum first accompanied her parents to training camp when she was only a year old, and this year was her first time back. Standing politely against the fence, white-blonde curls standing out against her purple Vikings shirt, Tatum smiled shyly each time a Vikings player approached her – even 6-foot-8 Alex Boone.
Tatum's mother, Keri, said the family goes to a number of signings throughout the year, but she especially appreciates the training camp atmosphere.
"I love how close you are to the players," Keri said. "Just seeing how excited they are for the game. A lot of their personality comes out when they're here [in their element] and doing their thing."
Keri and her family are passionate Vikings fans, and they're excited about what this season will bring.
"With Zimmer coming on, I just have a feeling that we're going to keep getting better," Keri said. "The passion he has, the players are also taking to him, and I think we're there. We're close to the Super Bowl."