What's taller than 6 feet, from Colorado and …. Yellow?
Vikings defensive end Eddie Yarbrough dressed as a banana, of course!
Young people who attended the Vikings Kids Club Virtual Halloween Party last week were able to visit with Yarbrough, who joined in the costume fun as a larger-than-life piece of fruit. Other creative get-ups included warriors, Harry Potter, Teenage Mutant Ninja Turtles and, of course, a handful of Vikings players.
Despite being held via video conference due to the COVID-19 pandemic, plenty of fun was had at the party hosted by Vikings Director of Youth Marketing Brandon Clemens and Youth Marketing Coordinator Alyssa Henke.
"Last year was our first year hosting a Halloween event, and it ended up being our highest-attended Kids Club event ever," Henke said. "With the current climate, we unfortunately knew we would not be able to replicate that event this year so we started brainstorming what engagement we could still provide our members around the holiday."
After reviewing positive feedback from two previously held virtual game nights, the Vikings Kids Club focused on making its Halloween party even more interactive.
Yarbrough "jumped" into video breakout rooms hosted by Minnesota Vikings Cheerleaders. The smaller groups provided a more personal experience for youngsters, who asked Yarbrough about everything from his most memorable game in the NFL to his go-to flick.
"Oh! Favorite movie, hands down, Space Jam. But it's also tied with The Sandlot," Yarbrough responded eagerly. "You can't beat the classics. Space Jam 2? I do not sign off, I am not a part of that, I am not going to see it. You don't mess with a classic."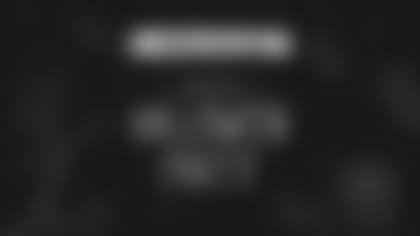 Another question that came in asked if Yarbrough has "always been a Vikings fan."
"Um, no," laughed Yarbrough, who was signed by Minnesota in December 2019 off Buffalo's practice squad. "I don't want to lie to you. But, I've always been a fan of the Vikings defensive line. The Purple People Eaters back in the day, they were just awesome. Everybody feared them."
He also mentioned the Daunte Culpepper-Randy Moss Vikings hey-days, although he would have been just 7 years old in Culpepper's first year as a starter when the duo helped Minnesota go 11-5 and advance to the NFC Championship.
"My favorite part of the event was watching the kids' faces when Eddie just appeared in each breakout room in a giant banana costume," Henke said. "He brought great energy to the event, and the Kids Club members brought the hard-hitting questions."
In addition to Q&A sessions with Yarbrough, attendees of the Kids Club party participated in the following activities: Costume Show-and-tell, Pictionary, Monster Mad Libs, Vikings Trivia and "Zombie." The latter game posed a variety of statements to those in the breakout room, such as "My birthday is in October" or "I ate pizza this week." If a particular statement applied to a viewer, that viewer turned off his or her video camera. The last visible participant was dubbed the "survivor" and winner of the game.
And of course, any Halloween party wouldn't be complete without trick-or-treating.
The young people all received information to access the Mars Candy Treat Town app, where users could earn and redeem candy credits.
"Even if our costume contest and candy distribution had to be virtual this year," Henke said, "the Vikings Kids Club Virtual Halloween Party provided a fun night for everyone involved to enjoy a Halloween treat!"