After spending nine seasons in the NFL as a defensive lineman, Esera Tuaolo now is using his platform to battle against hate in society instead of opponents on the gridiron.
Tuaolo, who spent 1992-96 with the Vikings and also was a 2017 contestant on The Voice, recently participated in the second annual Hate is Wrong Inclusion Panel in Atlanta at the National Center for Civil and Human Rights. He partnered with his foundation, **Hate is Wrong**, for the event that was sponsored by the Vikings.
Vikings Vice President of Legal and Social Impact Karin Nelsen, who was invited by Tuaolo to also participate in the event, called it an honor to work alongside him.
"That man is all heart," Nelsen said. "He cares so deeply about human rights and equality and fairness, and he just really, really wants to help people – especially help people who are struggling – and he wants to make lives better for people.
"I applaud him for getting this organized," Nelsen added of Tuaolo, who was part of the **Vikings LGBTQ summit **last summer. "This was all of his planning, and we're just grateful that he reached out and that we could be a sponsor with Esera's nonprofit, Hate is Wrong."
Tuaolo's discussion examined efforts made by athletes, sports businesses and nonprofits to better develop an inclusive environment within sports. He was joined on the panel by President of Adidas North America Zion Armstrong, Women's National Football Conference Co-founder Odessa Jenkins and Olympic gold medalist diver Greg Louganis.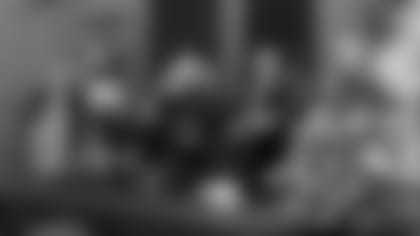 The second panel, on which Nelsen participated, had a specific NFL focus.
The group looked at how the league, individual teams and media can foster a more welcoming environment for LGBTQ individuals.
"We all know there are challenges and there are issues for the LGBTQ community as it relates to sports – but what are the solutions?" Nelsen explained. "What are some of the actions that the league or NFL teams can take to make football more inclusive at all levels?"
When asked about her motivation behind being a panelist, Nelsen expressed a passion around "true inclusion" and emphasized her belief that it's "not only the right thing" to do but also the smart thing.
"Organizations that have true diversity and inclusion, I believe, are the highest performing. I believe that [is the case] no matter what type of organization it is," Nelsen said. "Inclusion matters, and it matters for lots of really good reasons. So I think for me, I was able to talk about that and why I feel so strongly that it's both the right thing to do and why it's smart." '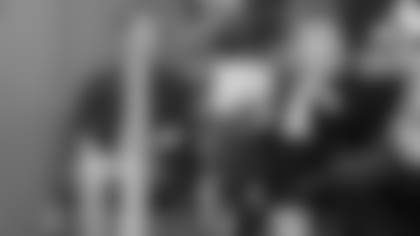 Added Nelsen: "It felt true and authentic to me, and that's why, on a personal side, it made sense."
Nelsen was joined on the panel by Atlanta Falcons Assistant General Manager Scott Pioli, 49ers offensive assistant coach Katie Sowers and NBC Sports' Peter King. Both panels were moderated by Cyd Ziegler.
Personal experiences with friends have impacted Nelsen and created an even stronger drive to help make changes in the area of inclusion, but she also was grateful for the chance to represent the Vikings and for the organization's sponsorship of the panel.
"I believe that we are better and stronger when we value all types of inclusion, and I think – I loved talking about this on the panel – we took an important step last summer when we had an entire summit on this topic, and I think that has opened up other avenues for us where we can help people more," Nelsen said.
"What's the next step for us to really make a difference in front of youth, their coaches and athletic directors to help people be able to deal with these issues more effectively?" Nelsen continued. "I feel like this is really consistent with our inclusion brand, and I just expect that it will continue."