When Harrison Smith stepped into the burning building, the lack of visibility caught him off guard.
He carefully maneuvered his way through different rooms, sticking close to the rest of his team as smoke billowed all around the group.
But fortunately, Smith was not in a real emergency situation. Rather, the Vikings safety was participating in the 3rd Annual Firefighters Challenge, hosted by actor and producer Denis Leary.
"It was a controlled setting, and we knew that everything was going to be fine," Smith said. "The firefighters were there with us the whole way, but it was a little insight into their daily lives."
Smith joined his cousin, actress Elaine Hendrix – perhaps best-known for her portrayal of Meredith Blake in the 1998 rendition of The Parent Trap – at the event. Hendrix is a close friend of Leary's and consistently supports the foundation, which Leary created in 2000 after six firefighters – including a cousin and a high school classmate – were killed while combatting a warehouse fire in Massachusetts.
Leary, who created and starred in the critically acclaimed series Rescue Me (2004-11), continues to be moved not only by the widespread support for his foundation but by its impact within New York City and beyond.
"Seeing actor friends of mine who used to be firefighters – like Steve Buscemi, who was a member of FDNY Engine Company 55, or Bobby Burke, who's still an active firefighter part time – come out every year and spend the day helping us raise money always humbles me," Leary told Vikings.com. "And then once we actually buy and deliver the new vehicles or tools or boats to fire departments around the country – or help to build new training facilities – that makes it all worthwhile.
"And it all makes a difference in each city and town we are able to help," Leary added. "It all saves lives on some level – the lives of firefighters and the lives of the people they rescue."
Hendrix initially was motivated to support the foundation by her friendship with Leary. Now, however, she shares a passion for the cause.
"When you get in and really learn how much firefighters do and what they do and what they have to learn, when you gain that much of an appreciation, you can't help but become passionate about it," Hendrix told Vikings.com. "Now I always tell Denis, 'Whatever you need me to do, I'm there.'
"I can't not help. I love it," Hendrix added.
Hendrix called it a "no-brainer" to include Smith, saying the two grew up in a close-knit family that emphasized making a difference.
"Our mothers were sisters. My mom passed away about a year and a half ago, and my mom and Harry were also really close," Hendrix said. "We were just raised that way. We were raised, you help. That's just what you do.
"I knew Harry would be into it," Hendrix later added. "The fact that we do have an elevated platform – it's interesting because Harry and I haven't ever exactly talked about it in these terms, but I would venture to guess he would agree with me – we come from a background where there's a certain sense of responsibility with that. 'Do something with that elevated platform. Don't just waste it away.' So this was our chance to do something positive … and we got to do it together. It was incredible."
Having had a schedule conflict in 2018, Smith was grateful for the opportunity to participate in this year's fundraiser. Other attendees included fellow celebrity guest and Food Network star Rachael Ray, former NFL center Nick Mangold, as well as members of the Army and corporate groups.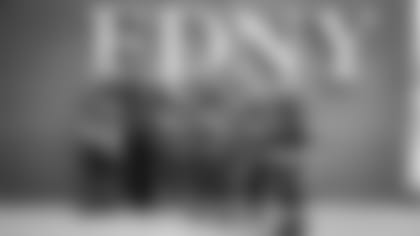 Smith and the others completed five different challenge stations that included the controlled structure fire, repelling down the side of a five-story building and a simulated emergency set-up in a mock subway system.
"They showed us how they rescue people from the subway and explained how dangerous the third rail (which provides electrical power to the trains) is," Smith said. "It surprised me how dangerous it is to go down there."
Smith learned that straddling the fire hose while entering a burning building enables firefighters to find their way back to the entrance in case of poor visibility or disorientation. Additionally, he was taught the importance of "sweeping" the floor while spraying to avoid the pooling and flow-back of dangerously hot water.
Smith was honored to share the experience with Hendrix, his eldest cousin, who has attended several Vikings games and consistently supports Smith in his endeavors despite a busy schedule of her own.
He explained their mutual desire to experience each other's livelihoods – even in minor ways, such as attending the film Draft Day – which also featured Leary – together upon its release in 2014.
"That was cool for us to go to the theater and watch it because she was asking, 'Is this what it was really like?' And I told her, 'Ah, there's aspects, but it's a little dramatic,' " Smith recalled. "It was cool. It was a little bit of a crossover."
Hendrix's willingness to pull her hair back and suit up in firefighter equipment didn't surprise Smith, who pointed out that she's a "passionate person all around," which has been key to her acting career.
Hendrix regularly chips in for nonprofit efforts, particularly in animal rescue.
"She spends a lot of time doing that, actually going out and rescuing the animals – not just adopting them. She does that, too, but she'll actually go out and really get her hands dirty," Smith said. "And she's worked with Denis and appreciates him as a writer and an actor and knows what he cares about. … So she wants to help out his foundation.
"She was scared to do the repelling, but she did it," Smith added. "She was like, 'I'm here, I'm going to do it.' She's just kind of all for everything. She's going to go do it. She has a huge heart, and I'm just glad she invited me. It was really cool to be a part of it."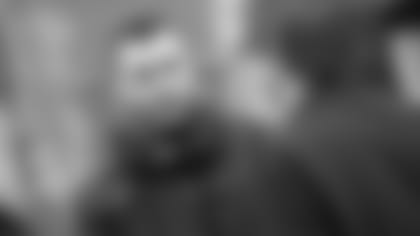 Leary expressed gratitude to Hendrix and Smith not only for attending but for jumping in head-first and completing every activity.
"This year, Elaine rode a rescue rope down five stories when grown men were still on the roof dealing with their fear of heights," Leary said. "I've been saying this for a while now – if I get stuck in a fire, I want Elaine Hendrix to rescue me."
From football to firefighting
Leary said that Hendrix gives 100 percent in all her commitments, and he thanked her for bringing Smith "into the fold" of the foundation and its efforts.
"He could not have been a nicer guy," Leary said of the Pro Bowl safety. "Not only that, but he geared up and went into every single training mission, too – like he'd been doing it every day for the past 15 years."
It isn't uncommon for former and current NFL players to participate in the annual event, but Leary was particularly struck by Smith's eagerness and comfort level.
"Harrison came out [of the Room of Fire] with a smile and a question: 'Can I go back in?' Nick Mangold was there again this year, and even he walked away impressed by Harrison," Leary said. "He'd be a natural firefighter."
Leary called the cousins a "dream team"; after the event, he texted Hendrix that he continued to get positive comments about "Hendrix and Harrison."
The actress can't help but chuckle at the attention – and T-shirt-worthy nickname – the duo received.
"It's hilarious because [Harrison] thinks that I've got this celebrity status, I think that he's got this celebrity status," she said. "And yet, we never get away from, 'Well, that's my cousin. That's just my cousin.' "
But with both family members being notable names, which was most recognizable by fans?
"I'm definitely not as pretty as she is," Smith quipped. "All of the firefighters wanted to take pictures with her, not me."
Added Hendrix with a chuckle: "He's very modest. I'll just say this – we made a good team."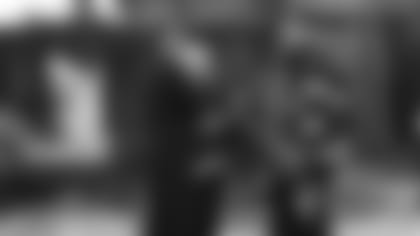 While Smith may not have posed for as many photos, he did spend plenty of time talking with the firefighters on hand – many of whom had volunteered their day off – and learning a little about their world.
He and Hendrix both most appreciated (literally) stepping into the firefighters' boots for a day.
"We didn't even scratch the surface of what they do, but just to get such an up-close and personal connection with them and what they do, that's my favorite part," Hendrix said. "Harrison and I grew up in a close family, so we're close. Then you step into this firefighter world, and they may not be blood-related, but they are very much a family. And they are very close."
Smith also was drawn to the camaraderie between the firefighters and likened it to the brotherhood of the Vikings locker room.
"They have fun with each other. You can tell, just the way they get along with each other, they trust each other. They have a lot of fun when it's appropriate," Smith said. "There were some similarities between the locker room and their firehouse. You could just tell the chemistry. They rib each other about a lot of stuff and have their own little jokes."
A handful of die-hard Giants or Jets fans aimed some friendly trash talk in Smith's direction, but he also was pleasantly surprised to connect with a couple of Vikings fans. One firefighter, Anthony Cordaro, is a New York native but has been following the Vikings since the Purple People Eaters era.
"It was cool to meet those fans and talk to them about football and their experiences as firemen," Smith said. "All the firefighters there were amazing. They wanted everyone to experience everything. You didn't have to do anything if it made you uncomfortable, but they were there. … They were all just great, great people."
Smith talked with the firefighters about everyday life in the firehouse, even down to their general diet and dining routine.
"They make their own meals. Some of the firefighters are good at making food, and the other ones kind of get kicked out of the kitchen," Smith laughed. "They're not allowed to cook."
Some of the stories that will stick with Smith were less lighthearted, however.
He recalled learning about firefighters who worked around the clock following the attacks of Sept. 11, 2001, and the ways they continue to be affected. Many of the firefighters have lingering health consequences, including respiratory diseases.
Nearly 20 years after 9/11, a day spent with the New York City Fire Department gave Smith a new perspective on the firefighters who risk their lives every day in order to protect and save others.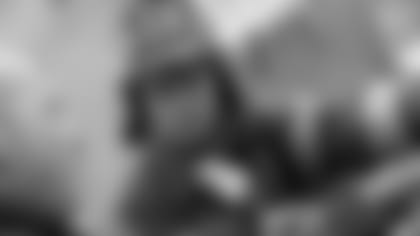 He understands that fans of all ages look up to him as an NFL player, but Smith conveyed that he's uncomfortable with the idea of professional athletes being somebody's hero.
"I think it's an easy thing for some people to point to and for us as football players to think we're super tough, we run into each other," Smith said. "Some people talk about it in the context of a 'battle,' stuff like that, and I've always just thought that was really silly. Because it's just not. I appreciate the chess aspect of the football, and it's obviously physical, but at the end of the day, it's a fun game.
"Some things are going to hurt every now and then, and you're going to put a lot into it, but those guys … are really risking their lives when they go out to do their jobs, same with military members, so it's a huge difference than what we're doing," Smith continued. "A lot of kids look at us because it's easy. We're on a bigger platform, it's easy to see us every day, but those guys are showing up to work every day and clocking in and putting it on the line. I have a great appreciation for that."
Smith walked away from his experience with a greater admiration for firefighters and a standing invitation to participate in future foundation events to support the field.
"Harrison also spent a ton of time … putting smiles on people's faces," Leary said. "It means a lot to the FDNY members and the other participants for a guy like him to take the time and support the cause.
"I want him to come back every single year. Elaine and him are invited forever!"