The life of Fred Cox — affectionately referred to as "Freddy the Foot" by Vikings fans and lovingly known as a husband, father, brother and uncle — was celebrated during a funeral service Monday at Buffalo Covenant Church.
Former teammates attended the ceremony, along with friends that met Cox well after his 15 seasons in Purple that landed him among the 50 Greatest Vikings.
Cox, who passed away last Wednesday, is the franchise's all-time leading scorer with 1,365 points. To put that in perspective, he has 62 more career points than the next two Vikings — Cris Carter (670) and Ryan Longwell (633) — combined.
A native of Monongahela, Pennsylvania, Cox was inducted to the Ringgold High School sports hall of fame in 2006 along with Joe Montana, Stan Musial and Ken Griffey, Sr.
Cox enjoyed a successful chiropractic business that he launched while a member of the Vikings, and he also happened to co-invent the NERF football, an innovation that has helped youth connect with the sport at early ages. He also loved flying, having earned his pilot's license in 1967, and hunting.
But for those who were able to attend, the ceremony was less about Cox's personal achievements and more about the positive impacts he had on others.
It was crystal-clear that Cox's commitments to his Christian faith and family were never compromised by football, fame or fortune; he used athletics to reach others by helping launch the Minnesota chapter of Fellowship of Christian Athletes.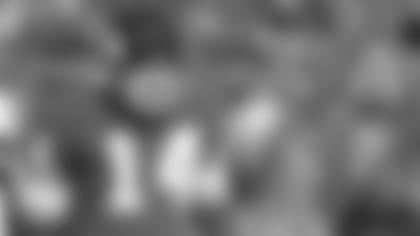 Cox visited Twin Cities Orthopedics Performance Center in 2018, the sparkling facility's first year as the Vikings headquarters. He got a real kick out of the amenities and how far they've come since the days when he didn't practice kicks during the week after the calendar turned to November.
Cox was gracious enough to do a sit-down interview with Vikings.com during his visit that remained unpublished until now.
We hope to honor his legacy with this post:
Q: What are your thoughts of the facility, and what memories came back to you during your tour?
A: "Thinking back, it was crazy. November, December, I kicked on Sundays, and that was it.
Q: How did you manage to keep your rhythm?
A: "I tell people that kicking, which I always knew, is more of a mental thing than a physical thing. Evidently, it was more mental than I thought because I'm a visual guy. When I would go to meetings, I would sit and 'practice' kicking because I could visualize, I could close my eyes and see myself kicking the ball, and that's what I did.
"I kicked, probably, better in those two months than other times. Maybe I should have done more of that earlier."
Q: I don't know of too many kickers who can say they've had a Hall of Fame snapper and holder.
A: "Not many of them. You probably haven't met many kickers either that only had one guy that ever snapped a ball to him in 15 years. Mick Tingelhoff was the only guy that ever snapped the ball that I kicked. Paul Krause held every ball for 10 years, and the other five, Francis [Tarkenton] held. I had three Hall of Fame guys — how do you think they got there?
"I tell Paul that all of the time: 'Man, you'd have never gotten in if you hadn't held for me.' "
Q: What was it like when the Vikings finally put everything together in 1969?
A: "Our team was all there, but it just takes a couple of years for everything to jell together. In '69, we jelled, but you have to remember, if you want to look at something, look at [Grant's] background. Bud came here and did what he basically did in Canada. He almost lost every game in his first year. The next year, we went to a playoff game. Now in his second year in Canada, he won the Grey Cup, and then his third year here, we went to the Super Bowl.
"You have to look at Bud for a lot of the stuff that made this team jell. He knew how to get the most out of players better than any coach I ever knew. He just had that ability to know what each guy needed. Some guys needed a push, and some guys needed an arm on their shoulder. He knew which guys those were all of the time."
Q: What type of guy were you?
A: "I was a guy that just needed to be left alone, and he knew that. I played 15 years and never had a coach. … I was going to retire three years before I did, and he called me into his office and said, 'We just don't have anybody to kick. We're going to bring a guy in, and we want you to coach him and get him ready to take your place,' so that's what I did the last three years. I kicked and worked with a guy that took my place. Bud knew that I was kind of self-motivated in my kicking. It was just the way it was.
"Now, he had an uncanny ability to know what to say to a guy under certain circumstances. I can still remember his [first] year here, we were playing Detroit, and I missed three field goals in a row and then made one. After the game, I was sitting in front of my locker and throwing things in it — not gently. He walked over, put his arm around me and said, 'Bet you've never had a game like that before.' Now that was Bud Grant. He turned around and walked away. That was all he said."
A: "It did. He knew how to fix things. He knew that I knew that he understands that that kind of stuff happens. Bud had that innate ability to connect to people, and that's really what finally made our team jell in 1969. All of these other things were factors. Joe Kapp was a big factor."
Q: The 1969 team defeated Cleveland, where you had started at a different position, in the NFL Championship.
A. "I had a back injury during my freshman year of college, and I missed a whole year. I was a running back and drafted by Cleveland to be Jim Brown's blocking back. The summer before I went to Cleveland, I hurt my back again. They wanted me to come to the team anyway and try to make the team as a kicker. Now, I look back and think how stupid I was to not realize that they had Lou Groza and they needed me like a sore thumb, but it was the greatest thing that ever happened to me because I learned more from him than I'd ever learned off anyone else. They traded me up here — Cleveland traded all kinds of people to Minnesota because it got us out of their division. In those days, you didn't play across divisions so they didn't have to worry about playing against any of us again. Jim Marshall was one of the guys. Jim Prestel, the defensive tackle. I can go on and on about the guys that came from Cleveland. It was unbelievable, but Cleveland had such a great team at that time."
Q: What was the atmosphere at Metropolitan Stadium like after beating Cleveland in that NFL title game?
A. "It was a crazy day when we beat them. That was a day that Joe Kapp missed a handoff, which was not completely unusual for Joe, and he never gave it a second thought, he just spun around and took off running with the ball. They had a big linebacker out there, and he hit that linebacker and knocked him out cold, but that was Joe. He did that a number of times. I can remember him scoring touchdowns where he went to give the ball to somebody, was going the wrong way, and he just kept running and scored. He just didn't know any better. He just knew that you needed to do what it took to win."
Q: The NERF football, what were your initial impressions, how surprised are you that it's been so successful and what does it mean to see young people still enjoying it?
A: "It happened in such a short period of time, and actually I was still playing. It was 1972. The whole thing is crazy, and it's been that way for the whole time. A man came to my door and said, 'I have this idea for a game.' My first statement to him, was, 'No, I'm not interested in financing it,' because you'd get a lot of that. He said, 'No, I want you to look at it and see what you think,' so he came in and we were sitting at my kitchen table, 'I've got this idea for this kicking game.' I said, 'OK.'
"He said, 'It's a goal post that you move up and down and in and out, so the kids that live in the city can kick in their backyard.'
I said, 'What are you going to use for a ball?'
He said, 'I was thinking something heavy so they can't kick it out of their yard.'
I said, 'That's good, except you're going to have a bunch of sore-legged kids running around. Maybe what you need to think about is something like a Wiffle Ball or something made out of foam rubber.' Now, if you asked me why I said foam rubber, I can't tell you. We both knew a guy in the injection-molding business, and we got him to make a football by injecting molding in it.
"The first ball he brought back was black and must have weighed 15 pounds. 'That ain't going to work,' so he went back and changed the formula. Literally the second ball that he made, he brought back and we looked at it and said, 'That's crazy. That thing's got a skin on it.'
"He said, 'It surprised me, too, because when you injected this, that's what it came out with.' It was a full-size football, and we had him make three more of them, and we gave them to kids and said, 'Go play with these.' They played with them for about a week and brought them back. To our amazement, the skin stayed in-tact really well.
"At that point, we made the startling decision, 'This is probably going to be sold to little kids, so maybe we should make it half-size. We did, and of course it was totally wrong, because most of them were bought by college kids. It was the perfect thing to do, because the average person can't get their hand around a regular-sized football. At that point, what we did was took the game and went to Parker Brothers.
"[John Mattox] gave the spiel about the game and the fact that I kicked the ball and it acted like a regular football and all of this stuff; the man at Parker Brothers looked and said, 'I'm not at all interested in this game, but I want that ball.'
"It was startling to us. He had someone drag in a big box that was full of footballs. For three years, they had been trying to make a football, but they got locked-in on what's called a hot-wire cut … we walk in with a ball with skin on it, and they couldn't believe it.
"We signed an agreement with them that day. I tell people all of the time, the biggest mistake that they ever made — they gave us an open-ended contract forever, so as long as they make that ball, myself or my family will get a royalty from it. That was 1972, and they're still making as many as they did back then.
"It was very financially rewarding, in case you want to know."