Tragedy and triumph usually aren't interwoven so tightly.
John Kriesel lived through a roadside explosion near Fallujah, Iraq, on Dec. 2, 2006.
The blast claimed both of his legs as well as two friends and members of his team, Minnesota Army National Guard Sgt. Bryan T. McDonough and Sgt. Corey J. Rystad.
Kriesel died three times on the operating table, but the former Staff Sgt. survived and co-wrote Still Standing: The Story of SSG John Kriesel. Now a member of the Minnesota House of Representatives, friends held a party for Kriesel's 10th "alive day" on Friday night.
Kriesel said he appreciated the support from friends and others that he had never previously met. He had started the morning somberly at Fort Snelling National Cemetery.
"It's a bittersweet day because I'm happy to be alive, but I'm sad because two of my best friends are no longer with us," Kriesel told Vikings.com. "It's a reminder of that, but I try to look at the bright side of it and say, 'You know what? I could have not survived, but I did so I've got to make the best out of every day moving forward.' Obviously, every day I look at it going forward."
"It's an opportunity to celebrate it more as the day that it comes home, not that it's not real the other 364 days a year, but the alive day is the chance to really focus on that day," Kriesel added. "The morning is always tough at the cemetery, but then the rest of the day was fun, light-hearted and uplifting."
In honor of the bravery and sacrifice, the Vikings hosted Kriesel, former Staff Sgt. Tim Nelson, who also survived the explosion, and family members of McDonough and Rystad at Minnesota's game with Dallas on Dec. 1 and named them the U.S. Bank Hometown Heroes of the game.
The group was recognized on the video board and received a rousing ovation from the record crowd of 66,860.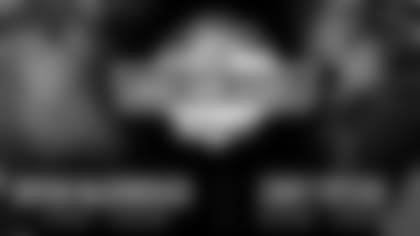 "It meant everything," Kriesel said of the standing ovation during the tribute. "That was one of the most meaningful moments of my life because people don't have to do that. To honor those two guys and then have us be part of it, I mean those two are the heroes. They're the ones who actually gave their lives."
Kriesel shared the following memories of McDonough and Rystad:
*"Bryan McDonough was accidentally a better soldier than I ever could have been. He tried, obviously at his job, but even without trying, he was meant to be a soldier, so I'll never forget that about him. He was always smiling, always fun. He would lighten the mood with jokes and crack us up when there wasn't a lot to laugh about. He was awesome. He was the guy that everyone liked. He would walk into a room and not know anybody, but by the end of the night, everybody would be best friends with him. That was the kind of guy that he was. *
"Corey Rystad was the nicest human being I've ever met. I know people say that probably after everyone passes away, but it's legitimate. He was the most easygoing, sweet kid. You could always count on him. He was the quiet guy that would always do his job. He was the one that, you know, I focused on the least when he was on my team in Iraq, just a small-town Minnesota boy. He was the best."
Kriesel said he's learned quite a bit in the aftermath of the tragedy and he remains committed to passing along that unique knowledge.
"If I can teach people what I've learned without them having to go through what I did, then I feel pretty good about that," Kriesel said. "I've been fortunate to share that with a number of people and co-wrote a book about what happened, but also I'm just so thankful that every day is a gift. I wake in the morning, and each day, I'm just thankful to be alive."
He's also thankful for the courage and commitment of those currently serving in the military.
"That's what makes America great, that people continue to do that," Kriesel said. "There's obviously a lot on the line, and it's a dangerous job, but that's why people keep doing it, because it's worth it, because this is the greatest country the world has ever seen. As scary and dangerous as it is to be in the military at times, it's also the greatest honor.
"It's tougher for the families back home. I think those of us who serve do it because we want to," Kriesel added. "It's a volunteer military, so it's the greatest opportunity I've ever had in my life and I would not change a thing. All of those people that are still willing to join are why we get to enjoy the freedoms we enjoy. It's why we can spend a whole Sunday afternoon watching football and enjoy the little things in life, because people like them are taking care of the big things."