MINNEAPOLIS –From vintage memorabilia to a shiny new cornerback, lots of Vikings fans got what they wanted Thursday night.
Thousands of fans decked out in Purple and Gold – mohawks, custom sneakers, jewelry and face paint – flocked to U.S. Bank Stadium for the Vikings Draft Party and waited approximately three hours in anticipation of the 30th overall pick.
Murmurs spread through the crowd as one by one, college stars heard their names announced by NFL Commissioner Roger Goodell from the Cowboys stadium in Arlington, Texas. Would Vikings General Manager Rick Spielman trade up? Would he trade out of the first round altogether? Or would Minnesota stay put?
The Vikings were on the clock at No. 30, and the fan energy intensified.
When Goodell announced the Vikings selection of cornerback Mike Hughes out of Central Florida, applause and cheers erupted. Confetti cannons blasted purple-and-gold foil high into the air.
"He makes our defense better," Vikings Season Ticket Member Kevin Raberge said following the pick. "He definitely made a great defense even better."
Paul Allen, who broadcasted live on-stage throughout the evening with Ben Leber and Paul Charchian, shared notes on Hughes:
"Outstanding on-field finishing speed, excels with the ball in his hands," Allen said. "He's able to open a burst with relative ease in zone coverage, fast eyes."
Charchian added that Hughes is a physical, "scrappy" player.
"I think people will like the fact that he will not be intimidated; he will want to own every ball that comes into his space, and he will dive for balls," Charchian said. "He'll catch everything near him."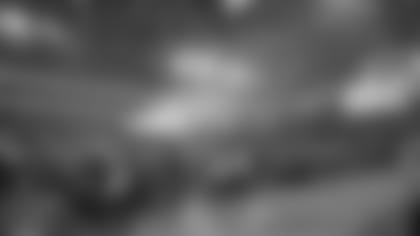 Another fan, Daniel Helmen, said he thought the Vikings might choose an offensive lineman but was really happy with Hughes after a number of linemen were already off the board.
"I think adding Hughes to the team will help with some interceptions and turnovers, which will be great for our defense to continue to be No. 1 next year, as well," Helmen said.
In the time leading up to the Vikings pick, Vikings fans enjoyed a number of unique experiences, including locker room tours and autograph sessions with current and former players.
Danielle Hunter spent an hour inking his name to various memorabilia items and snapping selfies with everyone who asked.
"It was an exciting feeling coming out to see all these fans who really support us. I've been here for three years now, and I know now how strong the fan support is here," Hunter said. "It's really exciting to see all these people show up here to watch the draft."
Andrew Sendejo, Latavius Murray and Tom Compton also signed autographs for fans, along with Vikings Legends Randall McDaniel, Chuck Foreman and Mike Morris.
Compton, whom the Vikings signed in free agency, is a Minnesota native and enjoyed the "back home" experience.
"I've never been to anything like this, but it's pretty amazing," Compton said. "You've got everything for the fans, the whole experience, so it's pretty cool to be a part of that.
"I might know a couple of these people, I don't know," Compton added with a laugh. "That's kind of the fun part. You might run into someone you know or know or into [mutual friends]. The hometown thing is definitely a big deal, and I'm just happy to be a part of it."
Running back Dalvin Cook also made an appearance at the Draft Party, joining Allen on stage for a live segment of the radio show.
Cook later told Vikings.com that it was a surreal moment to watch the draft on the Vikings video boards a year removed after being drafted himself.
"It's a different feeling when you're on the other side; you're waiting to get your name called, and you're just waiting to see what team you're on. Now I'm on a team," Cook said. "You take advantage of every moment because the years go by fast. I've always got that moment in my back pocket. It's a wonderful feeling to be on the team and not to be waiting on the other side."
Perhaps the highlight of the Vikings Draft Party for many fans was the garage sale held on the concourse. The once-in-a-lifetime sale offered lifelong supporters the chance to purchase pieces of Vikings history. Framed and matted photos of Hall of Fame Coach Bud Grant and the Purple People Eaters, game-worn jerseys of all eras, foldable locker-room chairs from Winter Park and authentic autographed helmets were just a few options that were purchased for affordable prices.
Bob Repin, known by most simply as "Viking Bob," is a Vikings Rewards member and used points to bid on an early entry to the sale.
When he found out that he had received the experience, Viking Bob didn't hesitate to make the drive up from Chicago, even though work required him to be back in Illinois by 1 p.m. Friday.
"To know that it came from Winter Park, or somebody wore it, or it came from the locker room, or whatever – it has a direct connection to the team," said Repin, who has been a Season Ticket Member for 27 years. "Everyone's coming away with something cool. If you came in here and left with nothing, you didn't look very hard – there were so many cool things to choose from."
Repin has been to 200 Vikings games – home and road – and attends them with friends. The group has worked to collect various team gear for cold-weather games, starting with the hand-warming pouches that players use on the field.
After purchasing the unique items a few years ago, Repin and his friends set their sights on the large overcoats worn by players on the sidelines. Lo and behold, they were able to snag the coveted apparel at the Vikings garage sale Thursday.
"Again, it's something authentic that no one else will have," Repin said.
"You look at what the organization has done over the past five to 10 years … everything is first-class all the way," Repin added. "In line with what they've been doing as an organization, they made it affordable, they made it charitable … to do something like this and have it go to charity, it's a win-win for everybody."
Another pair of fans, Eric Ostrander and David Starr, couldn't pass up the opportunity to add some genuine Vikings memorabilia to their collection.
"It's a little difficult to narrow down – I wish I had more arms," quipped Ostrander, who stood on the perimeter of the concourse near his pile of finds.
Among Ostrander's purchases were large game-action photos of Anthony Barr and Stefon Diggs, and Winter Park locker room chairs.
"I think to have something more authentic that the players were actually using in the locker room, that's a memorabilia item that definitely made the trip worthwhile," Ostrander said.
"His wife isn't going to hear this, right?" Starr joked of his friend's pillage.