A Vikings fan since birth, Andrew Davis has made no secret about his love for the team.
Case in point: the season ticket holder had a Teddy Bridgewater themed cake at his wedding.
But the 47-year-old took his fandom to new heights last month when he scaled Cho Oyu — the sixth-tallest mountain in the world that measures 26,906 feet — and proudly posed with a Vikings flag on the day he reached mountain's peak.
"I'm just a die-hard Vikings fan," Davis said. "It's become kind of a tradition that whenever I climb a mountain, I bring an American flag and a Vikings flag or Vikings pennant.
"I'm just proud of the team and proud of the club," he added.
Cho Oyu, which is located in the Himalayas on the border of Tibet and Nepal, is the tallest of the three mountains that the Minnesota native has climbed. The world's tallest mountain, Mount Everest, is roughly 12 miles from Cho Oyu.
Although he had reached the tops of two other mountains, Davis said reaching Cho Oyu's peak on May 15 was an accomplishment unlike any other.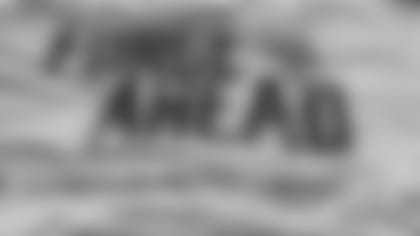 According to Davis, he was one of only 17 people who made it to the top during climbing season. On the day he reached the peak, Davis said the temperature was minus-25 degrees with 85 mile per hour winds.
"This has been a goal of mine for the past few years," said Davis, who also brought the "Forge Ahead" towel given out at Minnesota's Wild Card playoff game. "It's a big mountain … it was a great accomplishment."
The Edina resident spent more than three weeks climbing the mountain and getting used to the altitude.
And even though he was nearly 7,500 miles away from home, Davis made sure to call his wife, Kristin, when the Vikings took wide receiver Laquon Treadwell in the first round of the 2016 NFL Draft.
"The biggest drawback of this whole climb was that I missed the draft," Davis said. "I was on a (satellite) phone literally talking to my wife about who they picked. And I loved the pick of Laquon."
Davis and his wife first became season ticket holders in 2014, during the first season in the elements on-campus at the University of Minnesota, the Vikings temporary home while U.S. Bank Stadium was being constructed.
Now that U.S. Bank Stadium's debut is almost here, Davis said he and his wife are more than ready to cheer on the Vikings in their new home.
And there's a good chance he'll have a flag with him.
"We are so excited we can't even sit still," Davis said. "It's going to be a world-class facility.
"It'll be something that is really unique and special to the franchise."