EAGAN, Minn. – When Vikings first-round draft pick Garrett Bradbury heard about King Brothers Clothiers, he looked up their Instagram account and started scrolling.
He scrolled through photos of several dapper-looking pro athletes from the Twin Cities area before a unique snapshot caught his eye. Actually, several.
Throughout the social media feed were photos of client Hafþór Júlíus Björnsson, Icelandic professional strongman and actor who is best known for his role as "The Mountain" on Game of Thrones.
"If they can fit that guy, then they can definitely fit me," Bradbury said with a laugh.
Listed at 6-foot-3 and 305 pounds, the center called it "one of the hardest things ever" to find well-fitting clothing.
"I don't think linemen can just walk into a mall and find clothes that fit them unless they're in the big-and-tall or the clearance section," he said.
Bradbury doesn't identify as a fashion guru. He's never spent much time and energy on high-end, business-formal clothing. But when he was selected 18th overall by the Vikings this spring and began his NFL journey, he knew that part of the job included dressing for success.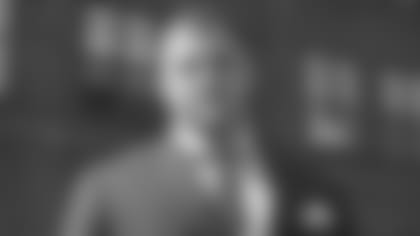 And so, Bradbury set up an appointment with twin brothers – and Minnesota natives – Danny and Kenny King to be fitted for a custom suit.
A lot of chain clothing stores or even semi-custom suit shops train sales people to quickly fit customers and focus on the numbers. Conversely, the Kings consider themselves clothing experts who care about their clients first and foremost, knowing that the sales will naturally follow.
"Meeting them the first time, they're just awesome people, fun-spirited guys," Bradbury said. "I've looked at custom clothiers before, but Danny and Kenny do a lot of different measurements. They do a really good job."
Bradbury isn't the only Viking suiting up with the King Brothers for his first year in the NFL.
Interestingly, Minnesota's first three draft picks have been working with the local duo. Tight end Irv Smith, Jr., (50th overall) and running back Alexander Mattison (102nd overall) shared similar sentiments and experiences.
"The way my body is, I've always had to find pieces separately and then try to piece things together," Mattison explained. "Usually in the shirts, the arms might be too short, or if the arms are perfect, the neck might be too tight. So, it's always something, and it's a little harder to find.
"When they're able to do that [custom fit], it makes my life a lot easier, and it also looks amazing," he continued. "I'm just grateful to have the opportunity to connect with them."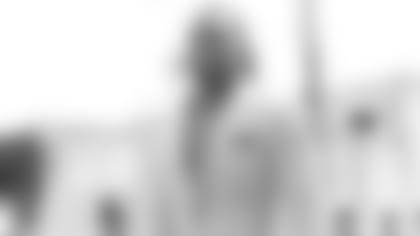 The trio of teammates are first and foremost focused on on-field success, but they also know that looking and feeling put-together makes a difference.
"I like to have style with everything I'm doing," Smith said. "I feel like if you're confident off the field, then you're confident on the field, as well."
Added Mattison: "It's all about going out there and performing your best, and you need everything to be in line for that to happen. You need your home life to be right, your family, your mental state, physical state – everything needs to be in line for you to do that. That goes along with feeling good and having good energy."
Bradbury, Smith and Mattison were impressed with the King Brothers' professionalism and know-how but also emphasized their down-to-earth nature and ability to connect with their clients.
And of course, there's the twin factor.
"It's cool just to see the way they interact. They just toss ideas off of each other and piece things together," Mattison said. "One says something and the other will say, 'Oh yeah, what about this?' They just kind of click. It was really cool to be a part of that process."
Each of the players had individual fittings with Danny and Kenny, who encouraged them to be bold and express their personality with fabric and pattern choices, inside lining designs, buttons, embroidery and, of course, dress shirts and neck ties.
The brothers also are ready to give guidance when requested.
"I had a lot of fun in choosing. I needed to get some standard stuff but some fun stuff, too," Bradbury said. "That's not my forte or cup of tea, but I think they did a really good job of helping me pick some stuff that's a little outside my comfort zone, and I had a lot of fun with it."
Mattison is still working on defining his personal style and appreciated the brothers' willingness to assist.
"I really appreciate how professional and excited they were about making a suit and bringing in my personality and what I wanted," he said.
"Hopefully I can make a statement and build my own brand and my own style," Mattison later added. "There's one suit that we picked out and were like, 'You know what? Let's just do this. It's got a nice pop to it.' I hope it looks good on me."
With one of his suits, Smith opted for a print that gives a nod to his collegiate career with the Crimson Tide.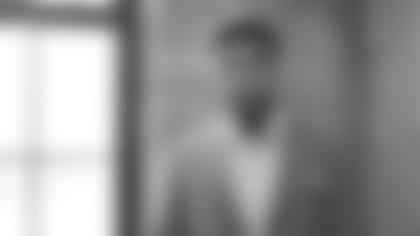 "In Alabama, houndstooth is the big thing out there, and I saw they had a cool houndstooth suit," Smith said. "It's a tradition at my school, and it's a fun look. So, I went with that."
Danny and Kenny were glad that the rookies enjoyed the process of crafting their styles and images.
"Garrett, Alex and Irv are all doing their own cool and unique things, but more than that, they're being intentional about how they're going to be perceived for their careers," Danny said. "That's what we think is so cool about this process.
"Very few people get to be in control of how others see them, and these guys are experiencing this for the first time and really embracing it – being intentional about laying the groundwork for their first years in the NFL spotlight," Danny added.
When Bradbury, Smith and Mattison dress for game days and suit up for road trips this season, they're confident not only in their tools on the field but in their wardrobe.
"When I got the first suit back from them, I was just amazed at how well it fit," Bradbury said. "I don't think I've hardly ever had clothes that fit that well, to be honest. It can be hard for us big guys, but when you have people like [the King Brothers], it makes things a lot easier."