MINNEAPOLIS –For Daundre Ashworth, the month of December brought even more gifts than usual.
The 29-year-old has special needs, but anyone who spends a moment with him will learn just how special Daundre is.
At just 4 years old, Daundre survived a house fire when he was rescued by Don Kosen, a now-retired fire captain. Twenty-five years after the rescue, Daundre and Kosen were reunited for the first time, and a local news station captured the heart-warming moment.
"He's my favorite hero," Daundre said of Kosen in an interview with KARE 11. "He is now, more than ever."
Watching the news clip, it was clear Daundre has another type of hero as well: the Minnesota Vikings. Purple-and-gold memorabilia dominates his room, and he's been following the team for years. Daundre also loves to watch games with his family, who adopted him at age 17.
When the Vikings saw Daundre's story and his love for the team, they gave him his second surprise of the month, gifting the Ashworths with tickets and sideline passes for the Vikings-Giants game on Dec. 27.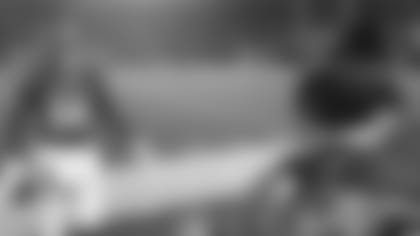 Fortunately Daundre's parents, Kristin and Matt Ashworth, caught the moment on video.
"We couldn't believe it when we heard [about the tickets]," Matt said. "We thought Daundre would lose his mind with excitement when he heard the news – and he did."
Daundre explained his emotions when his parents shared the news, saying, "I was crying, and my heart was 'beeping' fast because I was so, so excited."
By Sunday night, that excitement had not worn off, despite icy Minneapolis temperatures that dipped into the teens.
"I'm cold," Daundre said, pulling tighter his metallic-gold coat. "But I'm so excited!"
Coming into the game, Daundre's favorite player was running back Adrian Peterson. By the time kickoff rolled around, he had added rookie wide receiver Stefon Diggs to the list as well.
Diggs jogged to the sidelines during warmups to greet Daundre and give him a hug; the gesture quickly made Daundre's experience that much more memorable.
"It was so special for [Daundre] to come out and see the players," Matt said. "He's had kind of a hard life, and it was really special for him to do something cool like this."
Daundre's love for life is contagious, and his positive attitude also carries over to his fandom. When asked to predict the outcome of the game, Daundre laughed and said Minnesota would "for sure" win. And his final score prediction?
"Umm … Vikings will get 55 and the Giants will get 19," Daundre decided.
After Minnesota dominated in the *Sunday Night Football *showdown and defeated New York 49-17, it seems Daundre's prediction was probably more accurate than anyone's. As the team now focuses on playing Green Bay Sunday, Daundre has every bit of confidence in that NFC North division title.
He believes in his Minnesota Vikings.