When Deb Jones grew up watching the Purple People Eaters on television with her dad and brothers, she never dreamed she would one day work for the team she loved.
"I learned a lot about football from them," Jones said before adding with a laugh: "I would ask questions during the game, and I would get, 'Shhh – we're watching the game!' But I learned that way."
Over the years, Jones continued her education both in football and academics.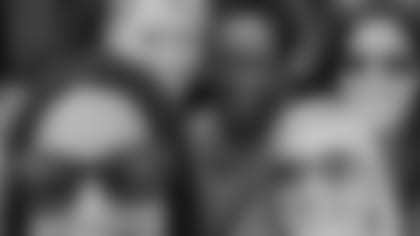 After graduating from high school, the Minnesota School of Business and then taking additional college courses, Jones saw an opportunity in 1990 to apply for two open positions with the Vikings – one in public relations and one in player personnel.
Jones was interviewed and ultimately offered both roles, and she accepted the PR position.
"That started my journey to where I am now," Jones said with a smile.
Jones credits much of her journey to former Vikings PR Director Merrill Swanson, who took the new employee under his wing and invested in her career.
"He would ask me to come into his office, and he would be on the phone talking with media," Jones recalled. "He just wanted me to hear the conversation and how he managed things. I learned so much that way."
From there, Jones began to take on more work. First, she helped to organize and run a Vikings fan club; next, she tackled an NFL workshop for women; and then it was the Vikings draft party, and pre-game plaza activities.
Gradually, the Special Events department was established.
Now in her 26th year with the Vikings, Jones has worn a variety of different hats for the purple and gold. Currently, she is the Senior Manager of Special Events/Alumni Affairs.
One of Jones' favorite responsibilities to facilitate through the 2015 season was the game-day plaza, an area she no longer oversees.
"Fans come, and they just want to have fun," said Jones, a self-proclaimed people person. "Being out there and listening to the music [and seeing] all the food, the sponsors, the games, all of that. That event for me was very fun."
While it was difficult for Jones to transition away from the plaza activities, she now says it's worth it as she works closely with the alumni program.
Most recently, Jones worked to coordinate a dinner and reception at U.S. Bank Stadium to honor Vikings Hall of Famers. Eight Vikings alumni, along with storied Head Coach Bud Grant, attended the special event.
Jones enjoys planning every last detail, down to the table arrangement for a family-style dinner. She said it felt like an appropriate setup for the lifelong friends to dine together.
"It's like a family reunion," Jones said. "They don't always talk to another consistently, but when they get together, it's like they pick up right where they left off."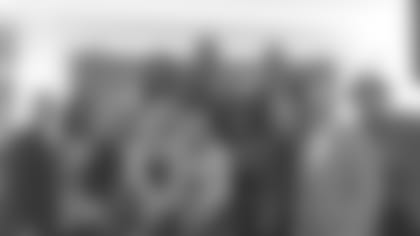 Jones has also built strong relationships and rapport with the alumni players over the years. When she gets a chance to visit and catch up with Cris Carter, she doesn't view him as the Hall of Fame wide receiver but rather as an old friend.
"Cris and those players during their era … I don't really see them as superstars – even though they are, and I respect that," Jones said. "But we just talk, like, 'How's your mom doing? How are your kids?' "
Relationship-building proves an important aspect of Jones' role with the Vikings, and she's proud of the way the alumni program has developed over the years. Jones recalled a time during the 90s when former players would come by the Vikings facility to talk and reconnect, and she spoke with former Vikings President Roger Headrick about reinforcing communication with the alumni.
One goal weighs heavily on Jones' heart: that former Vikings would always feel welcomed back to the organization.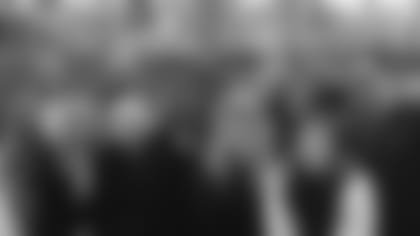 "If that platform is through our Legends Weekend where they can just come back and [be together], that's one way," Jones said. "When you think about football, they put a lot on the line when they're out there playing, so it's nice for an organization to be able to look back and still give back to them.
"And they give back to us, too, and to the fans and community," Jones added.
It's been incredibly rewarding for Jones to now work so closely with the players she watched with her father and brothers growing up. For her, it seems to have come full circle.
"There was some shushing going on from my side of things, too," Jones quipped about sharing her daily experiences with her family. "It's really fun."
Among treasured moments for Jones since joining the Vikings are times she was able to give tickets to her father, who has since passed away. It meant a lot for Jones to be able to "return" the gift of football to the man who taught her so much about the sport.
"Those are some of my fondest memories," Jones said.
To this day, conversation about the team is considered valuable time by Jones. But it isn't all about the current and former players. Rather, Jones finds herself more often sharing about her Vikings co-workers.
"They've taught me a lot; we've laughed a lot," said Jones, who recalled an 18-hour shift at the Metrodome setting up for a Vikings draft party a number of years ago.
"We've been in the trenches together," Jones said with a smile.
While her position often calls for long work days and odd hours, there hasn't been a time in 26 years where Jones didn't feel passionate about her job and the Vikings.
"It's the joy of seeing the event and people having a good time," Jones said. "It's hearing former players' stories about when they played and seeing how, they get together, it's friendships renewed, friendships carried on, and to know that you had a part in planning that. That's fun for me. That's joy."