LITTLE FALLS, Minn. — Stephen Weatherly and Jalyn Holmes were in awe at the teamwork in action at Camp Ripley during a staged mission that required a mix of vision, brains and brawn.
The Vikings defensive linemen listened in as the eyes of the operation, soldiers on the ground a few miles away, tracked a mock target. They then relayed the information to the brains, a group of soldiers in a tent labeled the Fire Direction Center, who analyzed where to launch a projectile based on distance, weather patterns and the weight and temperature of the round.
All of that data was then radioed to the muscle of the unit, a handful of soldiers who prepped and launched the projectile from an M777 Howitzer, a long-distance weapon that can hit a target more than 10 miles away.
It was just another day of training for the 151st Field Artillery Battalion, which is part of the Minnesota Army National Guard.
"The closest thing it could come to is when you have been practicing all week," Weatherly explained in football terms. "You know this team runs this one particular play, and your coach installs one play where you get a chance to stop it and you have been practicing all week and you get the interception in practice.
"Then that play comes in the game, and you are like 'Oh it is about to go down,' and then they run it," Weatherly added. "You get it right in the lane, and you catch an interception … that's the closest thing to it."
Added Holmes: "You had to trust in the next person that they were going to do their job. Everybody had to do their assignment to the best of their abilities. You've got five people in different places to make sure everything goes to perfection."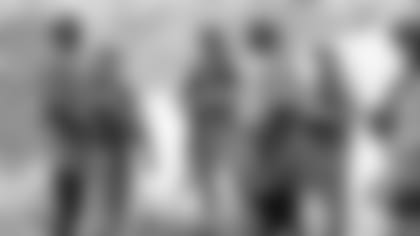 Weatherly and Holmes spent a day in mid-July with the unit at Camp Ripley, a 53,000-acre training facility for the Minnesota Army National Guard that is located roughly 100 miles northwest of Minneapolis.
The trip was organized by the United Heroes League, an organization that helps military children stay healthy and active in sports while their parents are deployed. Shane Hudella, the president and founder of United Heroes League, created the organization in 2008.
In addition to Weatherly and Holmes, other athletes such as former Twins star and 2006 American League MVP Justin Morneau, former Gophers hockey player Erik Westrum and Hunter Miska, a Minnesota native who is currently a goalie in the Arizona Coyotes organization, participated.
The day started at the Minneapolis-St. Paul International Airport, where the group hopped on a quick flight to Camp Ripley. The chartered plane was provided free of charge by Best Jets International.
Weatherly, Holmes, Hudella and others in the group met with Charles Hollenback, the battery commander and rank captain for the 151st battalion, for a debriefing of the day's events.
They then trudged out into the rain and wind for an in-depth look at the training regimen by the men and women who are headquartered in Montevideo, Minnesota.
The group met each facet of the unit — the eyes, brains and brawn — getting up-close interactions with each group.
While the first stop included observing maps and computers inside the Fire Direction Center, the highlight occurred in the field when Weatherly and Holmes were each able to pull the mechanism that fires the M777 Howitzer.
Weatherly described the rush of the tactical team getting the information on where to launch the projectile and firing it off less than a minute later, as well as actually being the one to trigger the weapon.
"Just crazy, being able to do that. To have all that power come out as soon as you pulled it, [it's] nothing like going shooting at a range or something like that," Weatherly said. "Just seeing all of the different steps, you start it in the tent, when they process all the information to make sure it lands in the right spot.
"And going out and seeing the guys actually grab the ammunition, make sure it is verified, throw it in there, with the gun powder, with the charge, close it, and then wait for the field captain to say 'fire,' " Weatherly added. "From the time they get the call to the time the gun goes off, it's 45 seconds, so everyone is working smooth, fast and in a hurry. That was crazy. They let me pull it, and I was like, 'I've got to try it at least once.' I was glad I was able to have that opportunity."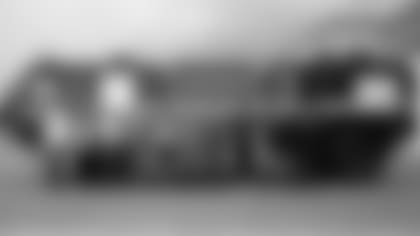 The visiting group then spent time with the soldiers who are normally in close proximity to the enemy. The soldiers relay critical information so the other groups can determine when and where to fire the projectile.
Hollenback said his unit was in the middle of a vigorous eight-day training exercise and appreciated the interactions.
"It provides my guys with a much-needed break and takes their minds off being in the field for this many days," Hollenback said. "Plus, it's just a blast to get to meet these guys and ask them questions. It's a moral uptick for us."
Weatherly, Holmes and the other athletes then signed autographs and interacted with hundreds of soldiers and their families on the grounds.
Clint Ebsen, a soldier at Camp Ripley, said the base was buzzing with the news that Vikings players were visiting.
"We appreciate what they do for our kids. And we can tell they appreciate what we do as well," Ebsen said. "It is nice to have them come out here and see us and get to see what we get to do, too.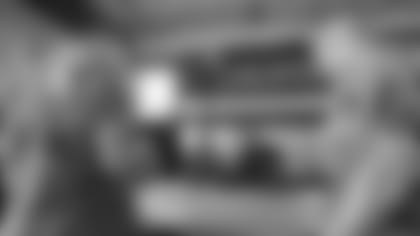 "We just really appreciate the athletes coming and seeing us, and showing support to us," Ebsen added. "It is nice that we can show our kids what happens when good people come and do these things for us."
Amanda Gjerde chatted with the players along with her two children, Margaret and August. Gjerde's husband, Troy, is currently deployed in Kuwait.
"We made the trip out here so that the kids could see some of the sports players and get some autographs," Gjerde said. "We were able to come up here to Camp Ripley where their dad normally works … and make that connection between what Dad does and the wonderful players who came out."
Weatherly and Holmes said they both already had an appreciation for the military but gained a greater understanding on the operations after their visit.
"No doubt. I mean, they are doing something, they are training for something," Weatherly said. "At any point in time they could be called upon to make the ultimate sacrifice just to make sure that I have the opportunity to do something that I love on a daily basis.
"It is very difficult. It is very taxing for people's families," Weatherly added. "Just to see people's families come out and share in a good laugh and brighten everyone's day, if it was only for 45 minutes to an hour toward the end there, it is definitely worth it. It's definitely worth it to do it again."
Added Holmes: "It is always appreciated, the military and the sacrifices they make for us. Their families also make sacrifices. I am glad I got to experience this, and I am appreciative of everything they do for us."
Hudella said he hoped to organize another trip based on the success of this one.
"It was a win all around," Hudella said. "The field artillery is a very technical profession and is very necessary in today's world. It's something that most people don't get a chance to experience, and I know the soldiers of 151 were incredibly appreciative of the athletes coming out to see and learn what they do."