The Vikings (12-3) will host the Bears (5-10) at noon (CT) Sunday at U.S. Bank Stadium in the regular-season finale for both teams.
This will be the 114th meeting between the two franchises in a series that began with Minnesota's inaugural game. The Vikings have claimed two in a row against the Bears, winning the last game of the 2016 regular season 38-10 at home and claiming a 20-17 victory at Soldier Field in October.
Here's a look at logistics, events and activities inside and outside of U.S. Bank Stadium:
Delta Vikings Village:The Delta Vikings Village will be closed because of the harsh weather in the forecast. The PrimeSport Longhouse tent will be open.
Stadium gates open: 9:30 a.m.
Arrival advisory: Because we typically witness late-arriving crowds at Vikings games, fans should expect extended wait times to enter U.S. Bank Stadium beginning at 11:15 a.m. this Sunday. We encourage early arrival as the best chance to avoid longer lines and remind all fans to be prepared to open their coats as part of the security process.
Skyway: A dedicated core Skyway route will be open from 9 a.m. until 6 p.m.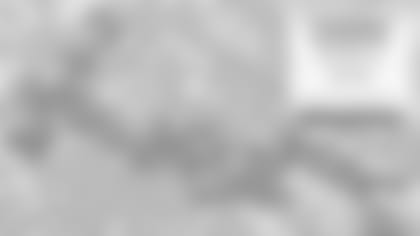 National Television: FOX (Channel 9 in the Twin Cities)
Play-by-play: Kevin Burkhardt; Analyst: Charles Davis; Sideline: Pam Oliver
Local Radio: KFAN 100.3-FM in the Twin Cities and across the five-state Vikings Radio Network will carry the game. A pre-game show with Mike Mussman will start at 10 a.m.
Play-by-play: Paul Allen; Analyst: Pete Bercich; Sideline: Greg Coleman & Ben Leber
Broadcast map:A wide swath of the United States will have the opportunity to watch the Vikings-Bears game. Check out the map below from 506sports.com to see the FOX broadcast plan.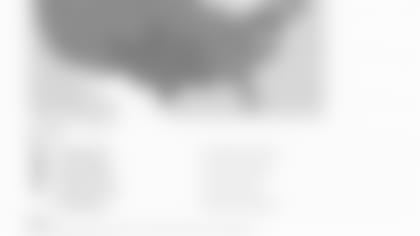 Color Guard: Joint Services Honor Guard
National Anthem: Jamecia Bennett, a Minneapolis-based singer/songwriter and three-time Grammy winner, will perform the National Anthem. Bennett is the lead vocalist for Sounds of Blackness and has served as the director of The Night Before Christmas at the Guthrie Theater for the past four years.
Gjallarhorn:Army Gen. Joseph Votel, a Saint Paul native who is currently serving as the 13th Commander of the United States Central Command, will sound the Gjallarhorn. CENTCOM directs and enables military operations and activities with allies to increase regional security and stability in an area of more than 4 million square miles from Northeast Africa across the Middle East to Central and South Asia.
U.S. Bank Hometown Hero:During each home game, U.S. Bank and the Minnesota Vikings will recognize individuals who have helped make our community a better place. We will honor Minnesotans who have gone to extraordinary measures.
Sunday's Hometown Hero is Michael Latawiec, a fan ambassador at U.S. Bank Stadium. Michael grew up in inhumane conditions in a Romanian orphanage until his adoption by American parents. He has since become a Global Messenger for Special Olympics and won three gold medals at the World Special Jiu-Jitsu Championship in California in October.
Halftime:Frisbee dogs, who have been featured on multiple television shows, will perform.
Minnesota Vikings Foundation:The Vikings new social impact department will be raising money for the Minnesota Vikings Foundation by selling limited edition T-shirts specially designed for the Vikings-Bears game. The T-shirt costs are being covered by U.S. Bank so that all sales can go to the Minnesota Vikings Foundation.
The Foundation also will be holding two silent auctions that offer Vikings memorabilia and exclusive experiences:
One silent auction will occur in the PrimeSport Longhouse outside of the stadium from 9 a.m. to kickoff.
Another silent auction will occur in the Delta Sky360 Club from 11 a.m. until the end of the third quarter.
Vikings Legends will sign autographs from 10:30 a.m. to 11:30 a.m. at multiple locations inside U.S. Bank Stadium and in the Delta Vikings Village. Autographs are subject to change at any time and without notice.
Locations inside U.S. Bank Stadium (game ticket required):
Delta Sky360 Club: Bob Lurtsema
Medtronic Club: Tyrone Carter
FMP Club: Stu Voigt
Hyundai Club: Matt Blair
Buffalo Wild Wings Club: Dave Osborn
Mystic Lake Club Purple: Carl Eller
Locations outside U.S. Bank Stadium
Delta Vikings Village (no game ticket required):
The PrimeSport Longhouse, a climate-controlled space, will be open before, during and after Sunday's game to fans with or without game tickets.