EDEN PRAIRIE, Minn. — The Vikings on Friday announced the lifting of the interim designation for Offensive Coordinator Pat Shurmur, as well as multiple changes, including two new hires, to Minnesota's assistant coaching staff.
Shurmur, who was hired in 2016 as tight ends coach in 2016, became the Vikings interim offensive coordinator in November after Norv Turner resigned.
The Vikings also announced Kevin Stefanski will shift from coaching running backs in 2016 to quarterbacks this season. Kennedy Polamalu has been hired to coach running backs, and Clancy Barone has been hired to coach tight ends.
Stefanski will be in his 13th season of coaching and 12th with the Vikings in 2017. He was assistant quarterbacks coach from 2009-13 and tight ends coach from 2014-15.
After playing defensive back at Pennsylvania (2000-04), Stefanski worked one season in football operations before joining Minnesota in 2006 as an assistant to former Head Coach Brad Childress.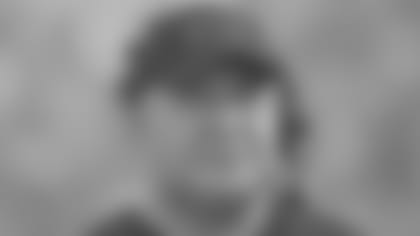 Polamalu, who was born in Pago Pago, American Samoa, will be in his seventh NFL season. He previously coached Browns running backs (2004) and Jaguars running backs from 2005-09 before returning to the college ranks.
After playing fullback for Southern Cal, Polamalu worked as a grad assistant at UCLA (1992-93). He then coached running backs and special teams at San Diego State (1994-96), running backs at Colorado (1997-98) and linebackers at San Diego State (1999). Polamalu returned to Southern Cal for four seasons (running backs in 2000, special teams in 2001 and a combo of the groups from 2002-03).
Polamalu was the Trojans offensive coordinator/running backs coach from 2010-12 and most recently coached for rival UCLA (running backs from 2014-15 and as offensive coordinator in 2016).
Barone will be in his 14th season of coaching in the NFL. He coached Denver's offensive line the past two seasons and in 2010. Barone coached Broncos tight ends in 2009 and from 2011-14. The native of San Andreas, California played offensive line at the University of Nevada (1983-84) and Sacramento State University (1985-86) before beginning his coaching career at American River College (1987-90).
Other colleges Barone has worked for include the following: Sacramento State (offensive line, 1991-92), Texas A&M (assistant offensive line, 1993), Eastern Illinois (offensive line, 1994-96), Wyoming (offensive coordinator/offensive line, 1997-99), Houston (offensive coordinator/offensive line, 2000-02) and Texas State (assistant head coach/offensive coordinator, 2003).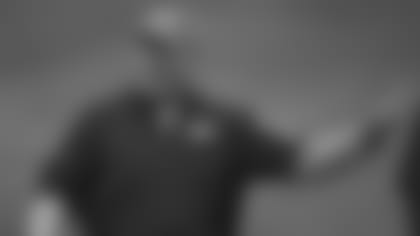 Barone made the jump to the NFL in 2004 as the Falcons assistant offensive line coach and led Atlanta's tight ends from 2005-06 before holding the same role with the Chargers from 2007-08. 
The 2016 season marked the third time that Shurmur had worked as an offensive coordinator with Sam Bradford as his quarterback (2010 with the Rams; 2015 with the Eagles).
Shurmur helped Bradford's integration into the Vikings offense, and the quarterback broke an NFL record for completion percentage with a rate of 71.6 and set a franchise record with a career-best 395 completions.
An injury in Week 2 to Adrian Peterson shifted Minnesota to use the pass more frequently, and for the first time in franchise history, the Vikings finished with more completions (414) than rush attempts (380).  
By Week 5, the Vikings already had suffered injuries to both starting offensive tackles that resulted in the placement of Matt Kalil and Andre Smith on injured reserve. Five different players took at least one snap at left tackle, and the Vikings used eight different combinations of starting offensive linemen by season's end.
The most consecutive games that Minnesota used the same starting offensive linemen over the final games of the season was two, and the Vikings did that three times.
Vikings Head Coach Mike Zimmer took time to evaluate the 2016 season in a variety of ways. Before Minnesota concluded its campaign with a 38-10 win over Chicago, Zimmer did tell reporters that he had tracked statistics since Shurmur stepped into the role.
"The statistics since he's taken over are a lot better, number one," Zimmer said. "I keep a list of statistics from when he started and prior to that. Most every area has improved."
Zimmer did not specify any statistics, but the Vikings offense did improve in several key areas as the season progressed, and a number of players had their most prolific pro seasons.
Bradford finished with career bests in completions, completion percentage, yards (3,877), interception rate (0.9 percent) and passer rating (99.3).
Stefon Diggs, Kyle Rudolph, Adam Thielen, Cordarrelle Patterson and Jerick McKinnon all set career highs in receptions. Diggs, Rudolph, Thielen and McKinnon also posted career marks in receiving yards, a category in which Patterson nearly matched his output from his rookie season.
Vikings coaches will evaluate more than 100 draft eligible prospects next week at the Senior Bowl.