In the first episode of 2019, Alexa and Felicia recap the end of the season, talk about what's hot on social and get nostalgic about their favorite pieces of Vikings memorabilia. Follow along with this blog post to keep up!
Vikings Baby Boom: It's now the off season for Vikings players and for some it's off to a busy start! Long snapper Kevin McDermott and his wife Lauren recently welcomed their first child, a daughter named Campbell Marie!
Wide receiver Adam Thielen and his wife Caitlin welcomed their second son Hudson James on Monday!
Special Swag: DeVo Customs shared this custom piece on their Instagram page that was made for Laquon Treadwell's daughter. The jacket depicts them together on the day he was drafted in 2016.
Purple Pride: Vikings super fan Pam Bray has dedicated herself to wearing purple every day until the Vikings win the Super Bowl. Follow her purple pursuit on her Twitter page @PamBray1!
Studly Steer: Twitter user @dutton_janessa shared a photo of a Grand Champion Steer in Texas who happens to be named Pat Elflein. It looks like Pat is pretty pleased with his namesake champion.
If you love vintage Vikings memorabilia, you'll want to check out the brand-new Vikings Museum connected to the TCO Performance Center in Eagan. You can explore a ton of cool items from the very first season of the Minnesota Vikings to today. You can even see the cross bar that was mentioned on this week's episode! Learn more about the museum here: https://www.vikings.com/fans/vikings-museum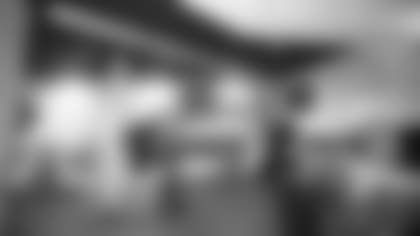 Alexa and Felicia shared their favorite pieces of memorabilia, like this sweet starter jacket Alexa bought. We want to know, what are your favorite pieces of memorabilia? Share your photos with us using #VikesLife on social media and we might share it in our next episode! Thanks for tuning in, Skol!