Vikings Director of Security Kim Klawiter appreciates the opportunity to salute the flag during the National Anthem before each game.
"At our games, our PA announcer makes an announcement that all veterans may render the hand salute during the National Anthem, which is a new law," Klawiter said. "I proudly stand on the sidelines and I still salute, even though I'm in civilian clothes. It means that much to me."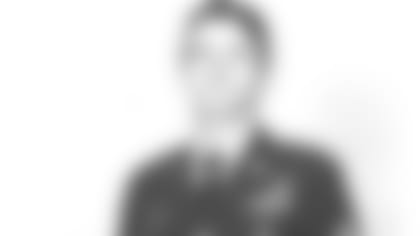 The song means so much to Klawiter that it is the ringer on his home phone, played multiple times a day during incoming calls.
Klawiter is one of several Vikings staff members who is a veteran. He enjoys seeing the support for current soldiers and veterans that occurred during Sunday's Salute to Service game. He also was part of a group of veterans that received a more harsh welcome when they returned from Vietnam.
"This is the greatest country in the world. We have a lot of benefits living here, whether it's Minnesota or other parts of the United States, we get a lot of benefits from just being a citizen," Klawiter said. I think we're paying back the government for what they're doing for us. We are going because our government asked us to go. Even for Vietnam, as unpopular a war as it was, I didn't like the treatment of the veterans because they all felt they were doing what their government wanted them to do. I feel like they and me as a whole got treated poorly maybe because of some actions in the war that people didn't like or eventually the reasons for the war."
The former Army Master Sgt. is in his 10th season with the Vikings, an organization he's followed since its inception in 1961 when he was growing up in White Bear Lake.
By the end of the decade, Klawiter was on his way to Vietnam, a 20-year old in the Army who progressed from basic training to advanced infantry training at Fort Polk, Louisiana, to leadership training at Fort Benning, Georgia.
Klawiter was assigned to Cu Chi, Vietnam, an area northwest of Saigon known for a tunnel system that posed hidden hazards.
"We had a lot of issues with people popping out of trap holes and ambushing us, so we had to be extra careful," Klawiter recalled.
He led men through jungles and a rubber plantation owned by Michelin where trees were about 5 meters apart. The soldiers' missions included ambushes and night patrols. 
"I don't think there is a good way to prepare," Klawiter said. "You don't know how you are going to react and what you're going to see until you get there. We were all young. I really had no experience. I wasn't a hunter. I'm not a big gun guy. I'm not afraid of guns. … I felt I was about as prepared as I could for never having been in combat before."
May 9, 1969, presented Company D, 1st Battalion, 27th Infantry with heavy fire from machine guns. Klawiter responded and was awarded a Bronze Star medal for heroism.
"…Sergeant Klawiter, disregarding his own safety, raced forward to the foremost position and found that several men had been wounded. Seeing one of the men exposed, Sergeant Klawiter crawled forward until he reached the wounded man. Although under intense fire, Sergeant Klawiter carried his injured comrade back to a safe area and got medical treatment for him. His valorous actions were responsible for saving a man's life…"
In addition to the Bronze Star, Klawiter received multiple other awards that included a Purple Heart, an air medal for 25 or more combat assaults by helicopter, an Army commendation medal and Vietnam campaign and service medals.
Klawiter returned home as sentiment against the war escalated and without much time to adjust.
"I went from foxhole to Los Angeles to two weeks later I'm at the University of Minnesota attending class where there's a protest on campus about the war," Klawiter said. "It was hard on a lot of us because we still felt we were doing what our country asked us to do, so we were all still very patriotic and thought we were doing the right thing. Then you come back and you see all these people protesting the war and how it was conducted, and really, (I had) pretty mixed feelings because I'm literally watching rocks being thrown at police and first responders for a war that I was just in two weeks earlier."
An Army letter announcing the award says:
It was tough to see sentiment transferred to troops, but he served six years in the National Guard as a military policeman and six more in the same capacity for the Army Reserve.
Klawiter said it's been nice to see increased support for current veterans that could have helped him and others decades ago.
"I think the pendulum has kind of swung back now when you see what they're doing for Iraq and Afghanistan veterans," Klawiter said. "It's really nice to see they're getting the recognition that we didn't get back in the '60s and '70s."
In addition to Klawiter, the following Vikings staff members served: Jim Cima (Army), Bud Grant (Navy), Neil Grewe (Air Force), Jared Kuhn (Air National Guard), Paul Nelson (National Guard), Albert Padilla (Marines), Mike Priefer (Navy), Paul Wiggin (Army) and Fred Zamberletti (Army).