HASTINGS, Minn. — National Guard Master Sgt. Acie Matthews, Jr., and Staff Sgt. Threasa Gallegos credit their military training with helping their families navigate a year that's been so tough on so many.
That doesn't mean the determined professionals aren't appreciative of a sign of support, which they received recently through a partnership between the Vikings and United Heroes League.
Families were invited to United Heroes League's warehouse to select custom-edition Vikings Salute to Service gear, footballs and football gloves.
The salute included a surprise in the form of tight end Kyle Rudolph, center Garrett Bradbury and running back Alexander Mattison connecting with families virtually thanks to a robot with a video screen.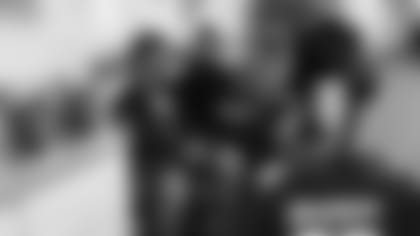 The teammates were able to take turns controlling the robot as it sported the jersey of each player, finding a way to connect while maintaining in-person appearance restrictions brought by the ongoing COVID-19 pandemic.
While meeting the Matthews family, Rudolph advised fifth-grader Liliana Lacie and second-grader Acie Matthews III to make sure to listen to the advice of their mother, Vivian, and father.
Acie III, who played tight end for Brooklyn Park in this modified season, soaked up the opportunity to learn from the pro with 48 career touchdowns and three-time Vikings Community Man of the Year.
They talked about favorite pass routes, exercises and touchdown celebrations. Rudolph likes corners and post patterns in the red zone; the variations that are possible with squats; and his "Duck, Duck, Goose" — I know, I know, "Duck, Duck, Gray Duck" in Minnesota — celebration with teammates in Chicago in 2017 the best.
"It was awesome," said Matthews, Jr., who has served more than 19 years and coached his son's team. "Acie has been playing football for a few years now, and this year, we bounced him around a little bit, and tight end was one of the positions he played quite a bit at, so getting to talk to Kyle Rudolph was outstanding.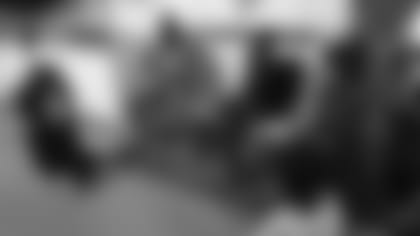 "And for me, I appreciate the advice that Kyle Rudolph gave, outside of football and catching touchdowns," Matthews continued. "There was a lot more to it. I like that he had an opportunity to see there's more to a football player than just what you see on TV."
Gallegos has served for 22 years, including 17 full-time. The single mom recently returned from a deployment to the Middle East.
Her oldest daughter, Leylah Gallegos, is in basic training now, but Kiyanah McGriff and Wayne McGriff were able to tour United Heroes League and meet Bradbury.
"I don't catch any touchdowns, but I do play for the Vikings," quipped the second-year center who is helping pave the way for Minnesota's strong ground game.
Bradbury discussed flag and tackle football participation by Kiyanah and Wayne and asked if they dressed up for Halloween. Kiyanah had been Little Red Riding Hood, and Wayne had dressed as The Joker.
Bradbury shared that the offensive line got in on the fun this year. He didn't name names but said teammates' costumes included Barney Rubble, a tuba and a beaver.
"I think that's really cool," Gallegos said of the opportunity to connect virtually with Bradbury. "It's awesome that athletes overall look up to military members and appreciate us."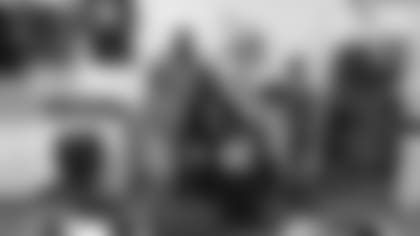 Gallegos added: "I joined pretty young, so this has always kind of been a lifestyle for me as well, because I joined when I was 17, so more than half my life, I've been in the service."
She said her training has helped her adjust.
"Some days are better than others, as far as balancing everything, but getting them out and socializing and being able to still have that has definitely been helping a little bit," Gallegos said. "Definitely, the resiliency factor and just being able to take stuff as it comes and work through it. Having this experience has helped us adapt."
Matthews agreed that his training has helped him adapt, a benefit of service that began with his desire to give back.
"I feel like I was very fortunate. Sometimes, being born in America, we don't realize all of the freedoms that we have," Matthews said. "Through service, you start to realize those things, that freedom isn't free and we have a lot of opportunities here that we wouldn't have if we were born somewhere else."
Vivian noted: "I don't think the kids realized how much they loved school. They miss it."
She and Matthews have adjusted to helping with the home schooling and have "been getting through it OK."
"We go through a lot of ups and downs in military service and really preach adapting and overcoming the situations that come," Matthews said. "So as challenges come, it's a new challenge, but you deal with it the same way: take it in, see what's there, apply some logic to it and move forward."
United Heroes League President and Founder Shane Hudella, who retired as an Army 1st Sgt., described the way his training has helped the nonprofit adjust to a year unlike any other.
"Most of our staff here are military veterans, and one of the key things you learn when you serve is you have to improvise, adapt and overcome," Hudella said. "It's very cool to see the Vikings adopting that as well. Even though players may not be able to be out in the community in person, they figured out a way. The Vikings, along with the players, figured out a way to still give that special moment to military families."
The Vikings also delivered a $10,000 grant to help the nonprofit provide football equipment free of charge to military families, a big lift multiple times over.
"United Heroes League exists to help military families build confidence, friendships and engagement through sports," Hudella explained. "The way we do that is we give military kids, especially, everything they need to play the game they love, so free equipment and grants to help with fees, interactions with some of our pro ambassadors and tickets to pro games and youth camps.
"This year, with COVID-19, we've had some pretty remarkable challenges," he added. "Back in March when the virus hit, a lot of corporate America really closed their checkbooks, and donations have been down significantly all year for us. With the craziness of 2020, it's been hard for a lot of nonprofits, us included. We we're really amazed and really grateful when the Vikings stepped up big to provide a grant to our foundation so that we could ensure military families still had everything they needed for their kids to play football. … Keeping the kids active is a great way for them to cope with some of the challenges."