EAGAN, Minn. — The Vikings are mourning the death of Larry Kohout and paying tribute to the pioneer's role as the team's first full-time game film director.
Kohout, who passed away Wednesday at age 87, worked for the Vikings for a quarter century, serving under Vikings Head Coaches Bud Grant, Jerry Burns and Dennis Green.
He combined his skills as a videographer and photographer with his technical expertise in developing color film. Kohout enhanced both with his tireless work ethic to help those coaches, who are all in the Vikings Ring of Honor, prepare for games.
Kohout worked for WCCO before joining the Vikings. He positively impacted colleagues and advanced the profession through his commitment to excellence.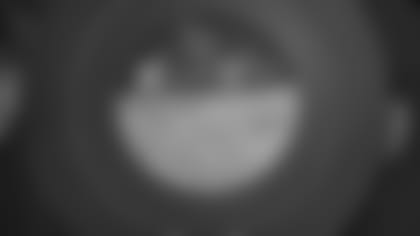 Twin Cities broadcasting legend Mark Rosen described how committed Kohout was during his time at WCCO.
"When I first got started at WCCO, Larry was the sports photographer; he was our only sports photographer so he covered everything and worked harder than anyone," Rosen said. "He was very accepting of me early, was a mentor to me and really helped me.
"The biggest thing Larry did was create relationships, and I learned how important that was from him," Rosen continued. "I remember those early days, driving to Mankato to cover the great Vikings teams of the '70s, and Larry helping me build trust with Bud, [Jim] Marshall, [Fran] Tarkenton, all of those guys. We were at a lot of events over the years, but being in Lake Placid for the Miracle on Ice team was the peak.
"Larry was a great worker. He was the genuine article and he never changed," Rosen added. "He loved his work and was just a great, down-to-earth guy. We're all going to miss him."
Longtime Vikings Equipment Manager Dennis Ryan said there "was not one day that went by that [Kohout] was not in a good mood."
"He was always happy, always friendly and was a great co-worker. He worked over 20 years in the Vikings franchise through several eras," Ryan said. "He went from working with film — he had a developing lab at Winter Park — to video tape and then to digital."
"When he was doing his film work, he would spend all night after games developing the film and making cut-ups and putting everything together for the coaches," Ryan said. "He kept a cot under the stairs and would sneak in a couple hours of sleep on those long nights. He was a dedicated, loyal and hard worker. He was fearless, too. Getting up on those lifts in all kinds of weather never bothered him, and he did it with a smile."
Vikings Director of Video Bob Marcus worked with Kohout for one year after Marcus transitioned to working for the University of Minnesota.
"Larry was a pioneer in the football filming industry. After a successful career as a TV photographer at WCCO, he brought his talents to the Vikings and the NFL," Marcus said. "Larry was both a cinematographer and lab technician with the Vikings; in the basement of Winter Park they had a large film processing machine, and Larry had to mix the chemicals and develop all the film he shot. I had the good fortune to work with Larry for a season and enjoyed his many stories about the evolution of film use in the NFL."
Marcus explained that maybe a third of the NFL teams developed their own film at the time.
"Teams that were in big cities – New York, Philly – they had labs available," Marcus said. "But smaller towns – Green Bay, here, Buffalo – they didn't have film labs closely available, and they needed to get it done so quickly that they had their own labs."
It also was rare for a team to shoot film in color back then, but there was a particular reason the Vikings did so, in spite of the increased cost and complexity of execution.
"There might have been one or two others, but they said Bud Grant really liked color," Marcus said. "Color was so much more expensive. It was about three-times more expensive than black-and-white. But Bud kind of insisted on having color. So they shot in color."
"You could see the jersey colors," Marcus added. "And I think maybe with Larry coming from TV, because TV shot in color, he probably had experience with it. It was kind of tougher to properly set your camera up to shoot with color."
Marcus credited Kohout and the "film guys of his era" for bringing a "nothing but the best is good enough for the NFL" attitude. The equipment available to NFL teams and television stations was superior to what Marcus had worked with while at the Gophers.
"I think they kind of brought this attitude to the NFL that, 'We want the best for our coaches.' So over the years as technology as changed, they always tried to maintain that standard of having the best image quality possible," Marcus said.
Kohout also demonstrated logistical creativity that Marcus personally appreciated.
Marcus began his tenure in May 2001, a couple of months before the team packed up to head to training camp in Mankato. Marcus took a look at the video-playing decks in every coach's office that weighed about 50 pounds — "they were huge" — and big, non-flat-screen televisions strapped to an AV cart, knowing that all 25 or so needed to make their way to Mankato.
"I'm just thinking, 'Wow, we're going to have to box all those, take them off, unstrap them from the cart, box the TVs somehow.' And then Larry's like, 'Oh, no. Just roll 'em out.' And he just kind of taped around the cart and the TV," Marcus recalled. "We rolled the whole thing – cart, deck, TV – into a flatbed truck, like 25 of them in there, with just moving blankets over the top. And I'm thinking, 'What? This is crazy. These things are gonna be in a thousand pieces.'
"But the truck driver takes it slow, we get down there, we wheeled them off at Gage Hall, just wheeled them into the rooms, and were done," Marcus added. "Larry always was a little innovative, think-outside-the-box type, and he turned something that, to me, was going to be this complex thing, packing all this stuff, 'Eh, we just them in, roll them off into the rooms,' and it went much quicker than I ever anticipated."