MANKATO, Minn. —A new position, teammates and environment were big-picture changes facing Stephen Weatherly this time a year ago.
But they were only the beginning for the 2016 seventh-round pick out of Vanderbilt.
Weatherly initially began his college career as a defensive end in a 4-3 but transitioned to outside linebacker when the Commodores switched to a 3-4.
The Vikings, who use a 4-3 base, liked what Weatherly had done early in his career, and he began working with defensive line coach Andre Patterson and assistant Robert Rodriguez and learning from veterans Everson Griffen, Brian Robison and 2015 third-round pick Danielle Hunter at last year's training camp.
With the benefit of practice reps and tips from coaches and teammates, Weatherly used the offseason to apply everything he's learned to his training, added some mass to his frame and continued to ask advice from others. Weatherly said he feels like he's made a "complete 180" from last year.
"I was just a deer in the headlights, trying to get ahold of putting my hand back in the ground and then learning a whole new scheme," Weatherly said. "Now that I understand the plays better and have had a year with Coach 'Dre teaching me the techniques, now I'm implementing it at a high level."
Patterson said Weatherly is "much stronger than he was a year ago" and has a "better understanding of what we're trying to do technique-wise."
"Those things jump out at you on tape right now," Patterson added. "He's 270 pounds and looks like a defensive lineman. He added bulk in his arms, chest, shoulders, and all that has helped out here."
After opening the season on the Vikings practice squad, Weatherly made his NFL debut at Jacksonville last December. He also recorded his first career special teams tackle in the season finale. He wants to work his way into the defensive end rotation this year.
To do so, Weatherly knew he needed to continue to adjust from the two-point stance he used as a linebacker to the three-point stance of a defensive end, refine his ability to defend the run and improve his play in confined spaces.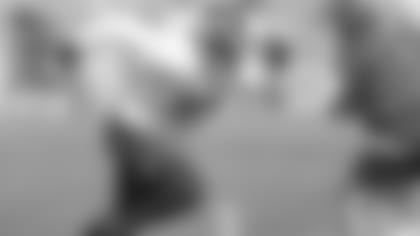 "It was pretty much starting over from square one," Weatherly said. "Two different positions, so you needed to learn techniques for two different things. It did take me a while to get back into it, but once I did, a couple of things came back to me."
Robison said he thinks Weatherly has made "big strides."
Robison and Patterson said all college players must make adjustments in their approach to defending the run.
"Obviously college ball nowadays is a little different than when I came out of college, it's all about pass rush and getting up the field and turning the corner," said Robison, a fourth-round pick out of Texas in 2007. "That's just not how you make hay in the NFL. He's got a little bit of a learning curve but, he's definitely doing some good things for us as well."
Added Patterson: "They all come in here and have to learn how to play the running game the correct way. Because Stephen was an outside linebacker in college, and then having to make the transition, for him, it especially revolved around that. A year on the practice squad and then getting elevated to the active roster, and then the job our strength guys have done with him in the weight room has been outstanding."
Weatherly said the biggest adjustment is the degree of quickness required to be effective as a defensive end in the NFL.
"The initial thing is that when you're in the trenches, everything happens a lot quicker, so getting that good initial strike is something I've been working on a lot during the offseason," Weatherly said. "I think it's starting to show now that we're in training camp and have pads on.
"I just worked a lot with my hand speed and hand power, short like 6-inch punch and stuff like that."
Kind of like in Kill Bill?
"Little bit, little bit," Weatherly said laughing.
Instead of Pai Mei, Weatherly worked this offseason at Chip Smith Performance Systems in the Atlanta area. Smith previously worked with former Vikings defensive end Jared Allen, but Weatherly was able to draw insight this offseason from Bengals defensive tackle Geno Atkins, a five-time Pro Bowler with 52 career sacks.
"[Smith] worked with a lot of people, and one of the people down there was Geno Atkins," Weatherly said. "So I got to spend time with a Pro Bowler and pick his brain a little bit, the ins and outs, 'How do you play the run? How do you get a good initial first punch?' We worked a lot on that type of stuff."