MANKATO, Minn. –There's no better feeling than knocking off the rust.
After sitting out the final two games of the 2016 season due to injury, Tom Johnson has enjoyed being back on the field this offseason and now at Verizon Vikings Training Camp.
The defensive tackle said the minicamp practices and first few two training camp sessions were "active and explosive and kind of physical," but it was a whole different ball game when the Vikings donned full pads starting with Saturday afternoon's practice.
"It wasn't until you put on the pads that you actually start thudding hard and getting acclimated to the weight of the pads and everything," Johnson said.
He said it's especially significant for the offensive and defensive linemen.
"Especially with our team and how Coach Zim' (Mike Zimmer) expects us to play, we have to play physical and fast," Johnson said. "Getting acclimated to the pads and the banging [is a transition], but if you go out there and you're putting out 100 percent right now, the game will be easy."
Johnson and his line mates are helped also by the consistency of Minnesota's defense. Johnson, Brian Robison, Linval Johnson, Everson Griffen and Shamar Stephen have all played together since 2014; in 2015, defensive end Danielle Hunter was added to the mix.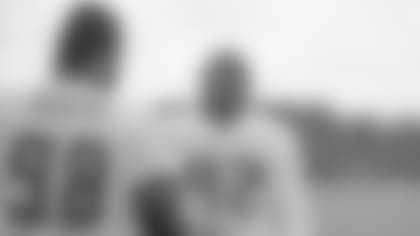 This spring, the Vikings signed Datone Jones and Will Sutton in free agency and drafted Jaleel Johnson (109th overall) and Ifeadi Odenigbo (220th overall).
There may be fresh faces, but Johnson said the position room has retained the same dynamic under defensive line coach Andre Patterson.
"Coach Patterson is a guy that, he kind of molds you," Johnson said. "So those guys are getting used to the coaching and how we work, and so far they've all embraced it.
"You see them in the early part of practice, and they're doing [hand work with assistant defensive line coach Robert Rodriguez], or they're sitting there listening to 'Dre on how to take steps, or whatever," Johnson continued. "So they're embracing the coaching, and it's exciting to see that."
Watch the unit during a game, and you'll see that it's a selfless group.
Johnson in 2016 was often rotated in and out with Stephen at tackle, and Patterson places more emphasis on collaboration than he does on which players start the game.
"One guy doesn't always get the sack," Johnson explained. "It's a combination of things, like what B-Rob did to his man to make him step over, or what I did to my man to make him step out of the way, and it opens up a sack for either Danielle or Everson.
"I think it's all about unison, and right now we're trying to get that vibe back, getting back into camp," he added. "Right now we're in the beginning stages of that, and we're trying to roll into it – we're a little rusty, but we're hoping by the mid-preseason that everything will be clicking on all cylinders."
Over 14 games played last season, Johnson recorded 26 tackles by coaches' tally, 6.0 tackles for loss, 2.0 sacks, one pass defended and 51 quarterback hurries. Johnson also notched his first career interception against the Panthers in Week 3, becoming the first Vikings defensive tackle to snag a pick since Kevin Williams in 2013.
Vikings Head Coach Mike Zimmer spoke highly of Johnson's season.
"He has played well since we've had him," Zimmer said. "He does a good job in pass rush – that's probably his specialty. He is working real hard, continuing to get better in the run."
Johnson is quick to credit Patterson for recognizing and developing Johnson's existing skillset, and added that Zimmer's defensive scheme allows him to be successful.
Every season, Johnson focuses on being a better technician.
"I stay true to what I like to do – as far as stay physical on the outside of a guy, and when I get the opportunity to take advantage of him oversetting me or whatever, I'm able to make quick movements and take advantage of that play," Johnson said.
Heading into the 2017 season, Johnson said he's his "own toughest critic" and that he feels he has more to showcase on the field.
"I think that I left a lot on the field last year, opportunities, where either I slipped or I was a step behind, or I didn't beat my man as clean as I wanted to," Johnson said. "This year, I'm going in with the mindset that I'm trying to maximize every situation, every opportunity and try to capitalize on it."