LAS VEGAS – It's been a big couple of weeks for T.J. Hockenson.
The Vikings tight end proposed to his girlfriend Mikala on Saturday, Jan. 28, and on the following Sunday helped the NFC to a victory in the 2023 NFL Pro Bowl Games.
This season marked the second time Hockenson's been named to the Pro Bowl, but it was his first as a Viking and first in-person opportunity after the 2020 season's all-star game was canceled due to the COVID-19 pandemic.
"It's been a lot of fun. Just to be able to see a lot of these guys, be around some of the greatest in the league and actually be able to talk to them and hang out for a little bit is awesome," Hockenson said.
Having joined the Vikings midseason via trade, Hockenson appreciated an extra opportunity to bond with six of his Minnesota teammates also in Las Vegas for the Pro Bowl.
"Just being able to reconnect and see them again has been great," he said. "Sometimes in the offseason you have to wait until OTAs or something [to reconnect], so to be able to have this and see them, it's huge."
Hockenson also spent plenty of time with his former college teammate and fellow tight end George Kittle, who represented the 49ers for Team NFC.
Hockenson and Kittle overlapped at the University of Iowa when Hockenson redshirted during Kittle's final season with the Hawkeyes.
They now are two of the NFL's top tight ends.
"We had a great time at the University," Hockenson said. "Him being there one year when I was here, then him graduating and going onto the league and seeing success, and me kind of being able to follow that and have the same success in the league, has been awesome.
"It's just been a ton of fun to be able to be out here representing the NFC and then Iowa, as well," he added. "We've known each other since [I was] 18."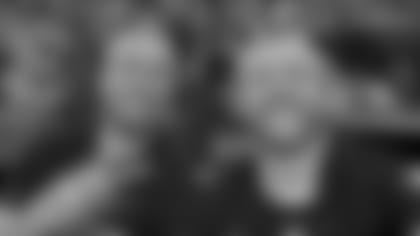 Hockenson's look has changed quite a bit since that time, and the likeness between him and Kittle sometimes is uncanny.
The two especially looked strikingly similar during the NFC's team photo at Allegiant Stadium Saturday. With matching long, blonde locks (though Kittle's is much less wavy), facial hair, a comparable build and the tendency to wear small, round sunglasses, Hockenson admitted they've at times been mistaken for the other by fans.
"It happens," he laughed. "There's no doubt."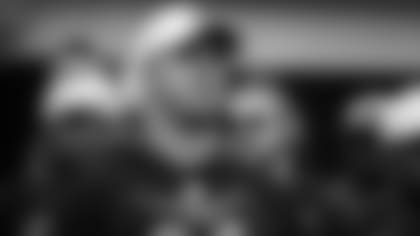 Hockenson's low-key personality may seem like a juxtaposition to Las Vegas' electric, flamboyant vibes – but the 25-year-old enjoyed his time in the city that never sleeps.
He and the other Pro Bowlers stayed in a hotel located on The Strip, which provided plenty of sightseeing opportunities and a plethora of dining options, from fun to elegant.
"Vegas is sweet," said Hockenson, who noted that seeing a Cirque du Soleil show remains on his bucket list. "I've been to a couple steakhouses. We went to [STK] at the top of The Cosmopolitan, and that was pretty good.
"The food here is incredible. The hotels are insane," he laughed. "I don't know where I'm at half the time."
Hockenson spent time with players but also enjoyed the opportunity to get away with Mikala and celebrate their engagement in Las Vegas.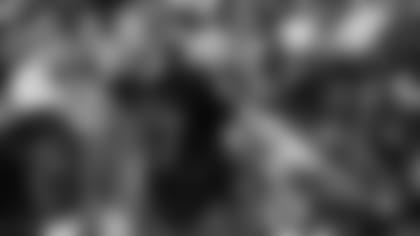 Did they give any consideration to simply tying the knot while there?
"I don't know if she'd be down for that one," Hockenson quipped. "But it is cool to be able to come here after proposing and just be able to spend some together. Her being able to see this whole event is awesome."
Hockenson popped the question at Mikala's mom's farm in her hometown of Nashville, Tennessee. He made sure to include horseback riding, one of Mikala's favorite pastimes, and said the moment was perfect.
"She loves horses, and she loves being out in the country. It was pretty easy for me to be like, 'Hey, let's go on a horseback ride when we get home,' " Hockenson explained. "Being able to surprise her in that way was awesome. I don't really get to hold very many surprises because I've got a big mouth and am always too excited to share them.
"It was cool to be able to keep that one in the back pocket and have that moment with her horses; one of them in the photos was hers since she was 8," he added. "It was a super cool feeling."