George Iloka might partially owe his NFL career to his longtime best friend, Saints safety Chris Banjo.
The two will be on opposite sidelines during Sunday's game at U.S. Bank Stadium, but they previously were teammates at Kempner High School in Sugar Land, Texas, a suburb of Houston.
After playing wide receiver throughout middle school and high school, Iloka was faced with a dilemma when a new coach came in after his junior season and implemented the run-heavy Wing-T offense.
"He was like, 'We might throw the ball two times a game. I just want to use your physicality and your size for better use on our team – you ought to try DB,' " recalled Iloka, who pushed back at the notion of moving to defense.
Iloka's coach asked him how many college offers he had at receiver – "Shoot, I think maybe one?" – and told him he would likely get more looks if he gave safety a try. Iloka remained reluctant, but realizing that he could play with Banjo convinced him to make the switch.
"He was like, 'Man just come to the other side of the ball,' and I thought, 'If I play safety and he's the other safety, we'll be close to each other,' " Iloka said. "My first day at safety [during spring ball], I had 15, 20 scouts coming out, and they all gave me their card and were really impressed."
While several schools showed interest, it was Boise State that offered Iloka a spot at safety before he ever played an actual high school game at the position.
"Just that loyalty that they showed me, I committed in the summer," said Iloka, who became the youngest player in the Western Athletic Conference at 17.
From there, the rest was history.
We caught up with the seventh-year safety for a recent Timeout:
Q: What will it be like to be on a sideline opposite Chris on Sunday?
A: I played him once when he was with the Green Bay Packers my second year in the league, but I also started on defense … so you don't really go up against him [when you're both on defense]. But now I'm in a different type of role for the time being, and I'm playing a lot more special teams. So, I might actually get to physically go up against him and be matched up against him. I definitely have to get the best of him because we've got a lot of friends watching; we have teachers watching back home and our high school coaches. We have all the same friends. So I definitely, if we do go up against each other, I do want to win that matchup. Just because you don't know the next time you'll get that matchup. It'll be one of those things where you're 80 years old and you're like, 'I gotchu that one time.' So I definitely want to win that. We'll see.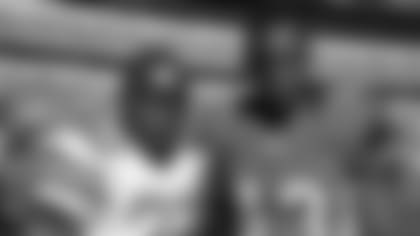 Q: Coach Zimmer really stresses the role of DBs in run support. How does that align with your philosophy, and what's it like for a group of DBs to be attacking the run?
A: I love it. That's kind of my element. I like to consider myself versatile; that's why they've given me some looks at nickel, big nickel, whatever you want to call it. And I play [single high safety] a lot. But I really love being down there in the action with the big boys and letting people feel me.
Q: Your Vikings bio mentions that internet shopping is an interest of yours. What's your go-to, or do you do all general shopping online?
A: Just across the board – shoes, clothes, football equipment. Surprisingly, you'd think that because I play football, I would just get all my stuff for free. But I really like finding customized stuff and things like that. So it doesn't matter too much; whatever catches my eye, I look for it online. And it's mainly because I hate going to stores and them not having my size – I'm a pretty big guy. I don't even know why linemen attempt to go into stores.
Q: You're a movie buff as well, right?
A: Yes, I love movies. (Laughs) My wife was arguing with me recently because we usually watch a movie, but I've seen them all. I'll either go to the theaters by myself and watch them during the day time, or I'll watch it on Netflix or HBO or Amazon. I see movies like the day they come out, so there's really nothing for me and her to watch. I like all movies – I'm just a movie guy.
Q: Do you have a favorite football movie?
A: My favorite football movie is Friday Night Lights, because it definitely reminds me of how seriously people in Texas take high school football and how serious I took it. I relate to the emotions that those guys had.
Q: I've heard you're a foodie, as well. Tell me a little bit about that interest.
A: I love cooking. Especially in the offseason when I have time, I try to cook at least two complicated meals a week for my wife, and she enjoys it.
Q: Do you have a go-to meal or signature dish that you like to cook?
A: She likes my fried rice and orange chicken, but that's kind of too simple. Her favorite's not my favorite. My favorite is probably my oxtails and my jerk wings, but you know, we like different things.
Q: After the Cardinals game, you were wearing a Nirvana T-shirt. Are you a big fan?
A: I actually just liked the shirt. It just matched what I had going on. I have a whole bunch of band T-shirts, actually. I had a Shotgun Willie T-shirt and wore it on NFL Network, and his band manager reached out to me because he saw me wearing it, and he offered me tickets to a concert. So I still need to go check out a Shotgun Willie concert.
Q: How would you describe your taste in music? Is it pretty broad?
A: It's broad. I definitely have an old soul. I definitely have some songs on my iPod that you wouldn't expect me to have. But in terms of game-day music, it would probably be hip-hop just because it gets you going.