The mammoth HD video boards at U.S. Bank Stadium are among the biggest in the NFL and were greeted with much fanfare in 2016.
A video shown before Vikings games in the venue's first season has been selected as one of the best and brightest in the industry.
The "This is the North" intro video that was played before the Vikings took the field was selected as the winner for Best Show Open during the Information Display and Entertainment Association's (IDEA's) Golden Matrix Awards on Wednesday at the 2017 IDEA Conference in Philadelphia.
The video features Vikings running through snowy woods until they are washed in purple paint that becomes Minnesota Vikings jerseys. Everson Griffen and Eric Kendricks were among Vikings players to appear in the video. Both roar emphatically.
"This is the North" was one of 99 entrants in the category. This marked the first time the Vikings have been a finalist at the Golden Matrix Awards. The video was produced by Vikings Entertainment Network (VEN) and Elite Edge Productions.
Additionally, the Vikings were named "Best Overall" among football teams for in-stadium video content, a category that was decided after judges reviewed highlight reels that were limited to five or fewer minutes.
"It is a tremendous honor to be recognized by our industry peers as having award-worthy video presentations," said Vikings Vice President of Content & Production Bryan Harper. "The platform that U.S. Bank Stadium provides is world-class, and we strive to provide that type of experience for our fans. Getting the building hyped before a kickoff is a traditional opportunity to maximize the home-field advantage.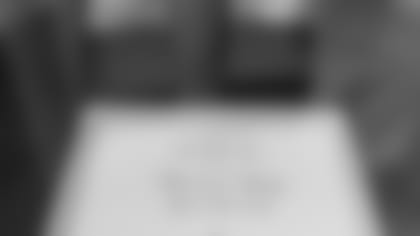 "Our fans rally behind our team during player introductions, and 'This is the North,' was a perfect lead-in to that engaging experience," Harper added. "Being selected as the Best Show Open is an amazing honor. There are so many great experiences throughout sports, and to be recognized in this manner is remarkable. We are proud to have the opportunity to represent our fans and this organization."
Vikings Senior Manager of Production Allan Wertheimer accepted the awards on behalf of the Vikings.
The Vikings also had two of the three finalists among 60 entrants in the Best Promotional Video category after submitting videos that promoted Harrison Smith and Stefon Diggs for the Pro Bowl.
The Smith feature was a production between VEN and Triglass Productions, and the Diggs feature was a production by VEN and Elite Edge Productions.
IDEA's website says it "annually recognizes superior achievement throughout the large screen video and matrix display industry" through the Golden Matrix Awards, which were created in 1988.
"The purpose of the GMAs is to recognize artistic and technical excellence in the programming of large screen video and matrix displays located at stadiums, arenas, racetracks, convention centers and other public assembly facilities," the site said.