EAGAN, Minn. — Adam Thielen is two days removed from injuring his hamstring on a 25-yard touchdown catch, and two days away from a Week 8 game against Washington.
It remains to be seen if the Vikings wide receiver will suit up against on Thursday Night Football.
"I don't know what the percent chance is [I will play], but I feel great," Thielen said. "Obviously, it's a short week, so [the training staff is] doing everything so I can to try to play.
"It's come a long way in the two days since the game," Thielen added. "So, I feel good and am very hopeful for the game."
Vikings Head Coach Mike Zimmer on Tuesday morning offered his thoughts on the potential of Thielen playing.
"He's improving fast, so he's got a chance," Zimmer said of Thielen, who was not spotted at the open-media portion of Tuesday's practice.
If Thielen can't go, the Vikings would lose out on a team-high six touchdown receptions, along with 27 receptions for 391 yards.
But, with Thielen missing more than three quarters of action Sunday against Detroit, Minnesota's offense showed they can pick up the slack without him.
Tight ends Kyle Rudolph and Irv Smith, Jr., wide receiver Bisi Johnson and fullback C.J. Ham combined for 15 catches for 163 yards and three touchdowns in the Week 7 win over the Lions.
"It's important that that continues. They did a great job, but it was also one game," said Vikings quarterback Kirk Cousins. "We've got to be able to do it week-in and week-out in this league. Consistency's a big deal to have success in the NFL, so I'm going to pat Bisi … Irv, all the guys this week on the back and say, 'Hey, great job. Let's go do it again. Stack games up on top of each other.'
"So we're going to call on them throughout. Whether Adam's healthy or not, they're going to get rotated in and we're going to count on them," Cousins added.
Said Zimmer: "It's important to have guys that are reliable and that Kirk trusts. I think all of those things are really important. I think the more that we can spread the ball around to a lot of different guys helps. Get the ball to [Dalvin] Cook, get the ball to Kyle, get the ball to Smith, Diggsy (Stefon Diggs). The more guys that you have, the better chance that you have to find somebody open."
Thielen, who has played in 87 straight games, said his injury is tricky since he's never dealt with a hamstring issue before.
But with the Vikings on a short week, and an extended break before a Week 9 road game at Kansas City, Thielen noted he wants to be smart about his health.
"Yeah, just trust in the trainers and the people in this organization. I have a lot of faith and trust in them," Thielen said. "I'm doing whatever it takes, and they're doing whatever it takes to try to get me to play.
"If the doctors think it's probably not smart to play, then that's the way it is," Thielen continued. "But I'm going to do whatever it takes, and I'm extremely hopeful I can play."
He added: "I'm sure they're sick of me in the training room, I'll just say that."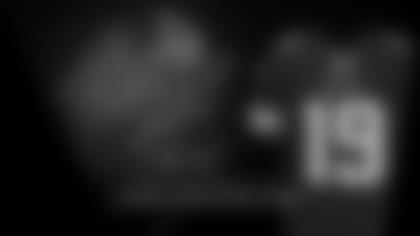 Get Your Primetime Purple Jersey
The Vikings will wear their Primetime Purple jersey, Thursday, Oct. 24 against the Redskins. Visit the Vikings Locker Room Team Store to buy your Primetime Purple jersey today!