MINNEAPOLIS – Natural light floods the Thielen Foundation Workout Room, which features brightly colored murals on each wall.
The revamped space was unveiled last week at M Health Fairview Masonic Children's Hospital.
Vikings receiver Adam Thielen and his wife Caitlin took in the renovation for the first time, along with media members and Thielen Foundation corporate partners. The looks on their faces revealed just how far the room had come.
Adam explained that he and Caitlin had toured the pediatric mental health unit in 2019 and stopped at the space before seeing the rest of the floor and patient rooms. They immediately felt compelled to support the mental health unit and to fund a complete makeover of the room.
"Just to think that these kids, that's really all they had access to for getting outside their room … and there's a lot of safety [measures in place], so there's not a whole lot on the floors or their own rooms and things like that," Adam said. "To think they didn't really have a space to go to work out or just be able to relax a little bit – or feel 'at home' a little bit – was definitely the first thing we thought about as, 'How can we change this space?' "
At the time Adam and Caitlin toured, there already was a need in the area of youth mental health. Now two-plus years into the COVID-19 pandemic – along with increased societal tensions since the murder of George Floyd – the need is even greater.
Beth Heinz, executive of mental health and addiction services at M Health Fairview, said young people who require in-patient care in the psychiatric unit are some of the most ill children in the hospital.
"But I think many of us know – and research has proven – you can't just treat mental health," Heinz said. "What's incredibly important – and many of us know this and practice it daily – is that you've got to [also exercise physically]. You've got to get those endorphins flowing.
"So if you came here for an inpatient stay, what we really don't want to do from a care model is just be stuck on a unit – not have a lot of access to outside, or fresh air, or sunlight, or being able to [exercise]," she continued. "We all know what a good workout can do for our mental health. This space is so important for our kids. Not only for them to get that benefit but to start making that connection early on about how important it is to be physically fit for your whole mental health."
The space features a stationary bicycle and treadmill, as well as a variety of other features such as a water table, various fidget toys and brain puzzles, a small soccer goal set up on artificial turf, and a gaming area.
One wall at the far end of the room displays a mural of an outdoor sunset scene with a portion of the Bible verse Matthew 5:16: "Let your light shine …"
Adam and Caitlin said including a small aspect of their Christian faith was important for them.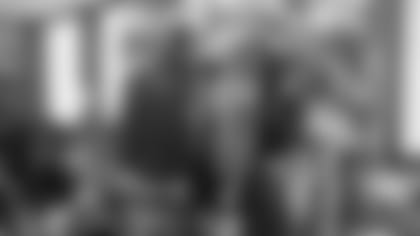 "When we first started our foundation, we didn't really have a whole lot of connection to any specific cause. We just knew we wanted to make a difference and try to help in the community – this community that's done so much for us," Adam said. "And then sure enough, once we partnered with [M Health Fairview] and specifically mental health, we realized there were [people close to us] going through some mental health issues and were ready to open up and talk about it. And through our foundation, they've actually gotten a lot of help.
"It's crazy how that happens. We don't feel like that happens by chance. We feel like God has done that in our lives and pushed us in that direction," Adam added. "What a great start and an opportunity for these kids to be able to be active."
Heinz thanked Adam for being willing to use his NFL platform as a way to discuss mental health and break down stigma around the topic.
Adam pointed out that awareness continues to grow, and he and his teammates can play a part in that.
"People coming out and talking about it has been awesome to see. The Vikings have done a great job of sharing guys' stories [through the Getting Open series], which I think has been phenomenal," he said. "Because especially in a football locker room, guys want to be tough. And they don't want to share their issues.
"But when people are able to open up and talk about it, it just makes others feel like, 'Oh, I'm not the only one going through something'; 'If an NFL football player is going through that and can be open about it, I can be the same way. I can talk to my parents, I can talk to my family,' " Adam continued. "We can hopefully help limit the people who are in these in-patient facilities – but when they are here, give them resources to help them get better."