Devin Dee is working to overcome hurdles in his life, and those efforts have been recognized by Vikings WR Adam Thielen.
At 8 years old, Devin has faced challenges that include moving homes four years ago and more recently receiving a diagnosis of Oppositional Defiant Disorder (ODD) that significantly affects his emotional wellbeing and reactivity to daily situations.
"He's shown a lot of perseverance around what he's gone through," Adam said.
Devin lives with his great, great uncle Mark, who cares for him and his younger brother; the trio has bonded over a shared love for football.
Mark grew up in Rochester, Minnesota, and remembers first becoming a committed fan when the Vikings finished the 1969 season 12-2 and advanced to Super Bowl IV. He has remained a fan through the ups and downs, and he recalls watching Vikings games with Devin's father, as well, whom Mark cared for from ages 9-16.
"His dad's favorite player was Randy Moss, so it's kind of funny now with Justin Jefferson emerging, that's Devin's favorite player," Mark said. "They both love the wide receiver position."
An affinity for the position has only grown for Devin since connecting with Adam and his wife Caitlin through Thielen Foundation.
Devin has been a patient at M Health Fairview Masonic Children's Hospital, where he's received support through the pediatric mental health unit – a department of the hospital Thielen Foundation specifically partners with.
After spending time at an outpatient program at Masonic, Devin has already demonstrated significant coping skills and improved behavior.
"Within a week, he was somebody else. You could just tell he was happier, and there was less fighting around the house," Mark said. "My mom was up here at that time, too, and we both noticed that he just was happier and seemed to be changing. Since he's been in the program, for me, we've had better days. He still can flare up with the ODD when he's tired, but overall, he just seems like a different kid. The program has been a huge benefit for both of us. … He doesn't want to leave the program. He loves it there."
When Thielen Foundation had a pair of Super Bowl LVII tickets to give away, Adam and Caitlin felt strongly about gifting the unique opportunity to a young person receiving mental health care.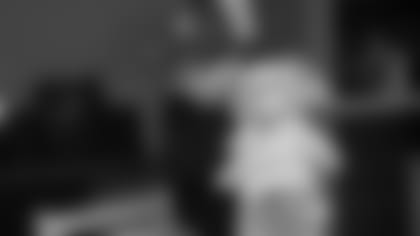 After reviewing deserving candidates, the Thielens felt that Devin and Mark "were the best fit" for a Super Bowl surprise.
So last month, Devin arrived home to find a Vikings gift bag – complete with a Thielen jersey, SKOL sleeves, a teddy bear for his brother and more – along with a special video message from Adam and Caitlin.
The couple told Devin he and Mark would be attending the Super Bowl in Arizona, and they were handed larger-than-life replica tickets by representatives from M Health Fairview and Thielen Foundation.
"It took him a minute to understand what was happening," Mark laughed of Devin's initial reaction. "But the smile when it sunk in was pretty special."
Though Devin had some trepidation about returning to school following the outpatient program, it certainly helped to be able to tell his friends he's going to the Super Bowl.
"A lot of stuff that we do at the foundation is around trying to help people that are doing whatever it takes to get out of a situation that they're in," Adam said. "You could tell that between him and his uncle, they're really doing what it takes to get out of a tough situation and try to be the best version of themselves.
"It just felt like they did the work, he did the work, to earn that opportunity," Adam added.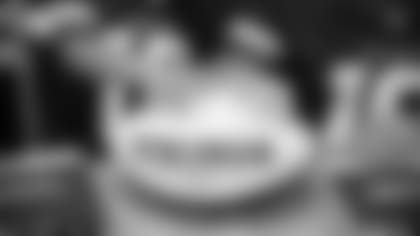 Mark wholeheartedly believes in helping children manage difficult emotional and mental situations – and in not allowing a challenging condition to define that young person.
He proudly spoke of his great, great nephew, describing his athleticism and newfound love for basketball, during which he "even enjoys playing defense, not just shooting."
And Mark, 68, is struck by the unique ability Devin has for connecting with older generations.
"We've got a woman who is 87 and lives in a nearby senior home … somehow they got to talking and meeting, and they are great friends. He talks to her on the phone now and then, [and] every spring she uses her walker to come over the bridge to our house looking for Devin," Mark said. "When he sees her, he runs out the door. He brings her brownies or cookies, they talk, and he walks her back to her place. Another woman who's in her early 70s, and he's become great friends with her. They do Christmas cookies together, and he likes to frost them. He likes to go over and just talk to her. They have great conversations, and she just loves his company.
"My mom is 93, so he watches out for her when she's here, too. He has a real compassion and connection with older people," Mark added. "Sometimes I'm just amazed at who he is and what he's doing and how he's helping out."
Mark emphasized the impact Thielen Foundation is making alongside the children's hospital.
"You don't know which kids you're going to reach, which ones you won't – but if you don't try, you know you're going to get a negative result," he said. "You hope they'll pay it forward. It's really important work that they're doing, and I'm extremely grateful that Devin has this opportunity."