After joining the Minnesota Vikings as an undrafted free agent, safety Anthony Harris has been quietly absorbing everything possible to learn, practice and prepare for his first NFL game. On Dec. 10, Harris got his chance to use that knowledge when he was activated from the practice squad to fill in for an injured Andrew Sendejo.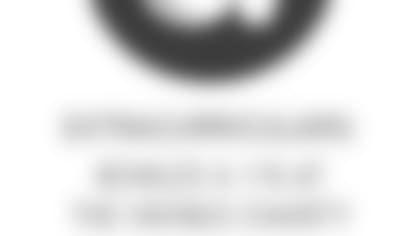 Harris not only made his pro debut, but he did so in the starting lineup. The rookie finished the evening in Arizona tied with linebackers Chad Greenway and Eric Kendricks to lead the team in tackles with eight (according to press box stats). Harris started again last week against Chicago, filling in for Harrison Smith.
For Harris, it all boils down to a dedicated work ethic, a love for the game of football and seizing opportunities. 
Q: What was it like to get your first start?
A: I was excited. I've just been trying to stay engaged, stay focused all season and learn as much as I can from the players in front of me and the coaches every day. So, to get an opportunity to go out and play was big. I was excited. Thursday night, a big-time game, it was just one of those things you kind of dream about. I felt like I was excited to go out there, give my best shot and show I can play.
Q: Captain Munnerlyn emphasized your attentiveness in meetings even while on the practice squad. How important has that been to you?
A: I find joy in strategizing in the game. Football is a game of chess, just thinking steps ahead and how people want to counteract what you're doing; so mentally, that's how I was able to stay engaged. I felt like that really kept me focused, knowing what we're doing on defense, knowing the game plan and what the other teams are going to do. Then on Sunday, just supporting the guys and getting mental reps, seeing if I can get the right call down and see what position I'd be in – help guys when they come off the field, communicate what I'm seeing from a different perspective. I think doing that all season helped prepare me to go out there and make some plays myself.
Q: How had the Vikings coaching staff really prepared you to make that leap from the practice squad to starting against Arizona?
A: Coach [Jerry] Gray and Coach [Jonathan] Gannon, both of those guys are great coaches. Ever since I've gotten here, they've always pushed me even though I wasn't on the active roster. They've challenged me to pick up right on all the calls, know the defense and continue to get better each day. They did a great job all throughout the year, preparing me for an opportunity to go in. Coach Zim', he's always critiqued me on my technique just as well as he's done with all the other guys. Leading up to this point, not just when I was going to start, they did a good job of making sure I was getting better each day.
Q: Which teammates have you really learned a lot from on the field?
A: I've learned a lot from Harry – Harrison Smith – and also Terence Newman. Just watching Terence, you know, he's a veteran guy, so right away coming in I wanted to watch him even though we play different positions. I watch how he prepares, how he works in practice each day, and those guys both taught me to pay attention to the detail – to not only know what I'm doing, but they're both aware of what the players around them are doing, so that helps you play a lot faster and help people out with different situations. I'm just trying to take from both of them as much as I can on the fly.
Q: You had a pretty strong game against the Cardinals. What did you come away feeling like you executed well?
I just tried to go out there and not think too much – I relied on the points the coaches give me during the week and also relied on my instincts. I just tried to play fast, play hard, and I've learned that if I do that, if I make a mistake I can hopefully make up for it. I can also eliminate those mistakes just by playing natural and letting it come to me.
Q: I know you're on Twitter [@HOOSDatDude]; did you get a lot of social media love from fans after the game?
A: Yeah, there were quite a few people who commented at me on social media, whether it was Instagram or Twitter, congratulating me for getting my first start and complimenting me for how I played.
Q: You led the team in snaps on at Arizona. Going forward, how is that kind of experience significant?
A: You know, the more you're out there, the more you're getting a feel for the game. You're seeing different things that are effective, it helps you get recall in later games, and it helps you know how to play in different situations. I think anytime you can get on the field and get any snaps, whether it's on defense or special teams, it's important for you to get those live reps against opponents.
Q: Where in your football journey did the NFL really feel like a reality to you?
A: I would say my junior season in college. You know, in high school I just worked to get to the college level, and then when I reached that level I just continued to work and try to give myself the best opportunity. My junior year I had a really, really big season, and I started to see that the NFL was an opportunity for me.
Q: What was at the top of your Christmas wish list this year?
A: I'm wishing for two more wins, and then potentially a few more wishes so I can use them and carry that on to the postseason.
Q: What's one holiday tradition that you really enjoyed growing up?
A: Mainly just spending time with family. On Christmas Eve, everyone would come over to my mom's house, and it would be a big gathering – a lot of food, a lot of laughing, and a lot of watching sports and football as well.