The Vikings tried to rally from a double-digit deficit for the second consecutive game but were unable to do so on the road in a
The loss dropped the Vikings to 8-4 on the season. Minnesota has three home games left on its slate, and they are all against division foes.
Here are three stats that stood out:
The nature of the quarterback position is intertwined with attention, whether it is credit or blame, but football is the ultimate team sport.
Vikings QB Kirk Cousins threw two touchdowns in the fourth quarter, without Cook and without starting left tackle Riley Reiff for the second half. Minnesota also was again without Adam Thielen.
The biggest disparity for Cousins was his completion percentage of 57.9 (22-of-38 passing) that was hampered by a couple of drops, including a deflection that was intercepted to open the fourth quarter. According to Next Gen Stats, Cousins' completion percentage was 5.7 percentage points lower than his expected rate of 63.6.
He entered the game having completed 70.6 percent of his passes on the season and on the heels of a whopping 82.9 completion percentage against Denver that was 17.8 points higher than expected, a league best for Week 11.
Cousins ranks third on the season with a completion percentage of 69.3 that is 5.8 points higher than expected.
While on passing numbers, how about a rating comparison between Cousins and Russell Wilson.
The 2012 NFL Draft classmates entered Week 13 ranked first and second with passer ratings of 114.8 and 112.1.
Cousins finished the game with a passer rating of 87.2, and Wilson fared slightly better at 98.9.
There was a tremendous disparity, however, when the quarterbacks threw to their left.
Cousins was 5-for-12 for 44 yards with the interception for a passer rating of 17.4.
Wilson was 10-for-12 for 155 yards and two touchdowns for an NFL-max passer rating of 158.3 on such throws.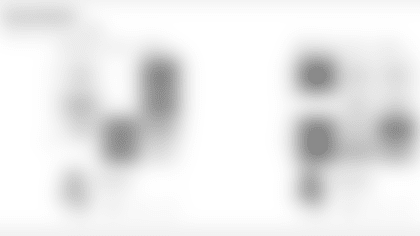 Minnesota spent a good bit of its bye week working on pass defense, but struggled when trying to cover D.K. Metcalf and David Moore, who combined for eight catches, 140 yards and a score on 11 targets.
According to Next Gen Stats, Metcalf averaged 4.1 yards of separation from defenders, which tied for third in the NFL in Week 13. Moore took advantage of a busted coverage on his 60-yard touchdown catch.
Separation is distance between a receiver or tight end and the nearest defender at the time of a catch.
The Vikings were outgained 218 to 78 on the ground.
Seattle rushed a whopping 43 times, compared to 14 by Minnesota.
The Seahawks gained 5 or more yards on 15 of their rushes and controlled the ball for almost 40 minutes of game time. Seattle began five of 13 possessions with a run of 6 or more yards, keeping the Seahawks ahead of the chains throughout the game.