The Vikings finished a season sweep of teams from the NFC East on Sunday by outlasting the Cowboys in a 28-24 victory at Dallas on Sunday Night Football.
A gutsy call by Head Coach Mike Zimmer put the Vikings up late in the third quarter, and the defense came up with two key stops down the stretch. Dalvin Cook dazzled again, and Kyle Rudolph caught two 1-yard touchdowns and an important 2-point conversion pass from Kirk Cousins, who played quickly and cleanly against an aggressive Cowboys front. Cook, Alexander Mattison and C.J. Ham were central figures during a stretch of 10 consecutive run plays that might have broken the will of Dallas' defenders.
Minnesota improved to 7-3 on the season and will host Denver (3-6) Sunday before a Week 12 bye.
Here are three stats that stood out:
1. Improbable to say the least
Land and stadium video boards are quite expansive in Texas. Dallas' execution on sideline plays — keeping feet in bounds while stretching from the green across the white out of bounds line — made a tough task even harder for Vikings defenders.
Dak Prescott's 20-yard pass in the second quarter to Amari Cooper, who secured the football and fell backwards out of bounds, was the least-likely pass to be completed across the league (18.9 percent likely).
The quarterback's 22-yard touchdown pass to Randall Cobb had a completion likelihood of 23.7 percent, which ranked fifth.
Prescott also ranked 11th (likelihood of 26.2 percent) on a 25-yard reception over the middle to Michael Gallup and 17th on a 12-yard touchdown to Cooper (likelihood of 29.9 percent).
Prescott ranked third in the NFL this week with an aggressiveness percentage of 23.9.
Cousins' percentage of 6.3, however, ranked 24th and was the lowest among qualifying passers in Week 10 (minimum of 15 attempts).
Cousins thrived on passes that were 10 or fewer yards past — including those thrown behind — the line of scrimmage. He was 5-of-5 passing for 57 yards when passes were thrown behind the line of scrimmage and 15-of-17 passing for 120 yards on passes thrown between the line of scrimmage and 10 yards past it.
Prescott didn't attempt a pass behind the line of scrimmage. He did considerable damage on throws between the line of scrimmage and 20 yards down the field, going 26-of-39 for 357 yards.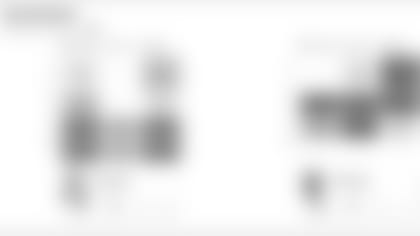 Both QBs completed passes at a higher clip than expected, according to analytics. Cousins completed 71.9 percent when he was expected to complete 64.3 percent, a difference of 7.6 percent that ranked fourth in the NFL. Prescott ranked fifth (6.5 percent difference between actual of 60.9 and expected 54.3).  
3. Beyond wildest expectations
A big key for Cousins and the passing game without Adam Thielen was the success that Dalvin Cook had after the catch.
The running back totaled a team-high 86 yards through the air on seven receptions.
He also carded two of the top nine yards-after-catch-above-expectations.
According to Next Gen Stats, Cook gained 27 yards after the catch on a 27-yard reception on Minnesota's fourth snap of the game. The running back was expected to get 2 on the play, and his 25 above expectations ranked fourth-highest in Week 10.
Similarly, he had 37 yards after the catch on a 30-yard reception during Minnesota's second possession. Cook was expected to get 20 on the play, and he was credited with exceeding expectations by 16 yards (ninth in the NFL in Week 10).