EDEN PRAIRIE, Minn. — **Newly acquired** Vikings receiver Mike Wallace led the NFL with a per-catch average of 19.4 yards as a rookie in 2009 and followed by leading the league with 26 catches of 20 or more yards in 2010.
The chart below breaks down the number of catches he's had of 20 or more and 40 or more yards, along with the totals of his teams in his first six seasons (league rankings).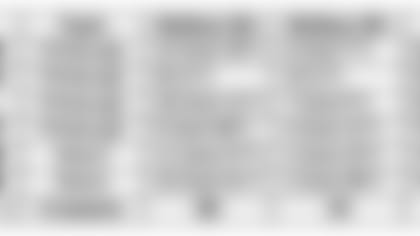 Wallace's success at accumulating explosive plays (27.2 percent of his teams' catches of 20 or more yards and 59.6 percent that have gone for 40-plus) prompted a question from the media Saturday on whether he will provide the best deep threat since Randy Moss, a six-time Pro Bowler and four-time All-Pro.
As excited as Wallace is to **begin work** in Minnesota, he made it clear he doesn't want to be seen as trying to fill Moss's shoes.
"That's Randy Moss. We've got to respect that and know exactly who we're talking about, so if I can be half as good as that guy was, I'll be fine and I think I'll do some great things for this team if I can be half the player he was when he was here," Wallace said. "That's probably the second-best receiver behind Jerry Rice to ever play the game. That's not big shoes to fill. That's enormous shoes to fill, and I'm not even going to try to fill those. I'm just trying to play and make plays for the team I'm with, give my teammates confidence in me and let them know I'm going to be here for them."
The chart below recaps the blockbuster first seven seasons Moss played for the Vikings (NFL rank). Moss accounted for 35.3 percent of Minnesota's catches of 20 or more yards and 53.1 percent of its plays of 40-plus during that span.