EAGAN, Minn. — More than a dozen members of the Vikings organization put their backs into giving back to the Twin Cities community on Tuesday morning.
Staff members volunteered their time and efforts at a local Hy-Vee distribution center by helping load pallets of food, water and other essential items onto semi-trucks that were headed for 10 different food banks around the metro.
Mary Fuhrman, Hy-Vee's Senior Vice President of the North Region, said it was important for the two organizations to bond together to support fellow community members in need.
"This is all going to 10 different locations in Minneapolis and St. Paul in areas around where the civil unrest was a couple of weeks ago," Fuhrman said. "There's a food desert now because a lot of the grocery stores are actually closed, and food banks in that area are being overwhelmed by consumers who need food and products for their daily lives."
One truck was headed for the Hallie Q. Brown Community Center in St. Paul, which has also recently been visited by the Vikings Table food truck.
Vikings staff members represented multiple departments, including player personnel, Vikings Entertainment Network, partnerships and social impact.
They helped load multiple trucks with pallets of eggs, cereal, water, sports drinks, potatoes, fruit, diapers, flour and canned vegetables. Fuhrman noted that 18 total semis would leave the distribution center.
Former Vikings linebacker Ben Leber, now a sideline analyst for KFAN 100.3-FM and Vikings Entertainment Network, was among those who lent a helping hand.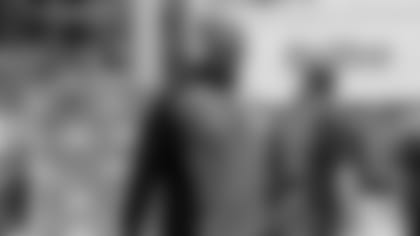 Leber said it felt like he was making a tangible difference by getting put to work with pallet loaders.
"When you actually put your feet on the ground and put some muscle and work into moving products onto a truck that you know is going to go to food shelters across the community, it does feel good," Leber said. "It's one thing to promote something or have a voice, but it's another to actually physically push products onto a truck. It's very fulfilling."
Added Fuhrman: "People were helping with 800-pound pallets. There's going to be some sore muscles tomorrow, but it had a huge effect."
Trucks were also filled with bags of groceries that Hy-Vee customers donated this past weekend. Shoppers at stores around the metro could purchase extra bags of groceries for $5 or $10 that were then sent to the food banks.
"We really appreciate the Vikings help and their partnership," Fuhrman said. "We have a longstanding relationship with them and just appreciate everyone coming together to help those in need.
"It's really important to help in this area in the cities because we all live here," Fuhrman added. "It's a way to give back, and this event has just been an awesome experience."
Leber, who has been active with other food-specific programs such as Taste of the NFL, reiterated the need.
"Food insecurities for people, it's already a big issue in our community and around the nation," he said. "This is just another way that two great organizations are stepping up to help out people in need. It helps them feel comfortable for where their next meal is going to come from."