The 2014 Reese's Senior Bowl is underway in Mobile, Alabama, as the nation's top senior football players look to bolster their draft stock while practicing once a day for a week in front of the entire NFL. The week of practice culminates in the actual Senior Bowl, which will be played on Saturday afternoon at Ladd-Peebles Stadium.
On Monday morning the players participated in the National Football Scouting Weigh-In at the Mobile Convention Center. Then in the afternoon, the South team, coached by the Jacksonville Jaguars staff, practiced at nearby Fairhope Stadium and the North team, c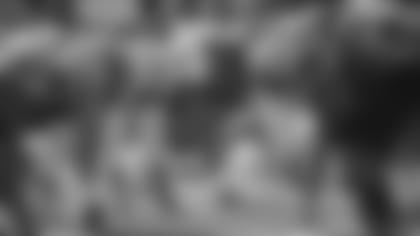 South: Size on display, plus a WR to watchEach draft class has its own set of characteristics and strengths. If the 2014 draft class as a whole is anything like the roster of players that comprise the South team, this year's crop of pro prospects is going to at least be known for its size.
Of the seven cornerbacks on the South roster, just one is under 5-11 and three are 6-0 or taller, including Utah's Keith McGill, who measured in at 6-3. On top of that, the South boasts big linebackers such as Adrian Hubbard of Alabama (6-6) Jeremiah Attaochu of Georgia Tech (6-3), Christian Jones of Florida State (6-3) and Kyle Van Noy of BYU (6-3). Then there's also Virginia defensive end Brent Urban, who comes in a touch under 6-7, two big centers in 6-3 Gabe Ikard (Oklahoma) and 6-5 Travis Swanson out of Arkansas and Tennessee defensive tackle Daniel McCullers at a shade under 6-7.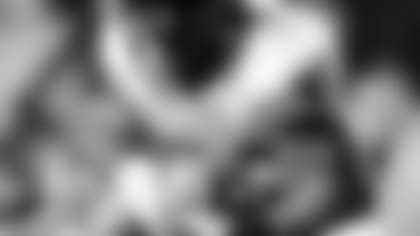 Another player who has the look of a big-time star is Vanderbilt receiver Jordan Matthews (pictured, left). He was the South's top performer in his position group on Monday, constantly running past or out-jumping his defender to make acrobatic catches. He will surprise no one here (or in the Vanderbilt fan base) if he has an all-star week. Matthews holds virtually every Vanderbilt career and single-season receiving mark and ended his career as the SEC's all-time leader with 262 career receptions and 3,759 receiving yards and as Vanderbilt's career leader in touchdown receptions with 24.
Another Vanderbilt player who flashed was safety Kenny Ladler. On one play in particular, he made up for the mistake of a teammate when he displayed terrific closing speed by breaking up a pass that should've been completed when his teammate was turned around by a play-action fake.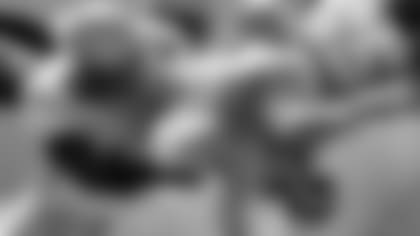 Finally, another South defender to keep an eye on this week is Georgia Tech linebacker Jeremiah Attaochu (pictured, right). He measured in at 6-3, 252 pounds, and plays that hybrid defensive end-outside linebacker role, which will cause some to be concerned he's a tweener yet will cause others to salivate over him because of his ability to rush the passer. Attaochu played linebacker in a 3-4 scheme as a sophomore and junior, then switched to defensive end as a senior. In total, Attaochu finished his career as Georgia Tech's all-time sacks leader with 31.5.
North: DTs, Wisconsin LB, Wyoming WR ShineFootball fans in the Midwest would've enjoyed an opportunity to watch the North's practice on Monday because two names in particular were standouts – University of Minnesota defensive tackle Ra'Shede Hageman and University of Wisconsin linebacker Chris Borland.
Hageman weighed in favorably on Monday morning at 6-6, 318 pounds with an arm length of 33¾ and a wingspan of 81¾; that arm length and wingspan is the longest of any of the North's DTs. It didn't stop there for Hageman, as he was at times dominant in Monday's practice. He burst through the line of scrimmage to de-cleat a running back in the 9-on-7 drill and then during one-on-one pass rush drills he used a series of moves over several reps to consistently beat his blocker. He looks every part of a pass-rushing force at defensive tackle, so I will look more this week at his performance against the run.
Borland's performance was similarly impactful on Monday, as he was constantly in on tackles and around the ball. He collected a fumble recovery and an interception, and in general looked good in coverage. Borland may not be the biggest (5-11, 245) or the fastest or the strongest, but in watching him play a few games this season and in watching him practice on Monday, it's clear the Wisconsin linebacker is an instinctual and natural defender.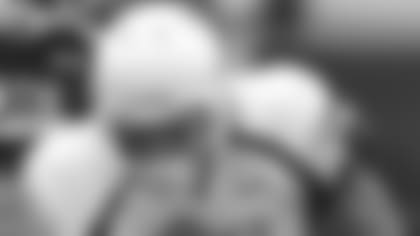 Many scouts don't like to compare prospects to pro players because it can hide that prospects unique traits under a generalized description, but I could help but think "TY Hilton" as I watched Wyoming receiver Robert Herron today (pictured, left). Herron may be a little bigger and Hilton is probably a touch faster, but they look the same while the ball is in the air and when they make their first move after catching the ball. In Monday's practice I saw Herron work hard to get open on a comeback route near the sideline and make a difficult catch, then just moments later he was running down the left seam over the top of the defense to haul in a long reception.
Hageman wasn't the only defensive tackle impressing on Monday. Pittsburgh's Aaron Donald twice beat Baylor offensive guard Cyril Richardson in one-on-one drills; Richardson is considered by some to be a top guard in this year's class. Louisiana Tech's Justin Ellis also had a nice day, beating Utah State center Tyler Larsen a couple times, including a great spin move on his second rep against Larsen; Larsen did get the better of Ellis on the third rep.
Finally, two other players who flashed on Monday were kicker Chris Boswell of Rice, who displayed a long and accurate leg, even hitting from around 50 yards twice before missing from 58, and Tennessee State offensive guard Kadeem Edwards, who had a spirited one-on-one battle with Penn State defensive tackle DaQuan Jones.