The Vikings are scheduled to make eight selections in the 2017 NFL Draft, including five in the first 129 picks later this month.
Minnesota is scheduled to select from the 48th, 79th, 86th, 120th, 128th, 160th, 199th and 232nd spots. The first round of the draft, which will be hosted by Philadelphia this year, will be Thursday, April 27. The second and third rounds are set for April 28, and rounds four through seven are slotted for April 29.
We recently took a look at the *selections that the Vikings have made* from those spots. Now, we'll take a look at the past five players selected from each of those spots, as well as the three players picked before and after those spots in 2016. Lastly, we'll have a quick recap of notable players whose names have been called at the spots since 1961 with help from pro-football-reference.com.
The Vikings have only drafted from 128 twice before, selecting Rhett Ellison in 2012 and Terry Kosens in 1963. The Steelers have found some impactful players at the spot, particularly linebacker Larry Foote in 2002 and running back Barry Foster in 1990.
Past Five Players Selected at 128
2016: Cardinals — C Evan Boehm, Missouri (started one of 16 games in 2016)
2015: Raiders — G Jon Feliciano, Miami (has started three of 22 games)
2014: Panthers — DB Tre Boston, North Carolina (has three interceptions, 2.0 sacks and 104 tackles in starting 16 of 42 games played)
2013: 49ers — WR Quinton Patton, Louisiana Tech (73 catches, 880 yards, one touchdown; 18 starts in 40 games)
2012: Vikings — TE Rhett Ellison, Southern Cal (51 catches, 515 yards, three touchdowns; added a 1-yard rushing touchdown and contributed on special teams; started 41 of 73 games)
3 Before, 3 After in 2016
Colts — ILB Antonio Morrison, Florida (45 tackles, including 27 solo; started four of 16 games)
Chiefs — WR Demarcus Robinson, Florida (appeared in 16 games)
Bears — CB Deiondré Hall, Northern Iowa (one interception and three passes defended in eight games)
Browns — S Derrick Kindred, TCU (44 tackles, including 30 solo, and five passes defended; started five of 12 games played)
Ravens — T Alex Lewis, Nebraska (started eight of nine games played)
Packers — LB Blake Martinez, Stanford (started nine of 13 games; one interception, one sack)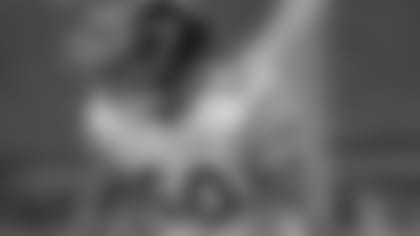 Vikings/others of interest at 128
2011: Steelers — DB Cortez Allen, The Citadel (has six interceptions and 34 passes defended; 138 of 168 tackles have been solo; 18 starts in 56 games)
2006: Seahawks — G Rob Sims, Ohio State (started 114 of 125 games, including all 80 with the Lions from 2010-14)
2002: Steelers — LB Larry Foote, Michigan (totaled four interceptions, 27 passes defended, 25 sacks and 10 forced fumbles during 13-year career; started 134 of 187 games, including 105 of 158 with Pittsburgh)
2001: Seahawks — T Floyd "Pork Chop" Womack, Mississippi State (started 71 of 120 games, including 47 of 91 in Seattle and 24 of 29 in Cleveland)
1990: Steelers — RB Barry Foster, Arkansas (915 carries, 3,943 yards and 26 touchdowns in starting 44 of 62 games; added 93 receptions for 804 yards and two touchdowns; led NFL with 390 carries in 1992; two-time Pro Bowler; one-time All-Pro)
1984: Bills — P John Kidd, Northwestern (played 215 games over the course of 15 seasons with Buffalo, San Diego, Miami, Detroit and the New York Jets; 957 punts for 39,716 yards and an average of 41.5)
1976: Rams — LB Carl Ekern, San Jose State (one Pro Bowl; 107 starts in 166 games; totaled five interceptions, one Pick 6 and 2.0 sacks)
1963: Vikings — RB Terry Kosens, Hofstra (started four of eight games played)
1961: Packers — FB/FL Roger Hagberg, Minnesota (played in 68 games for Oakland, totaling 766 yards and four scores on 194 carries; added 645 yards and four scores on 58 receptions)