The Vikings are scheduled to make eight selections in the 2017 NFL Draft, including five in the first 129 picks later this month.
Minnesota is scheduled to select from the 48th, 79th, 86th, 120th, 128th, 160th, 199th and 232nd spots. The first round of the draft, which will be hosted by Philadelphia this year, will be Thursday, April 27. The second and third rounds are set for April 28, and rounds four through seven are slotted for April 29.
Last week, we took a look at the *selections that the Vikings have made* from those spots. Now, we'll take a look at the past five players selected from each of those spots, as well as the three players picked before and after those spots in 2016. Lastly, we'll have a quick recap of notable players whose names have been called at the spots since 1961 with help from pro-football-reference.com.
The 86th pick has a strong history that includes three Hall of Famers: tackle Jackie Slater, kicker Morten Andersen and receiver Andre Reed, as well as more recent finds such as Tedy Bruschi in 1996, Marshal Yanda in 2007 and David Johnson in 2015.
Past Five Players Selected at 86
2016: Dolphins — WR Leonte Carroo, Rutgers (three receptions, 29 yards, one score)
2015: Cardinals — RB David Johnson, Northern Iowa (1,820 yards and 24 touchdowns on 418 carries; 1,336 yards and eight scores on 116 catches; named to first Pro Bowl in 2016)
2014: Eagles — WR Josh Huff, Oregon (caught 48 passes for 482 yards and four touchdowns in three seasons with Eagles, returned two kickoffs for touchdowns and averaged 27.7; joined Buccaneers late last season)
2013: Colts — G Hugh Thornton, Illinois (32 starts in 37 games; joined Falcons this offseason)
2012: Steelers — LB Sean Spence, Miami (started 13 of 31 games with Steelers and six of 15 with Titans in 2016; now with Colts)
3 Before, 3 After in 2016
Jets — OLB Jordan Jenkins, Georgia (started 11 of 14 games; 2.5 sacks)
Redskins — CB Kendall Fuller, Virginia Tech (started six of 13 games)
Texans — WR Braxton Miller, Ohio State (caught 15 passes for 99 yards and a touchdown)
Bengals — LB Nick Vigil, Utah State (appeared in all 16 games)
Packers — LB Kyler Fackrell, Utah State (appeared in 13 games; 2.0 sacks)
Steelers — DT Javon Hargrave, South Carolina State (started 13 of 15 games; 2.0 sacks)
Vikings/others of interest at 86
2011: Chiefs — DE Allen Bailey, Miami (72 games; 11.5 sacks)
2009: Vikings — DB Asher Allen, Georgia (started 21 of 36 games in three seasons, recording four interceptions)
2007: Ravens — G Marshal Yanda, Iowa (has started 133 of 144 games played; a Pro Bowler for past six seasons)
1999: Bills — RB Shawn Bryson, Tennessee (528 rushes for 2,144 yards and six touchdowns; 185 catches for 1,383 yards and three scores)
1996: Patriots — LB Tedy Bruschi, Arizona (started 139 of 189 games, returned four of his 12 interceptions for touchdowns, added 30.5 sacks; leader on three Super Bowl winners)
1989: Lions — DB Ray Crockett, Baylor (started 174 of 214 games, totaled 36 interceptions and 15.5 sacks with the Lions, Broncos and Chiefs; part of two Super Bowl winners in Denver)
1987: Broncos — LB Michael Brooks, LSU (7.0 sacks, four interceptions, nine forced fumbles; started 64 of 89 with Denver, all 45 with the New York Giants and all four with Detroit)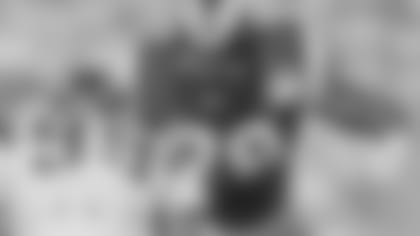 T Jackie Slater, Los Angeles Rams, 1976
1986: Colts — WR Bill Brooks, Boston University (totaled 583 receptions, 8,001 yards and 46 touchdowns in seven seasons with Indianapolis, three with Buffalo and one with Washington; started 132 of 169 games) 
1985: Bills — WR Andre Reed, Kutztown (Pennsylvania) HOF (951 receptions for 13,198 yards and 87 touchdowns; started 217 of 234 career games; seven straight Pro Bowl selections; part of team that won four straight AFC Championships)
1982: Saints — K Morten Andersen, Michigan State HOF (played 382 games and totaled 2,544 points in 25 seasons with the Saints, Falcons, Giants, Chiefs, Vikings and Falcons; a seven-time Pro Bowler)
1976: Rams — T Jackie Slater, Jackson State HOF (a seven-time Pro Bowler who started 211 of 259 games; spent 20-season career with Rams)
1974: Vikings — DB Mike Townsend, Notre Dame (did not play for the Vikings; also spent time with the World Football League's Sharks and Southmen, and NFL's Giants)
1971: Steelers — G Gerry Mullins, Southern Cal (member of four-time Super Bowl champs; started 87 of 124 games)