EAGAN, Minn. — Are those Stormtroopers?
They're the 2021 Minnesota Vikings working on gridiron improvements instead of marching in the name of intergalactic dominance.
You may have noticed some pictures and videos released earlier this week on Vikings.com showed players on the field for Organized Team Activity practices wearing plain white, soft-padded helmets instead of the hard-shelled Purple with horn decals.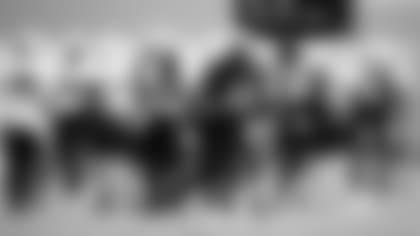 Longtime Vikings Equipment Manager Dennis Ryan said Head Coach Mike Zimmer brought up the idea as a way to try to reduce the effects of incidental contact while still providing protection.
An accidental helmet to the thigh, especially at a time of year when players aren't wearing pads, could essentially wipe out the remaining on-field participation during OTAs to allow muscles to rehab.
"It's an effort to keep the players safer, taking the helmets off," Ryan said. "Zim' wants the players to have some type of protection if they're out there running around at a pretty good speed. They've got a little bit of protection for their heads and are taking the contact out of the practice."
Ryan's time with the Vikings dates to the mid-1970s as a part-timer, and he became a full-time employee in 1977, the same year "Star Wars: Episode IV A New Hope" was released in theaters and included its Stormtroopers. Ryan, who is one of the hardest workers in the business, admitted he's never seen the films.
"When you see them, I think like a boxing headgear or going back to the old leather days of the Duluth Eskimos with no face mask and leather helmets," Ryan said. "Just strap it up and go."
The Vikings ordered a variety of sizes, from a couple of mediums all the way up to XXL, of the padded helmets that are much lighter than regular helmets.
"They didn't have vast quantities available in purple — we had basically a choice between white and black, and we went with white [to avoid] retention of heat," Ryan said.
Running back Dalvin Cook said Wednesday that he appreciates the padded helmets.
"I think the OTA process is about us building the chemistry, being around each other. It's less of the physical part, so I think Coach Zim' came to the conclusion of taking the helmets off and still protecting us," Cook said. "I think they are comfortable, they feel good, and I think when it comes to OTAs, it's less of the physical. It's about getting that timing down and starting to know each other, building that chemistry. Coach Zim' knows that as a coach, so I think it was smart of him."