EDEN PRAIRIE, Minn. — Pat Shurmur rolled into Winter Park on Wednesday to begin preparing Vikings tight ends and assisting the offense for Sunday's game against the Lions.
While most of the working world was in their morning commute or even hitting snooze for a few extra minutes, Shurmur learned that Norv Turner had surprisingly resigned as offensive coordinator. A visit by Mike Zimmer followed soon thereafter, and the head coach asked Shurmur to take over as interim offensive coordinator.
It was a surprising start to the day, but Shurmur has been in the NFL long enough to know that things can change pretty quickly. He was named Eagles interim head coach for the 2015 season finale, a game in which Philadelphia defeated the New York Giants 35-30 after Shurmur "tweaked some minor things that may not have been very obvious but it helps the players greatly."
Sam Bradford, completed 30 of 38 passes for 320 yards with two touchdowns and an interception in his and Shurmur's final game with the Eagles.
"You take what you learned in the past and try to build on what is good here and move forward. I think that's kind of the reality of our business," Shurmur said. "Change is constant, and it happens right around the corner sometimes. I think that's part of being a professional, whether you're a player or a coach. You deal with it, you internalize it quickly and you move on.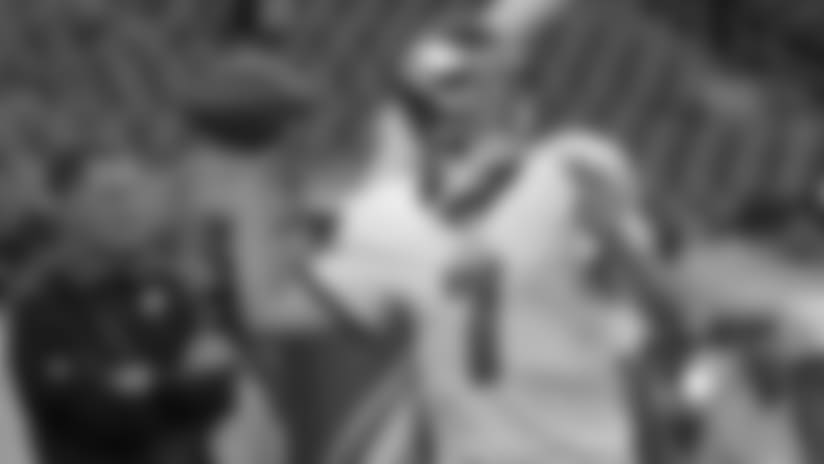 "I think it's the same for a player. If they make a mistake, and players make mistakes frequently, you've got to be able to admit you made a mistake," Shurmur said. "You've got to be able to make the correction and then move on fast because you have another play to run in another 40 seconds. Some of that is what we do as coaches."
Minnesota (5-2) already had a short week to prepare for Detroit (4-4) after dropping a second road contest in a row. The Vikings opened with five straight wins, drawing credit far and wide, but stumbling two weeks in a row has generated criticism of the NFC North leaders and one of three teams in the conference with five victories.
Shurmur said if everyone involved with the offense makes one fewer mistake, "then we give ourselves the best chance to win."
The Michigan native can draw on past experiences, including as far back on Andy Reid's staff in Philadelphia beginning in 1999 when he started the first of three seasons as tight ends and offensive line coach before switching to coach quarterbacks from 2002-08. Shurmur was Rams offensive coordinator from 2009-10 when St. Louis drafted Sam Bradford with the No. 1 overall pick of 2010, before being hired as Browns head coach (2011-12). Shurmur returned to Philadelphia as Eagles offensive coordinator the past three seasons. He said he enjoyed learning from former Eagles coach Chip Kelly and from Turner since being hired in Minnesota.
"Chip Kelly was an out-of-the-box thinker. We went in in the first meeting and the first thing he said was, 'We've done it this way always - is not the right answer,' " Shurmur recalled. "So we were always willing with Chip to try and think a little bit outside of the box.
"We stumbled upon some really good stuff," Shurmur added. "But there are some things that have been done in this league for a long, long time for the right reasons. I learned that from him. He was really all into football. He loved coaching football. I learned quite a bit, actually."
Shurmur said the past 10 months of working with Turner "have been really meaningful for me."
"I've known him, I've admired him," Shurmur said. "He and my uncle [Fritz Shurmur] worked together very closely. I've learned a lot of football, I've enjoyed working with him. Yesterday was a different day of sorts."
Detroit underwent a forced change of offensive coordinators in 2015 when Joe Lombardi was fired and replaced by Jim Bob Cooter. Quarterback Matthew Stafford has thrown 36 touchdowns against eight interceptions in the 17 games since. Stafford described during a conference call this week the gradual overhaul in Detroit since the change.
Shurmur said the Vikings have a "pretty wide selection of plays at our disposal."
"The key each week is to run the plays that give you the best chance to beat the opponent," Shurmur said. "So we're going to try and get our guys in the right position, get the ball to the guys we think can make plays, and do what we think is best to beat Detroit."
Receiver Cordarrelle Patterson said he's been impressed by Shurmur since his arrival.
"All I've heard is great things about him," Patterson said. "He's the man we've got to lean on and count on to get the job done. We're just going to keep moving forward."
Shurmur said the Vikings haven't finalized the decision on whether he'll be in the booth or on the field, but he said he'd probably be on the field.
"I feel better [on the field]," Shurmur said. "In my opinion it's a better communication to the quarterback."