MINNEAPOLIS — U.S. Bank Stadium is home to action-packed sights and reverberating sounds on Vikings game days.
There's the dramatic, fire-breathing dragon and flaming runestones that are used during player introductions, the thundering drum that leads the SKOL Chant and fireworks after Vikings touchdowns.
There is a lot to enjoy, but such an electrified atmosphere also can be overwhelming for some guests.
That is why the Vikings partnered with the Minnesota Sports Facilities Authority and KultureCity to create the 3M Sensory Room, a 6-foot-by-12-foot, sound-protected space to offer respite for guests.
Designed by KultureCity, a non-profit based in Birmingham, Alabama, the sensory room caters to fans with autism, Down syndrome, post-traumatic stress disorder, dementia and other conditions that can benefit from a safe and soothing atmosphere. The space will allow individuals, regardless of their ability, to enjoy amenities at U.S. Bank Stadium confidently, knowing they have a quiet space to retreat to for a break, as needed.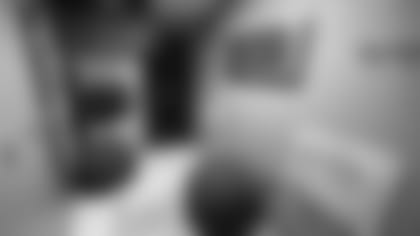 "We want everyone to feel comfortable here, to have an environment where they can come cheer on the team, but if they need a break, we have a dedicated space where they can come and relax," Vikings Chief Operating Officer Kevin Warren said before Sunday's game against the Seattle Seahawks. "We're excited to be on the cutting edge of this. Hopefully this will lead to many other NFL teams and professional sports teams making sure they create this environment."
Dozens of guests used the space the first time it was available.
Formerly the HCMC 3M First-Aid Station, the room is located on the Upper Concourse near the southwest escalator behind section 346. The space includes a sensory active wall display, sensory toys, low lighting, bean bag chairs and sensory bags.
Vikings Official Science Partner 3M has provided ear plugs and noise-canceling headphones for those who enter the space, which has a single-use bathroom connected directly to the room.
The Vikings also are partnering with Fraser Pediatric Therapy to staff the room with two licensed behavioral specialists for every home game.
Gina Gibson and Tori Bystedt worked the first game for Fraser.
"I think this helps to make coming to the Vikings game more accessible to all members of the community," said Gibson, an occupational therapist and Fraser's Sensory Inclusion Lead. "They know if they want to try it out, if they're starting to feel overwhelmed at any point, that there's a place they can go to remove themselves from all of the big stimulation in order to make it a more positive experience and maybe get to go back and stay [for the rest of the game] instead of maybe having to leave."
Gibson said a social narrative that is available online "helps to prepare people to know what to expect before coming to an event, so things look a little more familiar."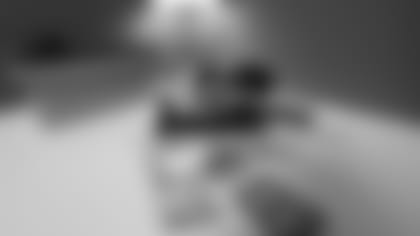 The Vikings, along with U.S. Bank Stadium Manager SMG and security provider Whelan Event Staffing Services (WESS), also underwent staff training from KultureCity in an effort to ensure U.S. Bank Stadium can be deemed a "sensory inclusive" venue.
In addition to the Vikings partners, Warren credited Vikings staff members who led the initiative and the Wilf family for their continued support.
"Hopefully this will be on the forefront and create that environment where people will understand that you can take care of your fans and that every team should be inclusive," Warren said. "That's something that the Wilf family has created to make sure we have the resources to create an inclusive environment where fans can come and enjoy themselves."