EAGAN, Minn. – Scott Studwell really has done it all.
From Pro Bowl linebacker, to longtime NFL scout, to now his latest achievement: published co-author.
Studwell worked with renowned author Jim Bruton, who has written other books with Minnesota sports legends such as Bud Grant, Fran Tarkenton, Dick Bremer and Lou Nanne. So although Studwell never anticipated publishing a book, he called a "no-brainer" to work with his friend Bruton.
The duo tackled the project during the COVID-19 pandemic, making the process a little bit more cumbersome. Interviews were conducted both over the phone and in-person, Studwell noted, and although he and Bruton "were scrambling a bit," the finished product is one they're both proud of.
"It reflects on a long time with the Vikings organization and all the friendships and all the relationships that I had. It was fun to reflect back on those," Studwell said.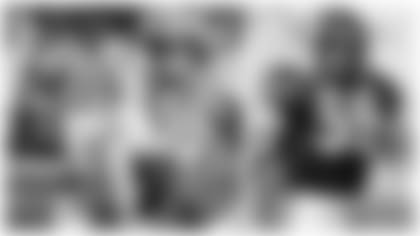 From "A Great Childhood" to "Final Thoughts," the 21 easily digestible chapters provide readers with a truly inside look at the life and legacy of a beloved Vikings Ring of Honor member.
"It wasn't going to be a kiss-and-tell book or anything of that nature," Studwell quipped. "So it was easy to jump in with both feet and just let it flow and let it go."
The title of the book is attention-grabbing but also accurate, as Studwell emphasizes that "love" is the best word he can use for his feelings toward the Vikings.
Studwell spent his entire career in Purple, playing in 214 career games, including 12 in the postseason. He is one of five Vikings to appear in more than 200 regular-season games and holds team records for tackles in a game (24 against Detroit in 1985), in a season (230 in 1981) and during a career (1,981 including defense and special teams). Studwell led Minnesota in tackles six consecutive seasons (1980-85), a feat only duplicated by Chad Greenway (2008-13).
A two-time Pro Bowler who helped the Vikings reach the 1977 and 1987 NFC Championship Games, Studwell gave his all for 14 seasons. After retiring at the end of the 1990 campaign, Studwell joined the Vikings scouting department, where he dedicatedly worked until his retirement in April 2019.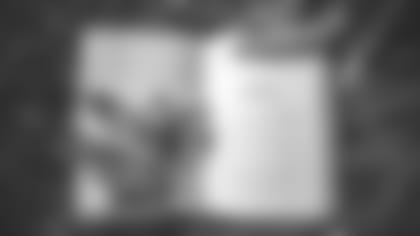 "When you're fortunate enough to spend 43 years in the NFL and, more importantly, 43 years with the Minnesota Vikings – to play here and work here and stay with the organization as long as I did – the 'love affair' part, it rings true," he said. "It was always a labor of love, from the minute I stepped on the practice field in Mankato until I said goodbye after my last NFL Draft.
"I guess there aren't enough superlatives to go around to really express how I feel about the organization," Studwell added. "It's been part of my adult life for the last almost 50 years, and it always will be until the day I die."
Though the Vikings will forever remain a part of Studwell's story, he's been grateful over these past two years for the opportunity to spend treasured time with his family.
He explained that sifting through memories and connecting with family members while creating the book was bittersweet. The process did magnify some of the challenges of life in the NFL.
"It was thought-provoking when I had to talk about my family and [recollect] all the sacrifices that they had made for me to do this [career]. To travel and be gone for 9 months a year and my wife basically being a single parent for 9 or 10 months a year," Studwell said. "It kind of brought everything into focus, and the reality of what I missed with raising my kids. I did the best I could, but it was with prolonged absences, and you're always going to miss out on something."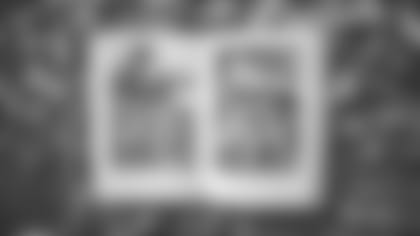 His appreciation of and love for his wife, Jenny, and three children – Jack, Sam and Jessie – was deepened even beyond the immense affection he's always had for them. And he's thankful now for the chance to make up for lost time, per se, with not only Jenny and the kids but now grandchildren, as well.
"Everybody's within 10 minutes of each other, and we see them every day, and I'm just so very fortunate to have everybody here," Studwell said. "It's such a blessing to be able to be around them as much as we are and watch them grow and watch them figure out life's problems as they go. And just be there for them when they need you."
Putting together the book "brought a smile to my face," Studwell said, truly escorting him down Memory Lane.
Readers will immediately pick up on the gratitude Studwell has for his former coaches and teammates, many of whom he remains close friends with to this day. Among that group is Vikings Player Personnel Consultant Paul Wiggin, who served as Minnesota's defensive line coach during the later portion of Studwell's career.
Wiggin, who then spent years with Studwell in the Vikings scouting department, wrote the forward for Viking for Life. An excerpt of the forward reads:
A multitude of emotions is such a big part of the game, but I still find, in the quiet times, that it is the people I have worked with throughout my lifetime who have added so much more to the memory bank than any football-related emotion. And one of the most impressive athletic personalities I have ever crossed paths with is Scott Studwell. My favorite trait in any athlete is the inner drive to be able to will himself or herself to greatness. Scott Studwell is one of those rare individuals.
Studwell said it was an honor to have Wiggin pen the forward to his book.
"Paul was … number one, a very good coach and very good mentor, and I just have a tremendous amount of respect for him," Studwell said. "He was the guy [for the job] because we had been through it as player-and-coach relationship, as scout-to-scout relationship, and he was always there for me, and hopefully I was always there for him.
"I think there's a lot of mutual respect for each other, and he was an easy guy to pick to do that," he added.
It is Studwell's true desire that anyone who reads his book will understand the appreciation and love he has for the organization he called home for more than 40 years.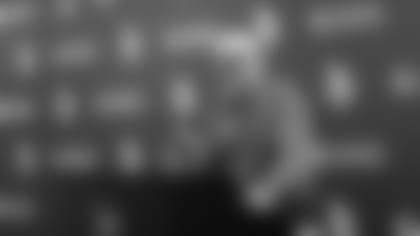 Reflecting back, he said he never honestly thought he'd end up in Minnesota.
The Vikings hadn't had any communication with the linebacker leading up to the 1977 NFL Draft, so Studwell simply didn't have the NFC North team on his radar. Little did he know, though, that Grant had stood on a table for Studwell heading into his 11th season at the helm in Minnesota.
Eventually, the Vikings selected Studwell 250th overall.
"You know, it was an agonizing couple of days, and I didn't get picked until the ninth round, which was disappointing, but at the same time it was exhilarating, because you had the opportunity," Studwell recalled. "And that's really all you can ask for. The timing just seemed so right, and there were just a lot of things that had to fall into place that did.
"I realize that there was a lot of sacrifice and a lot of hard work on my part, but I also think there's somebody watching over me who helped guide me through this journey," he added. "It's just been an unbelievable run."
Click here to order a copy of Studwell's book, Viking for Life: A Four-Decade Football Love Affair.