We hear it all the time: the NFL is a passing league. It's hard to refute. Many of the NFL's best teams and Super Bowl winners of late have featured superstar QBs and high-flying passing attacks. But the latest Super Bowl champions – the Denver Broncos – have reminded us that the passing attack isn't the only important component to building a winner in what is a passing-friendly league.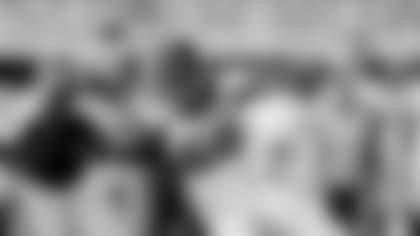 If the QB is the most important position in the sport, it would only stand to reason then that the player(s) responsible for neutralizing the QB are vital, too.
Cam Newton entered Super Bowl 50 as the hottest QB in the League and fresh off taking home MVP honors. Denver found a way to cool him down, though. The Broncos sacked Newton seven times on the night and held Carolina, the NFL's highest-scoring regular season offense (31.2 points per game), to just 10 points.
This wasn't a new style of player for the Broncos. Their defense led the NFL in sacks in the regular season with 52, three more than the next team (New England). Not surprisingly, a fierce pass rush helped Denver's defense neutralize opposing passing attacks all season. The Broncos allowed the fewest passing yards in 2015 and also allowed the third-fewest touchdown passes and the fourth-lowest passer rating.
The NFL is also often referred to as a copy-cat league. If Denver found so much success on defense with the pass rush as a focal point, other teams will continue trying to do the same. And the Vikings appear to be on the right track.
The Vikings were tied for seventh in 2015 with 43 sacks, just one sack fewer than NFC champion Carolina and nine fewer than Denver. The other four teams with more sacks than the Vikings in 2015 also made the playoffs (New England, Pittsburgh, Kansas City and Houston). If you expand the time frame to two seasons in order to include head coach Mike Zimmer's first season in Minnesota, the Vikings look equally as good. Only six teams have more sacks than the Vikings 84 since Zimmer arrived, and those teams are a combined 118-74 (.615) in that two-year span.
Appropriately, no team has more sacks than newly-crowned Denver's 93 in the past two seasons (Kansas City also has 93).
There was already a lot of optimism surrounding the Vikings as they head into the offseason to prepare for the 2016 season. But Denver's Super Bowl win, and more importantly the manner in which they won the game, is yet another because it looks as if the Vikings are on track to putting together a similar formula on defense.
View some of the best images of the defensive line from 2015.