EDEN PRAIRIE, Minn. –The visitors' locker room at Lambeau Field echoed the sounds of victory. Vikings players shouted in excitement, congratulated each other and snapped selfies wearing gray, "NFC North Champions" baseball hats.
Rhett Ellison, however, was late to the festivities.
After suffering a torn patellar tendon during the Jan. 3 game that ended with Minnesota dethroning Green Bay as division champion, he entered the locker room with the support – both literally and figuratively – of tight ends coach Kevin Stefanski, now the Vikings running backs coach.
"That was tough … [It] was a very jubilant atmosphere, but on the other side you had Rhett, who was devastated knowing his season was over," Stefanski said. "Rhett just embodies everything [Vikings Head Coach Mike Zimmer] wants this team to be in terms of physical and mental toughness, so it was so hard to see him suffering there.
"I was so proud of his teammates," Stefanski said. "They did such a great job with celebrating but then all going to put an arm around him and explaining how important he was for us being in that position in the first place."
Rather than readying himself for his second-ever playoff game, Ellison prepared instead for surgery. As he watched the Jan. 10 Wild Card game from a suite, separated from his teammates, the emotional pain proved more difficult than the physical.
"Early on, you go through some dark days. Your mind has never had to handle something like that," Ellison said.
The tight end feared he would never again play football.
The dark days blended into sleepless nights, but Ellison eventually overcame both.
He didn't sleep much Monday night, but this time it was for a good reason.
Less than eight months later, Ellison was about to return to the field the following day for his first practice this season.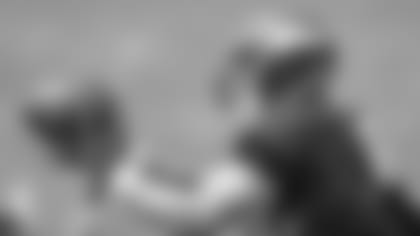 "It was awesome," Ellison said excitedly, emphasizing emotion with his hands. "I had like the game-day jitters. I didn't sleep the night before."
When Ellison set his first block and caught his first pass of 2016 this week, however, the nerves gradually melted away.
"That was the hard part – just relaxing and playing football again," Ellison said. "It was very exciting."
Ellison has only been playing football since high school, but he's been an athlete his entire life. After all, it's in his blood. His father, Riki Ellison, was a standout linebacker at Southern California who became the first New Zealander to play in the NFL. Riki's 10-year career with the 49ers and the Los Angeles Raiders included three Super Bowl titles with San Francisco.
Having lived in his father's hometown of Christchurch, New Zealand, from the ages of 4 to 7, Ellison remembers waking each morning for kindergarten and dressing in a suit and tie. He and his classmates may have dressed like little gentlemen, but all bets were off at recess. It was there that Ellison found his inner warrior.
"At recess, it was full-contact rugby at age 5," Ellison said. "The teachers [refereed] the matches. It was fun."
Ellison looked forward to the days in Christchurch when his father would purchase him ice cream. On his return visit to New Zealand during the 2015 offseason, Ellison's sweet tooth reunited with the frozen treat. If you ask him, it's the best ice cream in the world.
"The dairy down there is on a whole 'nother level," Ellison said. "Until you try it, you don't really know."
The tight end's go-to flavor? A concoction called Hokey Pokey – vanilla ice cream with pieces of honeycomb embedded within it.
"It's so good," Ellison said, smiling.
After moving back to the United States, Ellison didn't continue with rugby. He focused mainly on basketball until he started at Saint Francis High School in Mountain View, California. He had played casual, backyard football with friends growing up, but when the teenager first slipped on a set of pads, something clicked.
"That's when I discovered, 'This is my passion,' " Ellison said. "That was the first time I tackled somebody."
When it came time to find a college team, Ellison didn't need to think twice about following in his father's footsteps.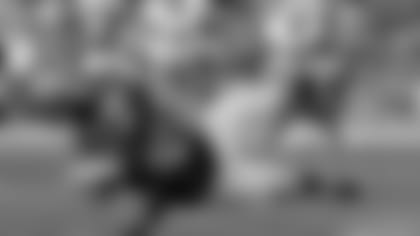 "I was watching USC football since I can remember," Ellison said. "They were the celebrities that I idolized."
He added, laughing: "My dad had me brainwashed to think that USC was the only football team in the world."
Ellison's contributions at USC were recognized, although statistically he wasn't exactly flashy. As a junior in 2010, he started all 13 games at tight end and had 21 catches for 239 yards and three touchdowns. Earning a reputation as an equally proficient blocker and pass catcher, Ellison was moved to fullback for his senior season.
Coming out of college, he didn't expect to be drafted. Rather, he simply hoped a team would give him the opportunity to work out as an undrafted free agent.
Things didn't go exactly as planned.
The night of the 2012 NFL Draft, Ellison and a handful of close family members were spending time together at his father's home along the Potomac River in Alexandria, Virginia. The morning of the third day, Ellison decided he needed a breath of fresh air and took a solo stroll along the bank of the river.
That's when the Vikings called and told Ellison they were about to select him – in the fourth round.
"There's not too many fullbacks who get drafted, especially when you have the numbers I did," Ellison said. "So it was a pretty emotional day."
Ellison received a second phone call shortly after, and the familiar voice of USC teammate Matt Kalil greeted him on the other end. The Vikings had selected Kalil fourth overall two nights before, and Ellison couldn't believe he was going to play on an NFL team alongside one of his closest friends.
"Matt's my brother," Ellison said, correcting me. "He's not even a friend. We're family; we're pretty much blood-related."
After sharing a locker room for eight seasons, Kalil and Ellison are together entering their fifth in the NFL. Kalil, who has worked through his own health hurdles during his time with the Vikings, has been a huge support for Ellison on his journey back to the field.
"It's been good to have someone to lean on that understands exactly what you're going through," Ellison said.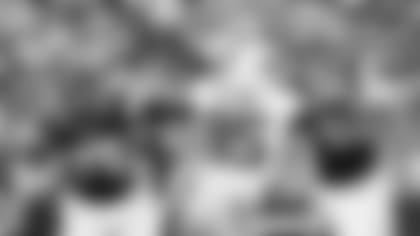 Kalil hasn't been the only one to help Ellison back into the swing of things. During the difficult days following his injury, when Ellison believed he would never return to the game he loved, his wife, Raina, never stopped believing he would.
"If I didn't have my wife, I think there's no way I'd be back, ever," Ellison said of Raina, whom he married during the offseason. "She got me closer to my faith, and she's been my rock throughout the entire process."
When Raina helped Ellison get on the right track, he hit the ground running – figuratively speaking – through the recovery process.
Tuesday, 233 days after his injury at Lambeau, Ellison was back in action.
"Rhett's worked extremely hard," said Zimmer. "Rhett is a great kid, [a] team guy through and through. It's nice to get him back on the field.
"[He's] probably a little ahead of schedule," Zimmer added.
While Ellison missed out on the physical participation, he said the mental reps were invaluable to his comeback. He was always easy to spot at practice, following along with drills in his mind, working out with Certified Head Athletic Trainer Eric Sugarman on the sidelines or going over plays with the coaching staff.
The Vikings hired Pat Shurmur as the new tight ends coach for the 2016 season. Shurmur talked about Ellison's contributions that helped Shurmur, a former head coach, transition in Minnesota.
"Rhett is a very veteran guy, and he's really good in the meetings," Shurmur said. "He's been helpful for me, in terms of how we function here. Every team functions differently, but he, along with [Kyle Rudolph] have been able to get me up to speed."
Ellison said working with Shurmur and mentoring young tight ends like MyCole Pruitt and rookie David Morgan kept him mentally in the game. Now that he's back in pads, his biggest goal is to continue helping the team to succeed at the highest level – in whatever way he can.
"I want to help the guy next to me," Ellison said. "I want to catapult this team to the Super Bowl.
"That's the goal, that's the dream. That's why you play football," he added. "I'm just here to do whatever I can do."