Washington Interim Head Coach Bill Callahan typically enjoys watching Vikings running back Dalvin Cook play.
But this week, it's a little different.
Callahan, who stepped into a head coaching role for the Redskins on Oct. 7 following the release of Jay Gruden, knows that Washington's defense will have its hands full on Thursday night.
"He's really dynamic. Just watching him on tape, it's fun to watch, but you don't want to defend," Callahan told D.C.-area reporters during his media availability this week. "He has the skill set that's explosive, it's fast. At any time, he can encircle the edge with speed. He's got lateral jump ability and lateral speed ability to get on the edge and create big plays – and not only outside but also inside.
"He can make you miss, he's got a lot of cut-ability in the hole. He has it all," Callahan added.
Washington safety Landon Collins also used the word "dynamic" to describe Cook.
Collins, a three-time Pro Bowler who spent his first four seasons with the Giants, will face Cook for the first time this week. He acknowledged Cook's talents while also expressing confidence in his ability to contain the third-year running back.
"With a running back like that, you've just got to play sound, you've just got to square him up," Collins said. "I don't know how big he is, but I'm ready for it. I can tell you that much."
Washington is familiar with explosive running backs.
At 34 years old, Adrian Peterson has 83 carries for 307 yards with the Redskins so far this season. He was asked about playing against the Vikings, whom he spent 10 seasons with after being drafted No. 7 overall in 2007.
"It's gonna be exciting to get out there and compete against those guys for four quarters," said Peterson, who added that he still knows "98 percent" of Minnesota's defensive starters.
"I haven't been there in a long time … but just knowing their personalities and their mentality, that right there is going to be very important for me and being able to talk to [my offensive teammates], as well, since it's probably their first time going up against some of these guys," Peterson said.
Quarterback Case Keenum will face the Vikings for the first time since spending the 2017 season in Minnesota. He echoed Peterson's familiarity with the defense.
"They're good. They're really good. I'm sitting there watching it, and it's the same defense when I was there," Keenum said. "The same guys, and they're all really, really talented players.
"They've been running that system for a while, so they know exactly where to be when to be [there]," he continued. "They can disguise and fool with your eyes a bunch. That, plus the noise [at U.S. Bank Stadium], it's a tough place to play. We've got to be on our Ps and Qs."
Here are other highlights from Washington players talking about Minnesota this week:
Callahan on Kirk Cousins, who spent the first six seasons of his career in Washington:
"Kirk has always had a deep arm, and that's one of his strengths throughout his play. It's interesting to see the Vikings incorporate a lot of the concepts that were similar to the ones that we featured here. He can roll out of the pocket, he can move out of the pocket, he can throw it deep on the move, he can throw it deep in the pocket, so he has the capability at any time, off the run-action fakes, to generate an explosive play.
"He's problematic in that respect, and he always has been, and to his credit. We've got a lot of respect for Kirk and his ability and the different arm angles that he throws the ball at, which is really impressive. It's going to be quite a challenge, because he's on a roll right now, and he's doing extremely well."
Keenum on whether familiarity with Minnesota's defense will benefit him:
"It helps as far as knowing personnel and knowing matchups and things like that, but they've got a lot of different stuff. They can do a lot of different things. They've got a lot of game-plan stuff that we have to be ready for. It's still tough. It's still a lot of studying to be done."
Peterson on his favorite Vikings memories:
"What I remember is meeting Prince after the game [against the Chargers]. That was one of my great memories, because he was a huge Vikings fan, so meeting him.
"But the 2009 season, that season and all those home games, they were just amazing. The fans, it was always sold out, every seat, and they just came and supported and showed us love. They do it all the time, but that year was special, making it to the NFC Championship Game. We played the 49ers [in Week 3 that season], and we won on a last-second touchdown that Brett Favre threw to Greg Lewis. It was probably one of the most spectacular plays I've ever seen it. You watch the ball, and [Lewis] just kind of walked the thin line in the back of the end zone to catch that ball. That was just an amazing play."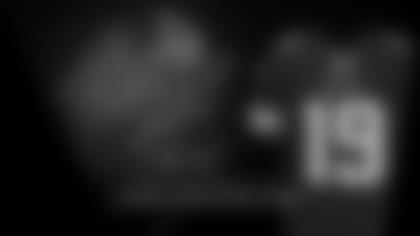 Get Your Primetime Purple Jersey
The Vikings will wear their Primetime Purple jersey, Thursday, Oct. 24 against the Redskins. Visit the Vikings Locker Room Team Store to buy your Primetime Purple jersey today!
T Morgan Moses on Cousins' strengths:
"First of all, No. 33 (Cook) is running the hell out of the ball, so what he does best is play-action. So being able to run the ball as well as they're doing and sit back there and play-action and throw it deep to two great receivers, it's what he does best. It's what he did here when we had [DeSean Jackson] and Pierre [Garçon]. I think our defense is fully prepared and ready for it."
RB Chris Thompson on seeing Cousins:
"He's been playing really, really good the past few weeks on top of Dalvin. It'll be good to see him."