Sports enthusiast Alicia Barnhardt's goal of setting a Guinness World Record for fastest person to visit all NFL stadiums brought her to Sunday's Vikings win over the Rams at the University of Minnesota.
In addition to visiting all 31 NFL venues for a home game of all 32 teams in 86 days, Barnhardt is raising money for the Ronald McDonald House of Central Ohio, where she volunteers twice weekly.
Barnhardt's barnstorming has covered 24 stops so far. She blogs about the experiences at each locale for a website she started that is called **Sports Wanderlust**.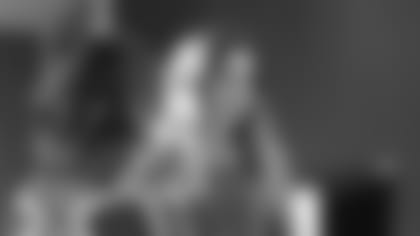 The idea stemmed from baseball trips she took with her sister, and was fueled by a connection with the record holder for Major League Baseball stadiums. She worked three jobs this summer, as a producer for an Ohio sports radio show, and in marketing and merchandising to save money for expenses.
It was important for Barnhardt to be able to impact a charity during her quest, and she said she's seen the help that Ronald McDonald Houses can provide to patients and their families.
Barnhardt chronicled her **whole day** in words and pictures, from people watching at tailgates, to learning the words to "Skol Vikings" to the outpouring of emotions when the Vikings secured the victory — a good twist since she had been in attendance for the only two Vikings losses (at San Francisco and at Denver).
The Gjallarhorn quickly won over Barnhardt, and she said she didn't mind the repetition throughout the game.
She also learned about the changeover process in which the field is repainted between Gophers and Vikings games while TCF Bank Stadium is hosting double duty for the 2014-15 seasons.
The Vikings also provided Barnhardt with a look into the future with a special tour of the U.S. Bank Stadium Preview Center. Barnhardt told Vikings.com she likes the innovative roof that is 60 percent clear ETFE that is designed to allow better lighting conditions than most indoor stadiums.
She also said she appreciated substance elements like the venue's environmentally friendly snow gutter system and the style displayed in a full-size model of a suite.