It was a time of education, reflection and celebration.
While this year's team-up between the Minnesota Vikings and Project Success looked a little different, the athletes and young people made the most of a difficult situation.
The ongoing COVID-19 pandemic prohibited (for a second year) the annual trip taken by Vikings Legends, leadership and players, along with Project Success students. Instead, seven current players and Hall of Famer Alan Page met virtually with youth last month.
Vikings Owner/President Mark Wilf joined the call for the surprise announcement of a $100,000 donation from the Vikings Social Justice Committee to Project Success and the awarding of a dozen $1,000 scholarships.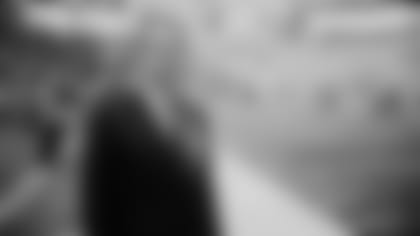 Wilf emphasized pride in current and former Vikings who have worked to make a difference in the surrounding community, including the seven players – and Page – on the call.
"I just thank them, and I'm blessed to be around such examples. Tonight's really important to myself and our whole organization," Wilf said. "We're always advocating for transformational change, and Project Success remains a top priority for our organization.
"So tonight we're committing, as an organization, $100,000 from our players' Social Justice Committee, to partner with Project Success next year," Wilf added with a smile.
Project Success Executive Director Adrienne Diercks' shocked and emotional expression said it all.
"Mark, I'm pretty speechless," Diercks said, proceeding to thank multiple people in the Vikings organization. "We're going to save that money, and we are going to bring students to D.C., because that's what we do with that incredible gift. Thank you, from my heart."
Wilf then congratulated 12 Project Success students who will each receive a $1,000 academic scholarship. The 12 recipients were selected from a group of 24 young people who submitted essays.
Diercks emphasized the importance of continuing to establish a supportive community, even in a virtual setting, that can be a resource for the young people.
"We wished we were in person, but the most important thing is that we are together and we are in community," Diercks said. "We're together, sharing time and space, and that's pretty special. So thank you for being here."
Current Vikings Anthony Barr, C.J. Ham, Patrick Jones II, Eric Kendricks, Alexander Mattison, Irv Smith, Jr., and D.J. Wonnum participated.
The evening included a unique "virtual tour" of the National African American Museum of History and Culture with Damion Thomas, the museum's curator of sports. Students heard from Page and engaged in a Q-and-A session with the former Minnesota Supreme Court Justice, and they joined Vikings players in breakout workshop sessions to discuss personal goals and community involvement.
Page's introduction by Diercks was accompanied by a slew of accolades he's received over the years, from his Gold Jacket NFL career to his esteemed work as an attorney and judge.
"Every one of the students here with us tonight has the potential to make the things that I have [accomplished] look like child's play.
"They have the potential to literally change the future, and for me that's kind of exciting," Page added. "It's exciting for me to have the opportunity to share some thoughts with them … and hear what they have to say."
Page candidly answered questions from multiple students, including inquiries about prepping for law school, challenges that he's faced in his life and how he defines success.
"Success is not a destination; it's a matter of travel," Page said. "It is the journey that's important. Destinations come and go. Accomplishments come and go.
"I leave it up to others to decide what my success looks like because, from my vantage point … it's somewhere off in the future, off in the distance, still trying to get there," he added with a smile. "I'm still trying to figure out what I'm going to do when I grow up."
Following their session with Page, the students joined virtual breakout rooms for more intimate conversation.
In one breakout group, Barr, Kendricks and Mattison answered some icebreaker questions from students before delving into topics of a little more serious nature. The Project Success leader asked the students to agree or disagree with – and then discuss as a group – the following two statements:
Motivation only comes from within.
Leadership can only happen with action.
Opinions on the two subjects varied, leading to strong dialogue among the group about where others receive motivation and what leadership in a community looks like.
"I'm motivated by everybody in this room," Kendricks told the students. "It [gives] me more motivation to do well and to give back.
"It's inspiring," Kendricks added. "Keep it up."
Gunxang Chanthavong is currently a junior at Patrick Henry High School and a member of Project Success. He expressed gratitude for the impactful event, despite the virtual format.
"I really appreciated everyone being there with energy and intent of sharing and listening. I appreciated the time the players and everyone put away to be there for us," Chanthavong told Vikings.com. "It inspired and sparked things in me that I'm now processing and acting on.
"It means a lot to me that Project Success is a resource and organization I'm happy to be a part of," added Chanthavong. "I'm really grateful for all of the people there and their energies. They all give back to the youth, and that empowers me to do the same."
Wilf encouraged the group to persevere through challenges.
"On behalf of the Vikings, it's just great to be able to welcome you to the discussion tonight," Wilf added. "You've heard from some great speakers, you've had great, great conversations, and that's what it's all about. We all have to lean on each other. Keep sharing your stories. Keep dreaming big and keep inspiring all of us."