A number of NFL analysts have already released pre-combine mock drafts, and their picks for the Vikings are all over the board. The Star Tribune's Matt Vensel **took a look at various predictions** handed out for Minnesota and offered his comments.
ESPN analyst Mel Kiper, Jr. most recently projected Kansas State guard Cody Whitehair going to Minnesota with the 23rd pick.
[Kiper's] reasoning: "The Vikings need help at both tackle and guard, and while Whitehair played left tackle, I've had him listed as a future NFL guard for two years now. If he comes off the board in this range, an inevitable (and fair) comparison will be Zack Martin, whom Dallas drafted in 2014 as a left tackle they immediately plugged in at guard with great results."
Vensel added his own thoughts:**
Since Martin was an All-Pro guard as a rookie two years ago, he has been the player comparison for seemingly every college lineman who might not be able to cut it at offensive tackle. I don't know if Whitehair is the one who will actually be the next Martin. But selecting a pro-ready prospect with positional versatility does make sense for the Vikings.
Other predictions for the Vikings first-round draft picks included Ole Miss receiver Laquon Treadwell, Baylor wide receiver Corey Coleman, Ohio State linebacker Darron Lee and Ohio State offensive tackle Taylor Decker.
Trades likely for the 2016 NFL Draft
Staff from all 32 teams are in Indianapolis to evaluate collegiate athletes this week, but another opportunity at the combine includes networking with other teams and looking ahead to the 2016 NFL Draft.
Viking Update's John Holler said that while all teams currently own their picks, **trades can be expected*** *by the time draft night rolls around in April.
Not only will specific teams fall in love with specific players, [but] those who become enamored with a player will start trying to figure out what it will take to land that player if he is projected to be gone when they're going to be on the clock.
As Holler pointed out, history guarantees that draft trades will happen. In 1997, only three first-round picks were taken by teams not originally assigned to them. But since then, every season has included at least twice as many adjusted selections.
*In last year's draft, only six picks changed hands and were made by teams other than the ones assigned to them. That has been the low-water mark, as more teams have viewed the first round as a way to move up or down to maximize value in the draft. *
In 2014, nine picks were traded. In 2013, that number was 11. In 2012, 16 picks were traded, including the six picks that came after Andrew Luck was taken with the first pick.
Minnesota has followed the trend as well. Over the past 12 seasons, the Vikings have participated in seven first-round trades, including in three of the last four drafts.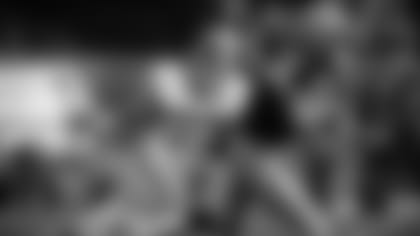 Former Viking Mark Mullaney proud father of Gopher senior
According to Fox 9 sports anchor/reporter Dawn Mitchell, Mullaney has "faithfully come week after week" to rebound for his daughter and help her with her shooting.
Shayne played 27 games for the Gophers in 2015, starting 10 of them. She averaged 10.1 points and 4.6 rebounds per game. Shayne was the recipient of the 2015 Big Ten Sportsmanship Award and also the Minnesota Women's Basketball Academic Excellence Award and was named to the Capital One Academic All-District 6 First Team.
*"My dad has helped me more than anybody else get to where I am today," Shayne said. "He's investing more time in me on the court than anybody else. It's really special when he comes down here and rebounds for me. We try to do it at least once a week, and it gets my shot feeling good. It's also a great time to be with my dad." *
Mullaney said he only has one secret:
*"I tell her she can't miss, because I have a bad back and I can't be running after the ball." *
Mullaney played for the Vikings from 1975-1987, recording 13.5 sacks over his last five seasons in Minnesota.