EAGAN, Minn. – The Vikings showed a lot of resilience in coming off a tough loss, making a short turnaround and then convincingly defeating the Lions to improve to 9-4.
The 20-7 win kept Minnesota undefeated at home this season and also continued its streak of no back-to-back losses.
Vikings Head Coach Mike Zimmer spoke to Twin Cities media members Monday afternoon and was asked what the bounce-back showed of the team's character.
"I like this team," Zimmer said. "They come in here and they work. I think they understand what's at stake every single week. The games that we've lost, they've been close ball games, but we've found ways – and it seems like we find different ways to win all the time.
"This week we got some turnovers, and we played really good on defense. Offense was just OK, really, most of the day," he continued. "There's been times when the offense has been great and the defense has been just OK. The more ways that we can find way to win, I think, is important."
Zimmer added that the Vikings have confidence in their ability to win a game regardless of score. He pointed to the example of Week 11, when Minnesota was down 20-0 at halftime and clawed its way to a comeback win.
"[We find] ways to keep fighting and keep trying to score points and win games," Zimmer said.
Here are four other topics Zimmer addressed during his podium session:
1. Rhodes update and CB rotation
If the Vikings once again utilize a rotation at cornerback at Los Angeles, they are hopeful that Xavier Rhodes will be in the mix.
Rhodes suffered an ankle injury on the play that Harrison Smith intercepted Lions QB David Blough, but Zimmer said he doesn't believe Rhodes will be sidelined for the Week 15 matchup.
"I don't, but it's hard for me to say," Zimmer explained. "[The players] just came in today, and I got a report from the trainers. They don't think so."
The head coach was asked about Minnesota's rotation at corner against Detroit.
Is the benefit of a rotation exploring certain matchups?
"No, it's just something we decided to do last week," Zimmer said. "We may not do it this week, just felt like it was the best thing to do at this point."
The approach did seem to pay off for the Vikings, though. Zimmer acknowledged that the group "played better" against the Lions than in recent weeks.
"There was only like one or two things during the course of the ball game that we did not do like they're being coached to do," he said. "Hopefully that continues to improve, maybe take a little wear and tear, where they have to be thinking all the time, off their plate. I don't know, we'll see what this week holds."
2. Young D-linemen chipping in
The Vikings also have been utilizing a rotation at defensive line and, although the tactic isn't a new one, it seems lately that the younger players have especially progressed.
"All of them have done a good job in there," Zimmer said of the reserve linemen. "I thought Jaleel Johnson did some nice things. Ifeadi [Odenigbo] continues to do some really good things. I thought he rushed well in some of the subgroups, and I thought [Stephen] Weatherly played a lot better this week."
Weatherly has been asked to do a lot this season, including playing both on the interior and at defensive end. Asked about the challenge of learning and playing multiple roles, Zimmer said he doesn't think the task is too much for Weatherly.
"He's a really bright kid. He went to Vanderbilt," Zimmer said. "It really is not a tough mental thing for him, but he's a very good athlete. We can use him as a drop or we can use him as a rusher. We can use him as a defensive end. I think it's pretty easy for him, learning-wise."
The d-line rotation also includes starting nose tackle Linval Joseph, who returned to the lineup at Seattle, which was earlier than initially anticipated from a knee injury.
"He played really well yesterday afternoon," Zimmer said. "Played with really good technique, made some plays on the perimeter, had some good rushes. He played very well."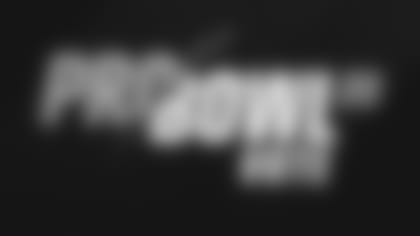 Pro Bowl Voting
Last chance! Vote to help make sure all your favorite Vikings make the 2020 Pro Bowl in Orlando. Voting ends Dec. 12, 2019.
3. Spreading the ball around shows trust
During Sunday's game, 10 Vikings caught passes. Eleven, if you count Garrett Bradbury's save of a tipped pass. If rookie Alexander Hollins would have caught the ball thrown his way, the number would have been 12.
Zimmer was asked what he's seen from Cousins specifically with trusting younger players.
"I think for Kirk … he's been extremely accurate for quite a while now," Zimmer said. "He's getting the ball out quickly. Most of the time, it's in the right place.
"I think just the [continuation] of working in practice, throwing the ball to guys, trusting that they're going to be in the right place, right space. I think he's playing with a lot of confidence right now, so that's a big thing for him or any quarterback."
Wide receiver Laquon Treadwell also spoke on Monday about Cousins' work with younger receivers:
"He works it all week in practice. He goes after practice and throws to the younger guys just in case their name is called, so he gets really familiar with everyone on the team," Treadwell said.
4. Lions made some changes
The 17-point deficit that the Lions faced at halftime was the most they had trailed by all season. The lead eventually grew to 20 points at the start of the fourth quarter.
Minnesota was 2-for-5 on third downs in the first half, but the success rate dropped to 33 percent (3-for-9) during the second half.
Zimmer said the Lions "changed some coverages from what they'd been doing."
"We had some calls based on a couple other coverages that they were giving us, and they got us in some other ones," Zimmer said. "We didn't get to the other [receiving option in the progression] quick enough, probably.