When Andrew and Madeleine Vanecek named their daughter Saga, they never imagined she would end up being part of one.
Last year, the Vaneceks moved from Minneapolis overseas to Sweden in order to be closer to Madeleine's family. And while it was difficult for Andrew to leave the home of his beloved Vikings, a recent discovery has seemingly bridged the 4,000-mile gap.
Earlier this summer, Andrew and 8-year-old Saga went out back to the lake on their property in Sweden. The water was low, and Andrew intended to put a buoy out to warn boats of a concrete block beneath the surface.
He waited for Saga to bring the buoy to him. Instead of hurrying over, she crawled through the shallows on her hands and knees, playing in the water and picking up clam shells to toss ahead of her.
And then, she found something.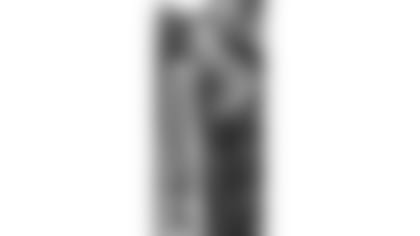 "I felt part of it with my knee and part of it with my hand," Saga recounted via video call of the long metal object she crawled across. "It was a tiny bit heavy."
When Saga lifted the item out of the water, Andrew couldn't believe what his daughter was holding.
"He said it looked like a real Viking sword!" Saga remembered excitedly.
The discovery may be, in fact, an authentic Viking sword.
The Vaneceks contacted an archaeologist the following day and were told that the authenticity is not in question, but the timeline may be.
"She told us that this is definitely the real thing," said Andrew, who explained that the sword actually had to be put back in water initially to prevent further deterioration. "They think it's about 1,500 years old now, so it's possibly that it's even pre-Viking. They don't know for sure."
Added Andrew: "Until they give us proof, anyway, it's a Viking sword."
Andrew snapped a photo of the sword lying next to his favorite Vikings jersey, a Purple No. 35.
"I like his story," Andrew said of Vikings cornerback and Minnesota native Marcus Sherels. "The fact that he was a walk-on at the [University of Minnesota] and the fact that he wasn't drafted and just sort of fought for his spot.
"When I saw a Marcus Sherels jersey, it was like, 'That's definitely the one I want,' " Andrew continued.
It only seems fitting that the Vaneceks' story would come full-circle.
Andrew and Madeleine met two decades ago through an educational organization, Up with People, that works through music to break down cultural barriers and create global understanding.
A group of 120 people from 20 different countries, including Madeleine from Sweden, toured Europe on three buses and performed shows together. Interestingly, the tour occurred during the historic 1998 Vikings season, during which Minnesota finished 15-1 and advanced to the NFC Championship Game.
"There were two us who were Vikings fans … and every Monday morning, we would all sing the [Vikings fight song]," Andrew said. "We taught all 120 kids 'SKOL Vikings.' "
Andrew, a lifelong Vikings fan who first fell in love with watching Ahmad Rashad and Fran Tarkenton at Met Stadium, converted a crew of international fans – including his future wife.
Now living in Sweden with Madeleine and their two children – all of whom jumped across the pond to London to watch the Vikings play at Twickenham Stadium last season – Andrew can only marvel at the unique narrative his daughter (quite literally) stumbled upon.
The sword currently is being held until a decision is made on whether Sweden or the state will fund the preservation and restoration of the artifact.
"It's amazing that we discovered this as Vikings fans," Andrew said.
"It was meant to be found," Saga interjected with a grin.
Over the past couple of months since finding the sword, Andrew has reflected on it being more than just a fun discovery.
"It taught me a lesson: 'Don't stress. Let things come in their own time,' " Andrew said, in appreciation of his young daughter who takes the time to linger and enjoy the little things.
Just like Andrew is learning to take things in stride, he's also not pushing the panic button on Minnesota's difficult start to the 2018 season. After all, he's behind his team all the way – even from afar.
"But we're hoping that the Viking sword will inspire the Vikings to a winning streak," Andrew said with a smile.